Polls From Male-Dominated Online Communities Reveal The Most Popular K-Pop Girl-Groups Amongst Men
Although female idol groups are incredibly popular with almost every demographic in Korea, there's no doubt that girl groups' largest audience is male fans. 
To test the current popularity of the top girl groups in the industry, multiple male-dominated online communities polled their users about who they considered the top group at the moment.
While some veteran groups did rank pretty well on some sites, rookie groups dominated most of the rankings, showing just how promising the new generation of girl groups is already. And although groups such as I.O.I, MAMAMOO, and G-Friend did prove popular among fans, TWICE's position at the top was quite clear, with an obvious majority of every community choosing the group as their top girl group.
MMA forum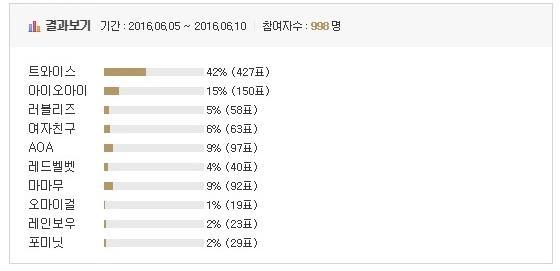 1. TWICE- 42% (427)
2. I.O.I – 15% (150)
3. AOA – 9% (97)
4. MAMAMOO – 9% (92)
5. G-Friend – 6% (63)
6. Lovelyz – 5% (58)
7. Red Velvet – 4% (40)
8. 4MINUTE – 2% (29)
9. Rainbow – 2% (23)
10. Oh My Girl – 2% (19)
Dotax (gaming forum)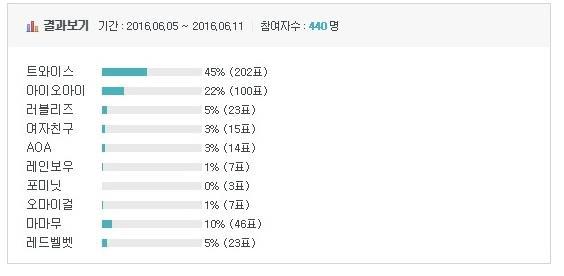 1. TWICE – 45% (202)
2. I.O.I- 22% (100)
3. MAMAMOO – 10% (46)
4 (T). Lovelyz- 5% (23)
4 (T). Red Velvet – 5% (23)
5. G-Friend – 3% (15)
6. AOA – 3% (14)
7 (T). Rainbow – 1% (7)
7 (T). Oh My Girl – 1% (7)
8. 4MINUTE – 0% (3)
Dieselmania (fashion website)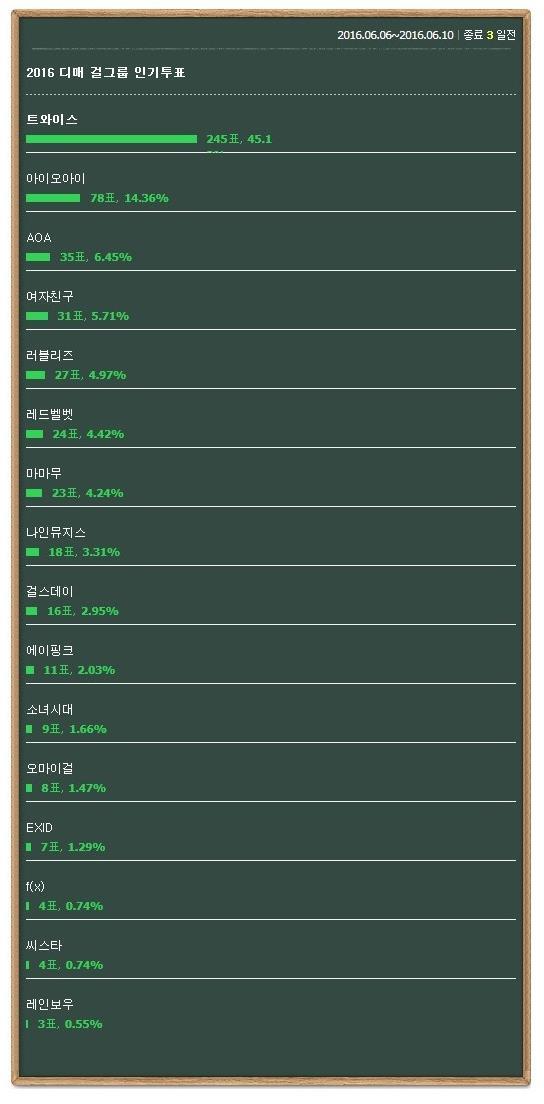 1. TWICE- 45.1% (245)
2. I.O.I – 14.36% (78)
3. AOA – 6.45% (35)
4. G-Friend – 5.71% (31)
5. Lovelyz – 4.97% (27)
6. Red Velvet – 4.42% (24)
7. MAMAMOO- 4.24% (23)
8. 9MUSES- 3.31% (18)
9. Girl's Day – 2.95% (16)
10. Apink – 2.03% (11)
11. Girls' Generation – 1.66% (9)
12. Oh My Girl – 1.47% (8)
13. EXID – 1.29% (7)
14 (T). f(x) – 0.74% (4)
14 (T). SISTAR- 0.74% (4)
15. Rainbow – 0.55% (3)
Baseball forum

1. TWICE – 37% (866)
2. I.O.I – 17% (398)
3. G-Friend – 11% (267)
4. EXID – 10% (241)
5. Girls' Generation – 9% (207)
6. Lovelyz – 4% (95)
7. Apink – 2% (56)
8. Red Velvet – 2% (49)
9. AOA – 2% (46)
10. Girl's Day – 1% (34)
11. MAMAMOO – 1% (28)
12. April – 1% (18)
13. SISTAR – 1% (16)
14. Rainbow – 1% (15)
15. f(x) – 1% (13)
16. 9MUSES – 0% (8)
Source: Instiz
Share This Post