Running Man Producer And Idols Expose Kim Jong Kook's True Character
Kim Jong Kook is seriously the best.
1. Cha Tae Hyun
Actor and variety star Cha Tae Hyun and Jong Kook are same-age friends who have spoken about each other and appeared on TV together many times.
"You've never seen Jong Kook cry right? I've seen it a lot, he's a giant baby… When he answers a phone call, he doesn't say hello.  Instead, he says, what are you doing chingoo!?  He's so full of aegyo."

— Cha Tae Hyun
2. Running Man's Production Team
After almost 9 years together, it's no surprise that Running Man's producers have plenty to say about Jong Kook.
"Kim Jong Kook knows about all the bad things haters say about him but he tries his best not to think about it. He has a strong desire and amazing spirit, he works hard. He works extremely hard to maintain the capable man image he has on the show, he surprises me every time!"

— Running Man PDs
3. Sangchu
Sangchu is a member of duo Mighty Mouth, who went on hiatus following his infamous massage parlor incident with Se7en during his military service. Him and Jong Kook have been close friends for many years.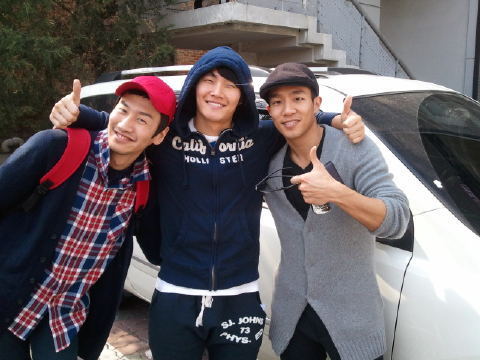 "Kim Jong Kook is a great hyung that I'm really close to, who gave me strength while I was struggling. He is a special person to me."

— Sangchu 
4. Lee Kwang Soo
Although Kim Jong Kook and Lee Kwang Soo butt heads often on Running Man, Kwang Soo shared a heartwarming moment between him and Kim Jong Kook.
"Kim Jong Kook is really hard working. I talked to him one time about the role he has in Running Man. I thought it'd be burdensome to take on the role of the tough, manly character. He told me that he needs to take responsibility for his own choices. He chose to be a part of Running Man, so he'll work hard to be the character he's supposed to be for the show."

— Lee Kwang Soo
5. Kim Soo Ro
Actor Kim Soo Ro and Kim Jong Kook filmed Family Outing together for almost three years, and remained close afterwards.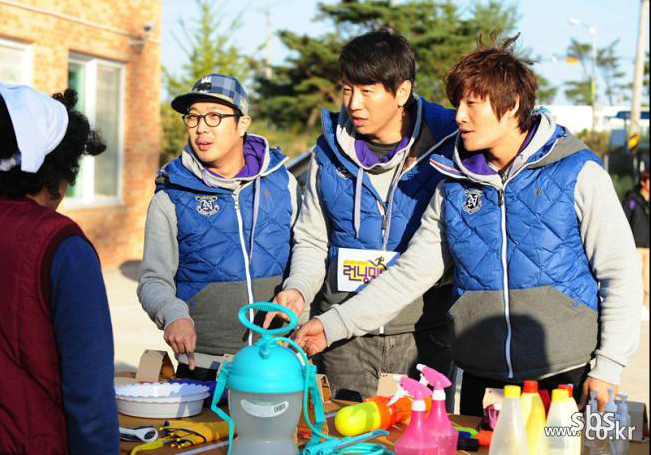 "If I had a younger sister, I'd let her date Kim Jong Kook."

— Kim Soo Ro
6. Lee Moon Sae
Even legendary singer Lee Moon Sae had something to spill about Kim Jong Kook.
"During the 2008 KBS Gayo Daejeon, I was in the waiting room all by myself, along with a bunch of idols. I felt so awkward but Kim Jong Kook came running to my rescue with a huge smile on his face."

— Lee Moon Sae
7. Hong Kyung Min
Singer and entertainer Hong Kyung Min is another member of the 1976 Dragon Club with Kim Jong Kook, Cha Tae Hyun, and more. Here's what he had to say about Kim Jong Kook's dating style!
"Kim Jong Kook in reality is worse when he's in love than the figure in his song "One Man", he doesn't fall in love easily but once he does he gives that woman his all. He's almost stupid the way he gives it his everything. As a friend he's such reassuring company no matter where you go."

— Hong Kyung Min
When asked, "Is there a guy you know that you think is amazing?" he responded with Kim Jong Kook.
Hong Kyung Min has also spoken on Jong Kook's character and career if he didn't become a celebrity.
"I would have to say, Kim Jong Kook, he is so good at self-discipline and he is able to do whatever he sets his mind to. I truly believe that if he felt that the singer life was not for him and he chose to become a professional soccer player, he would make it to the premier league."

— Hong Kyung Min
8. One Two
One Two is a male duo that debuted under JYP Entertainment around the same time Kim Jong Kook became very popular as a solo artist.
"When we were nobodies and he was on stage with us, he kneeled towards the crowd and said 'Please support and watch these guys, they're super hard working and talented,' although he said it with humor we couldn't believe he would do such a thing for junior nobodies like us. If we talk about No.1 in personality, it's Kim Jong Kook!"

— One Two
9. MC Mong
Rapper MC Mong and Kim Jong Kook appeared on many variety shows together over 10 years ago, and they're still close today.
"You can't describe Kim Jong Kook as a person without the word loyalty. He's too kind. Although he teases me a lot on camera, as soon as the camera goes off, he comes running towards me, to apologize."

— MC Mong
10. Steven Yoo
Steven Yoo, also known as Yoo Seung Jun, was a very popular singer in the 1990s' but is now despised in Korea for avoiding his military service and has been banned from entering the country.
Nevertheless, Kim Jong Kook remained loyal to his friend and flew to the U.S. to attend his wedding, even though he was aware of the backlash he could receive.
After Kim Jong Kook's career was almost ruined by his former CEO from the Turbo days, he had won 1st place for the first time with "One Man". It was an amazing moment for him but he ignored everything to get on a plane to Steven Yoo's wedding.
The media began and the public began turning against him and everyone around him pleaded with him not to go. All the other celebrities chose not to go in order to avoid the public's anger, Steven Yoo's friends who were celebrities gave Kim Jong Kook Steven Yoo's wedding gift, in the form of cash.
Kim Jong Kook carried all of that and took on all the criticism alone and flew to Steven Yoo's wedding. Yoo Jae Suk alone complimented him saying 'This is Kim Jong Kook', after coming back he said one thing to netizens and media attacking him."
11. Gary
Although Gary was an awesome and hilarious member of the Running Man cast, he shared that he was very nervous on his first day.
"During the first recording of Running Man, I was very nervous. However, Kim Jong Kook patted me on the back and gave me confidence."

— Gary
12. TVXQ's Yunho 
Yunho and Jong Kook were both regular guests on SBS's X-Man and Yunho has always had much to share about Jong Kook.
"When I was on X-Man for the first time, I was so nervous. I sat by myself in a corner, wondering what to do. Kim Jong Kook, however, came up to me and told me that if I worked hard, it'd all pay off. You don't know how much strength he gave me."

— TVXQ! Yunho
Share This Post