Running Man Set Kim Jong Kook Up for a Blind Date
SBS's Running Man is coming to a close in late February, but, before the end, they made sure to help Kim Jong Kook find love.
On the January 15 episode of Running Man, a special project episode titled "Our Ugly Tiger Cub: Marrying off the Tiger" was aired, in which Kim Jong Kook was set up on a blind date as his mission.
Members had to carry out missions correctly in order for Kim Jong Kook and his date to experience the best date course prepared. If they were to fail, an even tougher date course would have to be followed.
This special project seemed to have put Kim Jong Kook in a delightful mood. To the other members of Running Man, he even seemed to walk lighter.
They also commented on how much nicer he was, and used his good mood to make jokes and playfully diss him.
When the time came for Kim Jong Kook to finally meet his blind date, Jung So Young, he seemed shy as she approached from far away.
When they finally met, he asked her questions like, "Are you cold?" "Did you arrive early?" and "I'm so sorry for making you wait for so long."
His soft-spoken side surprised the other members and they could not believe Kim Jong Kook had had this gentle side all along.
Throughout the whole date, Kim Jong Kook made sure his date was comfortable and always spoke softly and politely.
When asked what his first impressions were, Kim Jong Kook answered:
"She stirred up a protective instinct within me. I want to protect her. I want to keep her safe."
Upon seeing how caring and gentle Kim Jong Kook was to his date, HaHa and Ji Seok Jin commented on how they wished he would treat them half as nicely he treated her.
At the end of the date, Jung So Young revealed: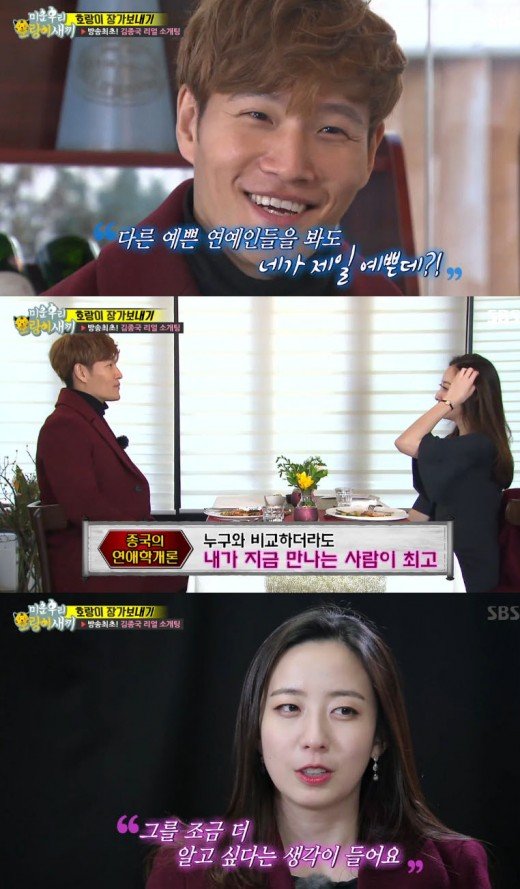 "I was so surprised. He's very different from what I thought. I didn't really know much about him, but I was surprised at how deeply thoughtful he was, and I think I really want to get to know him."
In the end, the date was deemed a success, and they were crowned a 'couple'.
Source: TV Report
Share This Post