Sandara Park just cosplayed as Harley Quinn
The whole process of achieving the Harley Quinn look was nerve-wracking for both the "princes" and Sandara Park, but she was quite satisfied with the end result!
On January 12, Sandara Park guest-starred on OnStyle's Lipstick Prince. All the cast members were excited when they found out that she was going to be the "princess" they would do make-up on. Block B's P.O, who chose her as his ideal type and had her picture as his phone wallpaper as a trainee, was the most excited of them all.
Sandara revealed that her wish was to be transformed into Harley Quinn on the show. Make-up artist Park Tae Yoon emphasized that in order to really capture the nature of Harley Quinn, instead of being detailed and careful with your makeup, it is better to be rough and brave with it. The 'Princes' on the show were not confident in their skills, especially in the eye makeup. Park Tae Yoon advised them, however, that the messiness of Harley Quinn's makeup might just be to their advantage.
Tony An was the first to start with the base makeup. While doing so, he revealed that he had always liked Sandara, especially after watching her on a documentary she starred in when she was younger.
"I found her adorable, so I wanted her to join our agency, but I heard she was going to YG, so I let go of that dream."

BTOB's Eunkwang was in charge of Sandara's eyebrows but seemed to be flustered with the immense responsibility. He asked her, "Are you really ready for this?" Although both he and Sandara were really nervous, Eunkwang managed to do a pretty good job on her eyebrows.

NCT's Doyoung, who is sometimes called the "Ace", was in charge of the eyeliner. When he walked in, Sandara quickly became at ease seeing. He did a fantastic job with the eyeliner and was very calm as he carefully drew lined her eyelids. Other princes on the show were amazed at his skills and even asked him where he learned how to do eyeliner so well.

Sandara's biggest fan, P.O, handled her eyeshadow and used his fingers to lightly spread the makeup on. P.O. put his heart and soul into doing her eyeshadow correctly, not wanting to mess up Sandara's transformation.

Block B's U-Kwon was in charge of the fake eyelashes. He tried his best to do everything he learned from the lessons given to them prior to the make-over. While applying them, he messed up a little and got a bit flustered, but was soon back on track and successfully glued them on to Sandara's eyelids.
SF9's Rowoon was in charge of the little heart tattoo on Harley Quinn's face. When it was his turn, he gave Sandara a hot pack, which earned her praise and led to Rowoon getting flustered.

He seemed to have messed up at first, but he was able to recover the heart in the end.
MONSTA X's Shownu was in charge of the blush and lightly brushed Sandara's cheekbones with a confident smile.

Kim Heechul applied the finishing touch by applying Sandara's lipstick, which made all the princes jealous as he got really close to her face while applying it.

When she came out clad in Harley Quinn's iconic costume, she gave off a very different vibe.
When it came to choosing her "lipstick prince", Sandara awarded P.O. with a backhug and the badge for his work. Eunkwang reacted with excitement for his friend, who couldn't contain his smile and grinned widely as his fanboy dreams finally came true.

Sandara then explained that the reason she chose P.O was his cute bashfulness when he was applying her makeup.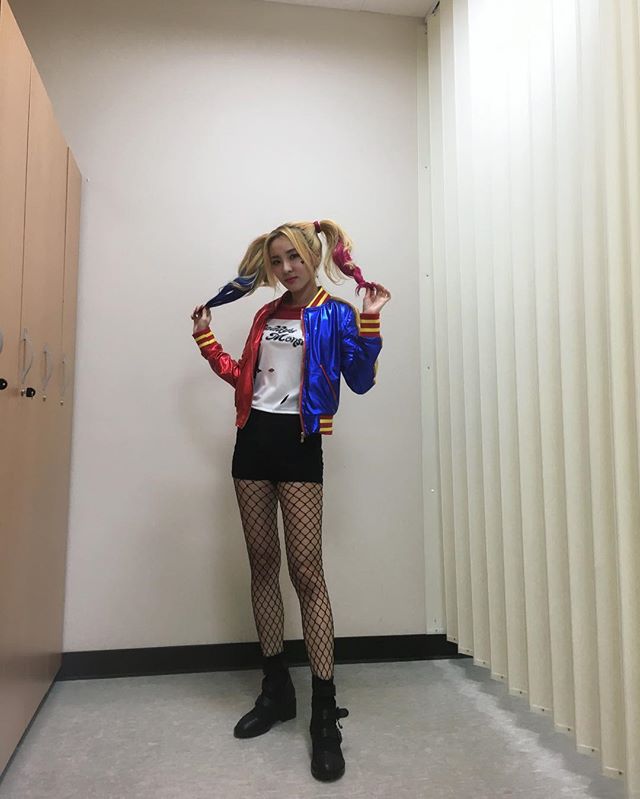 Overall, Sandara deemed the transformation a success and even posted a selfie with all the "princes" captioned, "Fun times with the princes #lipstickprince I like Harley Quinn Dara~!!!"
Share This Post