SHINee's Minho and BTS's V interaction that shows they are very close friends
SHINee's Minho and BTS's V recent interactions together are making fans of both groups fawn over how adorable the members are as friends.
During the 31st Golden Disk Awards fans were able to see the cute interactions that occurred between Minho and V as they sat in the audience. The two Hwarang co-stars seemed very friendly as they sat next to one another and hung out during the show.
Fans even spotted the two friends holding hands with one another and one photo caught a hilarious moment of them deeply staring into each other's eyes!
Even while V was busy putting a toy he was holding down, he refused to let go of his Minho Hyung's hand! ?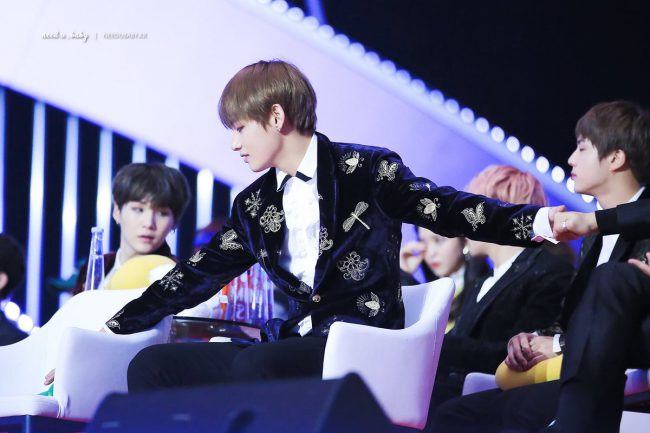 Their interaction didn't just stop at hand-holding, Minho was also seen helping V fix his hair. At first, Minho seems to just be instructing him how to fix his hair, but as V couldn't figure it out, Minho just goes in and does it for him!
minho helping taehyung fix his hair ㅠㅠ pic.twitter.com/1h1QED0HyU

— btshinee (@btshineepics) January 15, 2017
Later, when BTS won the "Global K-pop Artist" award, Minho happily congratulated V by bringing him into a bear hug that involved a lot of butt slapping on Minho's behalf!
However, this wasn't the first time butts were involved in their interactions. Earlier in the year fans caught the two of them greeting one another while patting each other's butts.
It's great to see that these two have really bonded and become closer since shooting Hwarang together!
Share This Post