Minho surprises a lucky fan with a special letter addressed to all fans
Minho once again lives up to his "Choi TenderHeart" nickname by surprising a fan with his sweet gesture on My Last 48 Hours.
On the latest episode, SHINee's Minho and MC Tak Jae Hoon surprised a fan at the restaurant where she worked.
In an elaborate scheme, Minho played the role of the cameraman while Tak Jae Hoon pretended to interview the fan for his other show, Life Bar. When asked about her favorite group, the fan gave a shoutout to SHINee and her favorite member Minho. After her shoutout, Tak Jae Hoon revealed Minho's secret identity. The shocked fan began to cry, telling him "You've worked hard, filming your movie and drama when it's hot and cold outside…" making everyone laugh as she seemed to be nagging him for coming out to see her despite his busy schedule.
Later, during the interview, Minho explained:
"I think celebrities and fans are like two sides of a mirror. I am a reflection what my fans are like and the fans are a reflection of what I am like… I was really touched when she was [emotional] like that."
Minho asked her what she would to with her last 48 hours, to which she replied "I would go see SHINee. I'm the happiest when [I'm watching] SHINee," getting a laugh from the SHINee rapper.
Additionally, Minho gave the fan a special mission that was not shown on TV. After he handed her a personal letter, he also gave her a second letter addressed to all of SHINee's fans and asked her to share it online after the show aired. The fan did just as she was told.
저를 만나러 왔지만 다른 샤월 분들이 서운해 할지도 모른다며 저한테 편지를 써주면서 다른 샤월들에게도 편지를 써주었어요 나중에 방송이 나가고나면 다른 샤월들을 위해 올려달라고….
다들 보시고 행복해지셨으면 좋겠습니다 🙏 pic.twitter.com/Vymw3potMW

— 12시9분 (@911209mh) January 11, 2017
The fan explained that she made the account specifically to deliver the message from Minho, as he wanted to make sure that all Shawols would receive a special message from him even if he couldn't do it in person. She added, "I hope everyone is happy after they see this".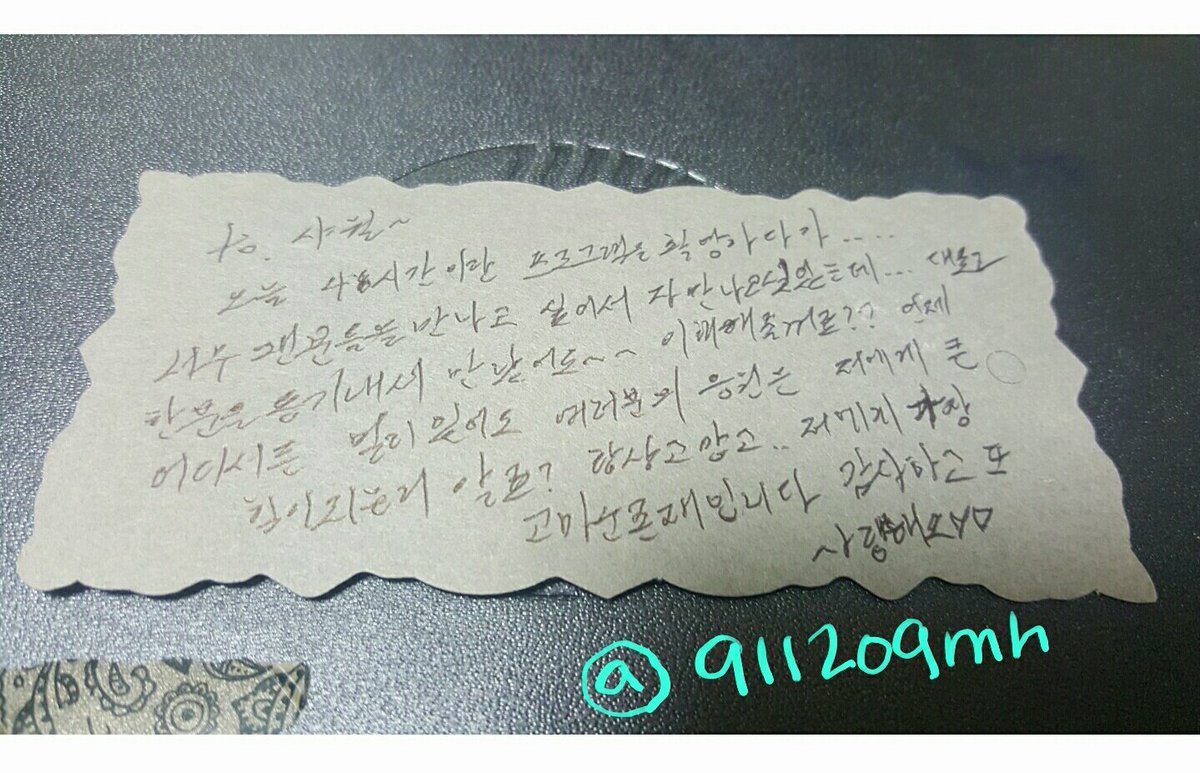 Minho's letter reads:
"To Shawols,
During the filming of a program called 48 hours, I wanted to see my fans so much… but I was only able to work up the courage to see one of you as a representative~~I hope you all understand. No matter where we are, no matter how far, your support always give me strength. You know that right? I'm always thankful and you guys are a gift to me thank you and I love you."
Share This Post