Song Ji Hyo tricks Yoo Jae Suk into revealing his favorite adult movies
A slick move from Song Ji Hyo caused Yoo Jae Suk to reveal his taste in adult films. 
On December 18th, Running Man introduced the challenge, "Q&A for 5 Seconds." It allowed to teams to go against each other by giving answers to a topic. They had to blurt out three answers within five seconds. The team member that failed to answer the questions within the given time lost.
Yoo Jae Suk's opponent was Song Ji Hyo. He said the first topic which was, "Three things that describe a boyfriend." She calmly replied, "Sexy, handsome and lots of money." 
Within a short period of time, she thought of asking, "Three most recent erotic movies." Yoo Jae Suk blurted out "Madame Aema 1, 2, and 3" in the given time, but failed to hide the fact that he blushed upon doing so.  Yoo Jae Suk looked a bit embarrassed as he shared his favorite erotic film first released in 1982.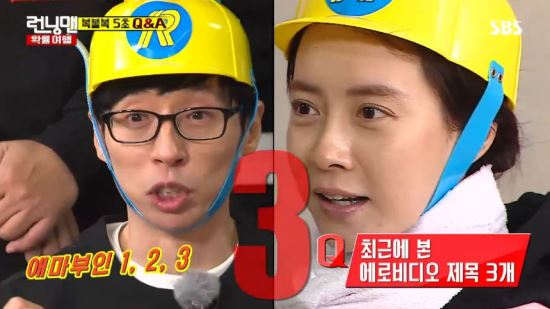 This is truly a different side to Korea's National MC.
Source: Dispatch
Share This Post