T.O.P featured on Vogue UK's "50 Fittest Boys" list
It takes a plethora of male model, artists and celebrities to be considered on Vogue's "50 Fittest Boys" list and BIGBANG's T.O.P makes the cut! 
A post on Vogue UK's homepage introduced the superior faces of 2016 and described them as one that are hard to ignore and impossible to forget. The article considered qualities such as talent, charisma and style as their main targets for this list.
Joining the ranks of Harry Styles, Justin Bieber, A$AP Rocky, Frank Ocean and more, T.O.P ranked fourteenth and was the only Korean artists to be included. As to why he was selected for the list, Vogue UK only has this to say, "If you're not on that K-Pop hype you might not be all that familiar with one of the genre's biggest stars, T.O.P – however millions and millions of others are devoted followers who mime every lyric, know every rap and have watched his multiple movies."
For the past year, T.O.P has been busy not only as an artist, but also as an actor as he filmed for Chinese blockbuster, Out of Control. Recently, he also became one of the first young artist to curate for Sotheby's Hong Kong.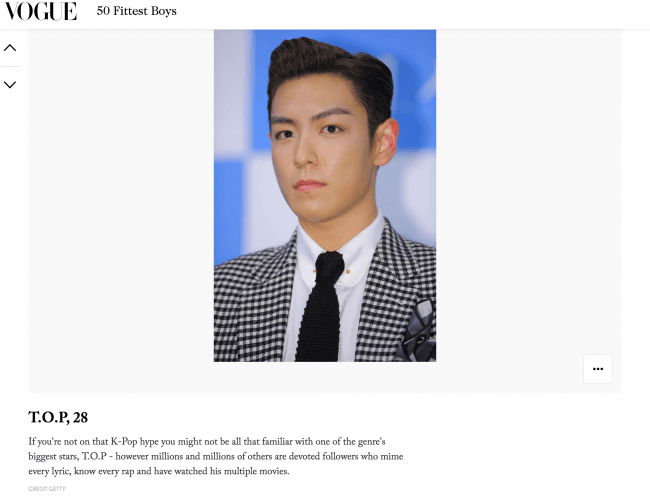 Source: Vogue UK
Share This Post