This Is How Tiny HEYNE Really Is
HEYNE has shocked everyone with her tiny size after revealing her height and weight on MBC's Radio Star on January 25.
During the episode, HEYNE revealed that she stands a mere 158 centimeters tall (approximately 5 feet 2 inches), and weighs only 38 kilograms (approximately 84 pounds).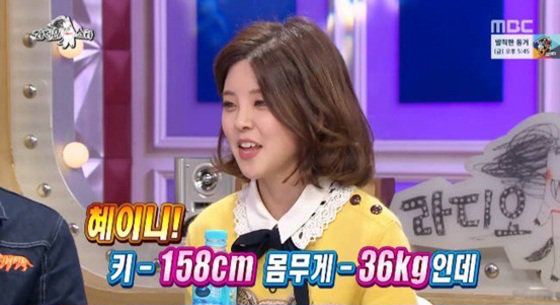 The whole panel was shocked to find out how tiny she really is and they were hardly able to contain their surprise when she revealed that she has even been asked to promote children's clothing. HEYNE explained that she was asked to model children's clothing as she actually wears size 14 children's clothing and wears size 23 pants (that's a 23-inch waist). HEYNE added that while she wears size 23 pants, her body is still losing weight and her actual waist size is 21 inches.
She then shocked the panel again when she told the story of a time when she was in the passenger seat of a car and didn't have her seatbelt on, but the passenger's seatbelt warning didn't even go off because it couldn't sense that she was seated!
Do you know of anyone as tiny and HEYNE?
Source: News1
Share This Post