T.O.P reveals he has a photo of Seungri in the shower
On MBC's Radio Star, T.O.P revealed that he had the most revealing photos of the other members on his phone.
Kim Gura revealed that all the members of BIGBANG have comical photos of each other on their phones.
Taeyang mentioned that T.O.P liked to fool around with the BIGBANG members, so he has the most goofy photos of the others on his phone. T.O.P even has a photo of Seungri showering!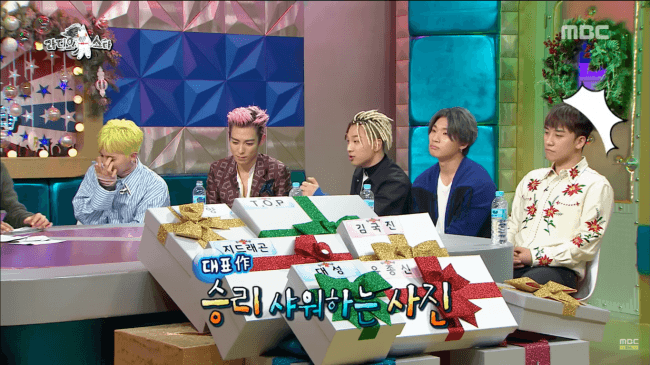 T.O.P told the audience a story about the time he had lost his phone on a plane. At the time, he thought someone might've stolen his phone. After having no luck finding it, the BIGBANG members called Yang Hyunsuk for assistance. Yang Hyunsuk told them that they had to find the phone because there was a lot of private information on it. He sent one of BIGBANG's managers back to the plane in order to find T.O.P's phone. Thankfully, their manager found T.O.P's phone in between the seats.
If someone had taken it, it would not have ended well for T.O.P because T.O.P didn't keep his phone locked. After this experience, T.O.P put a passcode on his phone.
Watch this segment of the show below!
Source: Dispatch
Share This Post