TWICE Is Already A Household Name In Japan
There's still about a month until their official debut in Japan, but JYP Entertainment girl group TWICE is already a household name.

According to a recent survey, about 80% of female students in Japan already know who TWICE is, revealing their immense popularity in Japan. TWICE is a nine-member with girl group, and has three Japanese members in Momo, Sana, and Mina.
JYP Entertainment revealed the data that was collected through the recent survey.
 "Today on NTV program ZIP!, TWICE was covered in the Showbiz Bravo corner. We conducted a survey of local female middle and high school students and found that 80% of them knew who TWICE are even though they have not debuted in Japan yet."

– JYP Entertainment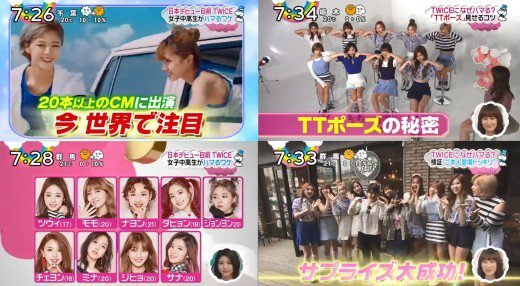 TWICE has skyrocketed to popularity ever since their debut in October of 2015. In addition to winning multiple Song Of The Year awards with "Cheer Up," the group also took first place on the iTunes charts in nine different countries, and already have over twenty CFs under their belt.
TWICE performed in Japan last year as part of KCON Japan and has been quickly gaining fans with every release. As their Japanese debut approaches, many fans and media outlets expect their debut to be one of the strongest ever among Korean idol groups.
Source: TV Report
Share This Post