WRONG! Donald Trump doesn't actually love BTS.
K-Pop fans love making hilarious fan edits, often creating memes and jokes related to popular culture. What's better? When they trick media sites into writing about it. 
In response to the current United States presidential election between Donald Trump and Hillary Clinton, one fan made a hilarious parody of the politician's tweets. The parody tweet,  that reads "Just listened to Fire by Bangtan Boys. Amazing! Love the Chinese," has gone viral among K-Pop fans.
While many fans laughed at the obvious jab at the Republican Party candidate's history with politcally-incorrect tweets, other fans and media outlets mistook the tweet for being real.
Despite having many controversial tweets in the past, Donald Trump has infamously not deleted posts even after receiving criticism. The fact that the supposed tweet cannot be found on his Twitter account is already a red flag that it is indeed fake. Furthermore, Trump has been publicly hostile towards China, and with his busy campaign schedule, he has not been posting any tweets lately about anything other than election coverage and articles related to him or his opponent.
Many fans did notice that whoever created the tweet did pay good attention to Trump's whereabouts when creating the tweet, noting that he was indeed in Florida on August 3rd. However, after further inspection, the text is aligned oddly, and is too far to the right of his profile photo.
Check out the hilarious "tweet" below: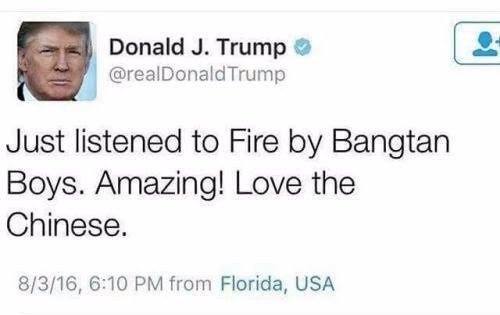 Here are Trump's actual tweets on August 3rd:
There is great unity in my campaign, perhaps greater than ever before. I want to thank everyone for your tremendous support. Beat Crooked H!

— Donald J. Trump (@realDonaldTrump) August 3, 2016
Our incompetent Secretary of State, Hillary Clinton, was the one who started talks to give 400 million dollars, in cash, to Iran. Scandal!

— Donald J. Trump (@realDonaldTrump) August 3, 2016
THANK YOU Daytona Beach, Florida!#MakeAmericaGreatAgain pic.twitter.com/IAcLfXe463

— Donald J. Trump (@realDonaldTrump) August 3, 2016
Thank you to the amazing law enforcement officers today- in Daytona Beach, Florida! #LESM #MAGA pic.twitter.com/QoxJf4Xzbc

— Donald J. Trump (@realDonaldTrump) August 3, 2016
Thank you for your support of my candidacy! #MAGA #ImWithYou https://t.co/Al5bZlRFYk

— Donald J. Trump (@realDonaldTrump) August 3, 2016
Share This Post