Fans are loving the adorable interaction between Tiffany and V backstage at Music Bank
Both Girls' Generation-TaeTiSeo and boy group BTS recently held their official comeback stages on KBS Music Bank where both groups briefly met backstage on the air.
Aired on December 4th, the two groups held a short interview together for Music Bank prior to their performances with BTS asking TaeTiSeo to sing their new track "Dear Santa" shortly and vice versa with BTS' "Run."
However, a certain interaction between Tiffany and V have fans going crazy. V slowly shrank down to allow J-Hope some screen time as he spoke when Tiffany, noticing the action, began to silently hold in a laugh as she nudges V.
Check out their adorable interaction below:
Find out what Netizens had to say about this article below!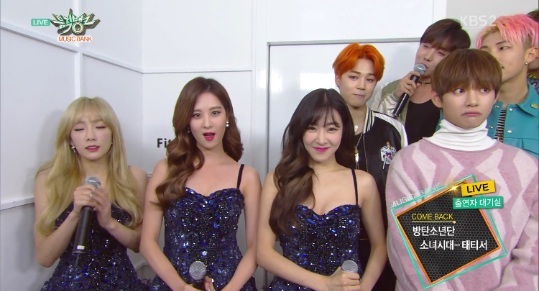 https://www.youtube.com/watch?v=K9khYvMPJtA
---
NETIZEN REACTIONS
Koreaboo has collected reactions from Netizens who commented on the original article from our Korean source. The below comments are the most popular comments at the time of this article being published.
---
His expression ㅋㅋㅋㅋㅋㅋ he seems really surprisedㅋㅋㅋㅋ
How is he so cute….? Is he really a human being? Really…How..omg so cute..
It makes me smile whenever Tiffany interacts with her juniors. So cuteㅜㅜㅠㅠㅜ
My classmates saw this and they were like???? Are they close????ㅋㅋ
V is so evidently nervous because his favorite group is SNSD.
He was lowering himself so they could see Hoseok better ㅜㅜㅜㅜㅜㅜㅜㅜㅜㅜㅜ
Source: Instiz
Share This Post