Han Young Ae and Ailee release special collaboration MV teaser for Mnet's 20th Anniversary
On March 1st, Mnet crossed another milestone by turning 20 years old!  Who will be representing Korea's most popular music channel, Mnet's 20th Anniversary?
To celebrate this special event, a commemoration campaign named 'Heart of Twenty' was released,  featuring a special collaboration with none other than classic rock singer Han Young Ae and next generation Korean-American diva Ailee!
우리 회사의 치명적인 두 섹시남들이 감미로운 목소리로 드디어 COLLABO!!!!! '가로수길' 많은 사랑 부탁 드리옵니다~ junyongjeon @eru_official… https://t.co/eKIQWi2gkm

— Ailee (@itzailee) February 26, 2015
Ailee first tweeted this exciting collaboration on Twitter on February 26th, commenting, "In celebration of 20 years of Mnet, meet the two women with 20-year old hearts!"
The music channel Mnet was first broadcasted in 1995 on March 1st. Mnet not only brought many hit songs and birth of new stars into the music world, but also contributed in bringing K-pop under global spotlight.
The meaning behind the campaign 'Heart of Twenty' is that "the age the heart is most passionate is at 20 years old. It is the power of that 20-year old heart that moves the world and that is the spirit of Mnet," hence the motto "20-year old Mnet, 20-year old heart."
Both Young Ae and Ailee were featured in the Mnet 20th Anniversary Special teaser singing to Young Ae's popular song "Rhinoceros," giving the song a new younger feel, challenging the music channel's motto. With powerful vocals and charisma, the duo has received praise for their passion in relation to music, "which represents the current image of Mnet moving the world."
Other than delivering a  fantastic performance, the two singing sensations were also jumping on trampolines and dancing, looking very much like 20-year olds having fun. Even the staff were surprised as they seemed like old friends.
After the filming finished, Young Ae commented, "Ailee's powerful vocals and expression are spot on. I now know why she is such a popular singer. I am so happy that she treated my song 'Rhinoceros' as her own and sang it so enthusiastically."
Ailee also expressed her feelings about the collaboration. "To be able to sing Han Young Ae's song seems like a dream to me. She is really like a young girl. I want to be able to learn her young and passionate energy." Ailee will also be hosting the new season of SNL Korea 6 this year and may possibly be in another duet with f(x) member Amber Liu!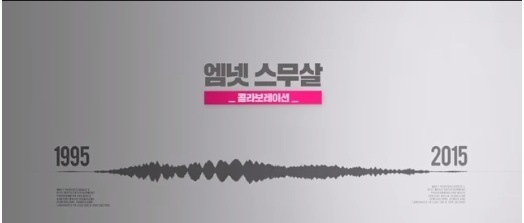 With 20 years in the run, other than being a constant hot topic, Mnet has shown to be Korea's best music channel, also showing music drama Persevere Goo Hae Ra, Korean's first girl rapper survival show "Unpretty Rap Star", and a new genre, a musical reasoning show "I Can See Your Voice", all with impressive high viewing ratings. Furthermore, they have successfully held global K-pop festivals around the world, starting from M!Countdown to KCON and MAMA, playing a major role in showing the Korean culture beyond Asia to the world.
Mnet has revealed that,  "Even with a long history of 20 years, Mnet will always continue to work hard in order to lead the Korean music industry and culture with new trends and a youthful sense." in response to the channel's future preparations.
Check out the music video teaser below. Happy 20th anniversary Mnet!
Source: kstyle
Share This Post