Kim Bum Soo performs hilarious parody of "Eyes, Nose, Lips"
On the December 19th Christmas special episode of Yoo Hee Yeol's Sketchbook, power ballad soloist Kim Bum Soo performed a hilarious parody of Taeyang's hit track, "Eyes, Nose, Lips."
The artist is fully immersed in his parody, wearing a pair of dark sunglasses and a hairnet as various others who have parodied the song did.
As Kim Bum Soo belts out the emotional track with his signature vocals, it is hard not to notice the similarities he establishes with his outfit to the original music video. Other than the sunglasses, the artist dons a sleeveless leather vest that accentuates his toned arm muscles. His dark leather pants and even earring choice take Taeyang's original concept into consideration.
While he performs the track, the screen behinds him adds another touch of comedy with the three screens showing an eye, nose, and mouth. Already odd enough due to their presence, the expressions and peculiar movements of the body parts make the entire performance even funnier than before.
Check out the performance: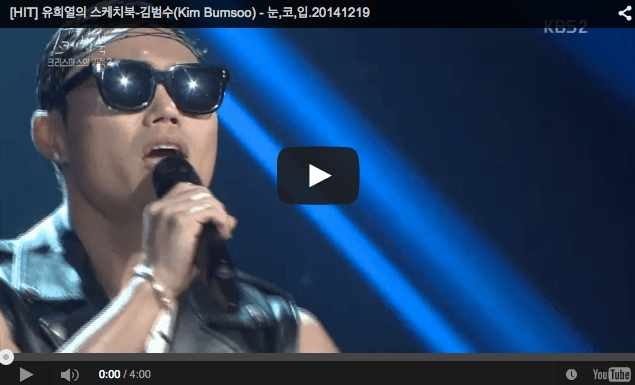 Share This Post