AOA shows fans what they keep in their bags
Have you ever watched idols carry around large bags and wondered they carry around with them? On December 5th, the girls of AOA treated their fans by showing them just that!
In an exclusive article released by Naver Star Cast on December 5th, the FNC Entertainment group revealed to fans the variety of interesting items they kept with them in their bags, and explained to fans why they selected to always have such items at hand. Six of the AOA members (Seolhyun, Choa, Hyejyeong, Jimin, Yuna, and Chanmi) revealed to their fans all of the unique items in their bags, and also picked one item they considered their favorite.
Choa, the main vocalist of the group, went first by showing fans her clutch bag, which matched her hair color. She revealed to fans that she does not like to keep a very cluttered bag, and only brought what she considered to be necessities (which included some fan mail!). Out of all the items, the singer decided that the most important item in her bag was her favorite ginseng drink, which provides her with the nutrients and energy that she needs for her busy schedule!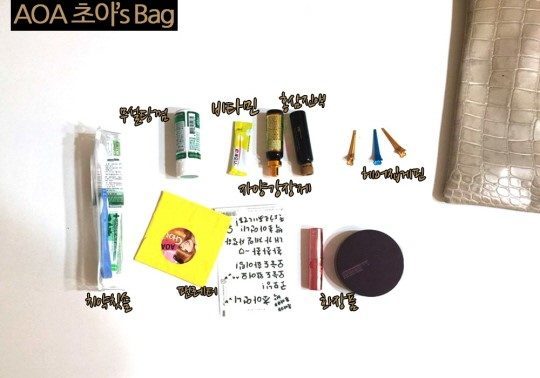 Hyejeong was the next member up. The AOA member showed her filial side by displaying the photo of her and her mother that she always keeps in her wallet; other items in her bag include a hand mirror and some perfume. Hyejeong's favorite item, however, was a bottle that contained a handful of almonds, a snack that she enjoys daily!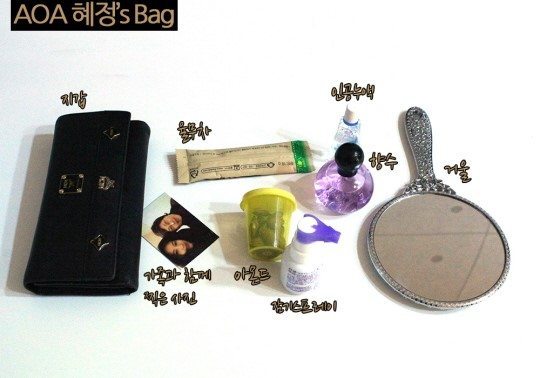 Unlike the other members so far, Yuna started off by revealing her favorite item: a very cute Mickey Mouse lamp! Yuna also mentioned that although it was not her favorite item, she also really enjoyed chocolate and always kept some in her purse in case she wanted a quick treat.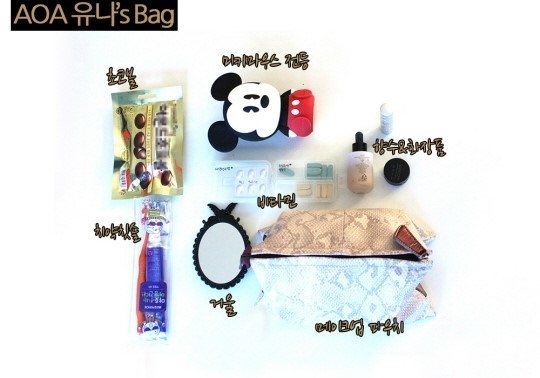 Chanmi, the maknae of the group shared that a little black wallet as her favorite item. Upon opening her large clutch, however, she also revealed that she carries a large Hello Kitty mirror with her, as well as a cute pair of headphones she received as a gift from some fans from Japan!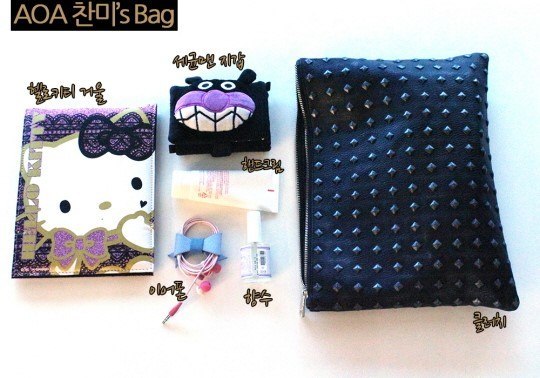 Unlike her other members, who had rather light bags, group leader and main rapper Jimin picked up her large red purse and unloaded its heavy contents. The variety of items included a sleep mask and different types of makeup. Despite so many things in her bag, however, Jimin revealed that her favorite item was her notebook, which she filled with lyrics for songs she has written. According to Jimin, the very same notebook contained the first draft to her self-composed songs "Just the Two of Us" and "Tears Falling" from AOA's latest album Like a Cat.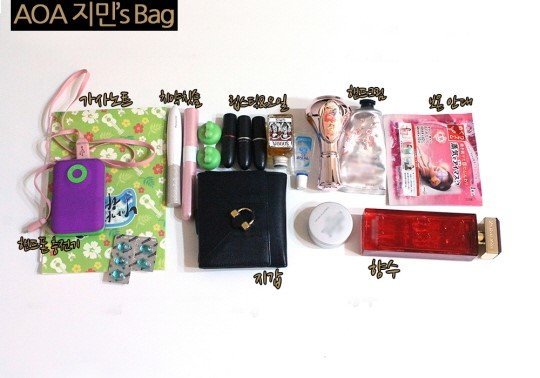 Lastly, Seolhyun revealed the contents of her bag, which included a phone charger and some snacks, among other things. However, the lead dancer of AOA chose a notebook as her favorite item, as it was a present from her sister.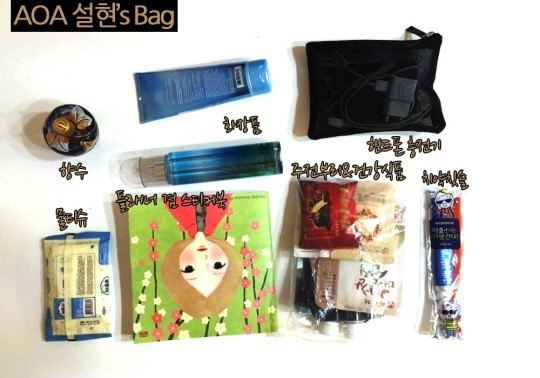 The members of AOA showed their unique personalities through the contents of their individual bags!
Source: Naver Star Cast
Share This Post