B.A.P changes their SNS profiles in light of recent contract nullification lawsuit
In light of B.A.P's recent contract nullification suit against their agency TS Entertainment, fans have dug up the members' activities on their respective SNS. 
As news of B.A.P's lawsuit against TS Entertainment came to light on November 27th, fans have dug up the members' recent activity on their Instagram and Twitter accounts. It was found out that Yongguk made a post the day before with a selca of him saying that he was going to Prague. However, as news of their lawsuit broke out, the update was soon deleted.
With fans lurking on their respective SNS accounts, they have now started to speculate on the vague meaning of their previous posts.
The same situation happened with Himchan as he posted a photo of himself on Instagram just minutes before the news broke out. He, too, deleted it after.
Meanwhile, it was also discovered that members Daehyun, Youngjae and Himchan have changed their profile on their respective Twitter accounts, removing the official link to their official Daum profile.
Youngjae, on the other hand, placed a line on his profile with a line saying, "The people together with me forever. Thank you." This left fans to discuss on the real intention of his post with regards to the recent controversy.
Earlier today, fans were shocked with the news that B.A.P filed for a legal suit to have their contract nullified with TS Entertainment, with reports revealing that the group received only $16,000 USD from their $9 million USD earnings for the past three years. The news trended worldwide on Twitter with TS Entertainment eventually releasing a statement saying that they are still confirming the details yet clarified that 'unfair terms' and 'slave contracts' mentioned in the reports are not true.
Stay tuned for more on this developing story.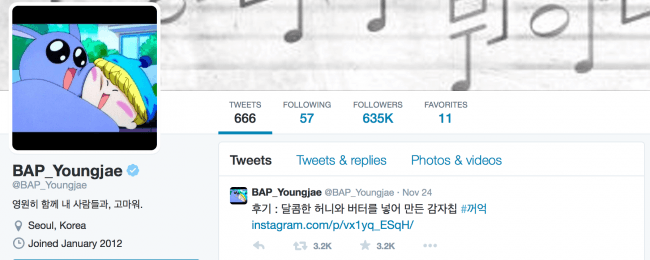 Share This Post