[★TRENDING] A dying fan's lover reveals a touching story of Song Joong Ki's act of kindness
Despite still serving in the military, actor Song Joong Ki is currently touching the hearts of many fans and netizens after a South Korean netizen posted an account of how the actor went out of his way to send his terminally ill girlfriend a signed gift.
On March 3rd, several different Korean news outlets reported on a story that was posted on an online community website called Today's Humor which a netizen named Park Ki Woo accessed to write an appreciation post for Song Joong Ki that was titled, "My girlfriend received a gift from Song Joong Ki."
The post was created on February 14, 2015 where Park included three photos of the contents of the said gift package and shared a lengthy, yet heartwarming story about how Song Joong Ki sent a small gift for his girlfriend, who was suffering from stage four colon cancer, through his agency Blossom Entertainment.
On this day, Park received a package from Song Joong Ki's agency with an autographed Special Edition DVD of the movie A Werewolf Boy along with the short letter below.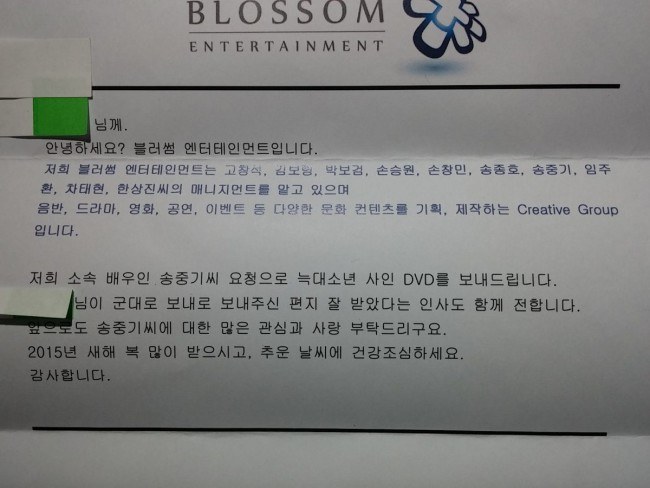 "Dear Park Ki Woo,

Hello, this is Blossom Entertainment. We, at Blossom Entertainment, manage the following actors such as Go Chang Suk, Kim Bo Ryung, Park Bo Gum, Son Seung Won, Son Chang Min, Song Jong Ho, Song Joong Ki, Lim Joo Hwan, Chae Tae Hyun, and Han Sang Jin. We are a creative group that produced music, dramas, movies, performances, events, and other cultural contents.

We are sending you this autographed DVD of 'A Werewolf Boy' under the request of Song Joong Ki, an actor who is managed under our agency. He wanted for us to send you his greetings and to let you know that he received the letter you had sent to him to his military base unit. We ask that you continue to show your interest and love for Song Joong Ki, and we hope you have a prosperous, happy new year in 2015. Please take care of your health in this cold weather. Thank You."
Many fans and netizens who came across this post and news began leaving comments of support, "Song Joong Ki is one of those rare celebrities who never has any anti-fans, this is the reason why…" "This is such a touching story… Song Joong Ki is such a kind-hearted guy!" "I can't believe he went out of his own way to do this for his fan," and "I hope your girlfriend is doing well in Heaven… I'm sure she is just as happy as you are!"
Koreaboo has directly translated the full post from Today's Humor below.
"Hello.

This is the first post I have ever written since I joined Today Humor. I'm glad that my first post on Today Humor is that of a meaningful one, except I'm not very good at writing so I'm not very sure that I'll be able to properly deliver today's surprising incident.

It's exactly what the title of this post says; my girlfriend received a gift from [actor] Song Joong Ki. It was an autographed Special Limited Edition DVD of his movie, 'A Werewolf Boy.' I never even thought about such a thing and was extremely surprised because it was so unexpected.

I'm positive that my girlfriend is loving this right now, too. This was a gift that came for my girlfriend, but since she is no longer in the position to accept it herself, I received it in place of her. I know that she is probably loving this just as much as I am even though I can't see her love it with my own eyes.

For the last year and half, my girlfriend suffered as a Stage IV Colorectal cancer patient before passing away in January of this new year.

About a month before my girlfriend passed away, I went insane when I heard from the hospital that she only had one month left to live. After being diagnosed with Stage IV Colon cancer, she spent the last year and half fighting for her life… I heard one year ago that a full recovery was impossible and to be honest, I was somewhat preparing myself for this moment, but now that it was actually happening, I became so hopeless and scared.

At the time, it was just so unclear of what I could do. I felt like I had to do something about it, but I just didn't know what… I was trapped with despair when I came to the realization that there was nothing I could do for my girlfriend who struggled and insisted on staying alive somehow. I met up with a hyung that was well aware of the situation I was going through, and while I was talking to him about what I could do from that moment forward, a random thought crossed my mind.

I thought that for the remainder of the time that she has left, I need to do whatever it takes to make her as happy as possible while making her laugh and smile. Something surprising… let's give her a gift. I need to let her meet who she's always been wanting to meet. The person she loved so much… that one actor she really liked…

Song Joong Ki…

Now that I look back, it was a really random idea, but the thought of wanting to get her to meet Song Joong Ki was the first thing that popped into my head.

My girlfriend was a fan of Song Joong Ki.
She would watch and re-watch the dramas and movies that he starred in on repeat all the time. She practically memorized all his lines and which scenes came out at which parts… she had really good memory, so she would tell me all about them because I wasn't very interested in watching those things.

Honestly, I was never really fond of Song Joong Ki before I met my girlfriend. He was nothing more or less to me than just a 'good looking actor.' I regret this now and feel sorry to my girlfriend, but when 'A Werewolf Boy' first hit the theaters, I didn't even go to watch it with her. I guess she knew I wasn't very interested and never asked or forced me to go watch it with her. She would re-watch that movie on DVD by herself, with a friend, by herself again, with her friends again, and she did this quite often… Now that I think about it, 'A Werewolf Boy' was probably her favorite out of all the movies Song Joong Ki starred in. (Her favorite drama with him was 'Sungkyunkwan Scandal.')

The reason why she liked him so much was very lucid; he is handsome (and has a very sweet, good-hearted face). His innocent and pure handsomeness was the very simple reason why she was such a die-hard fan. She would often argue that his amazing acting skills were more important than his looks, but for the most part, her main reason would always be because he is handsome and so good-hearted.

My girlfriend who had absolutely zero interest in other celebrities would always go crazy over Song Joong Ki so it was funny to me. I actually thought it was nice. I think I was just happy with the fact that she was so happy when she fan-girled over him.

I had to get her to meet Song Joong Ki or at least get some kind of handwritten letter or encouragement shoutout from him—I was so determined to write a letter to him. The very next day, I joined Song Joong Ki's fanclub and found the address to his military unit. (This was the first and last time I joined the fanclub of a male celebrity.) I was lucky enough to get my hands on the address because that very address wasn't revealed to the fanclub up until a week or two before I went to check. As soon as I got the address, I wrote my letter that very night. I thought that it would look careless if I typed out the letter on Microsoft Word and decided to put in all my effort to handwrite the letter. I enclosed the letter in a white enveloped and sent it off to Song Joong Ki, praying that it would be delivered to him without any issues and that my boring white envelope among all his other fans' letters would get read. That night, not only was I the only one who wrote a letter to him, but my girlfriend's friends all sent a letter to him as well as to his agency. I felt too hopeless and sad when one of my friends said that many of Song Joong Ki's letter go unread because he gets so many. However, I decided to have some faith.

Since then, a month had passed and just like the hospital said, my girlfriend left us. Because I was constantly spending the last month by her side, I was extremely busy all throughout the month of January. I forgot about the letter I had sent to Song Joong Ki. No, I actually gave up on it. Just like my friend had said, among all those fan letter he received, I didn't think he got the chance to read my letter. Since my girlfriend was already gone by now, I thought to myself that it was now useless.

But then today…
I saw that I had a package in my home mailbox that said it was from Song Joong Ki's agency. The date of delivery stamped on the package was January 12th, but since I was so busy during January, it got left in the mailroom until today (February 14th). At first I was confused because the name of who sent the package was some kind of entertainment company. I thought that maybe it was the skincare product I ordered the day before and opened up the package. I pulled out the letter that was enclosed and was so surprised, I immediately contacted my friends and all of my girlfriend's friends with pictures I had taken of the content.

I was so surprised with the fact that of all the letters he received, mine was read and it was honestly something that he could have just read and ignored or thought was just a lie or ploy to get an autograph. However, he believed in the letter and went out of his own way to care for my girlfriend. I was so thankful.

However, if there is one thing I am still disappointed with… it's the fact that my girlfriend could have seen this with her own eyes if the package had been delivered just two weeks faster… She would have been so happy and overjoyed… the fact that I couldn't see that happen was the only disappointing factor. But still, she is probably watching from up above. I sincerely hope she's liking this right now; just like how she always smiled…

This upcoming Lunar New Year, I'm going to have to take this gift and place it at her gravesite and also send another letter to Song Joong Ki, thanking him… thanking him with all my heart… thanking him for believing in something that could have easily been ignored…

I'm writing this post just to show my appreciation [for Song Joong Ki], but it ended up being so long. Thank you all for taking the time to read such a long post… I pray that everyone is happy in this new year."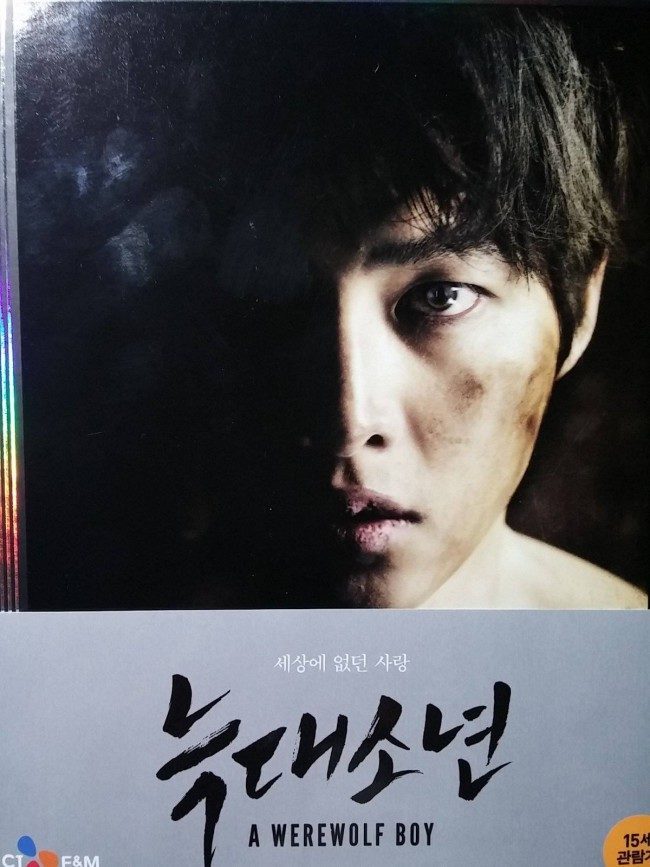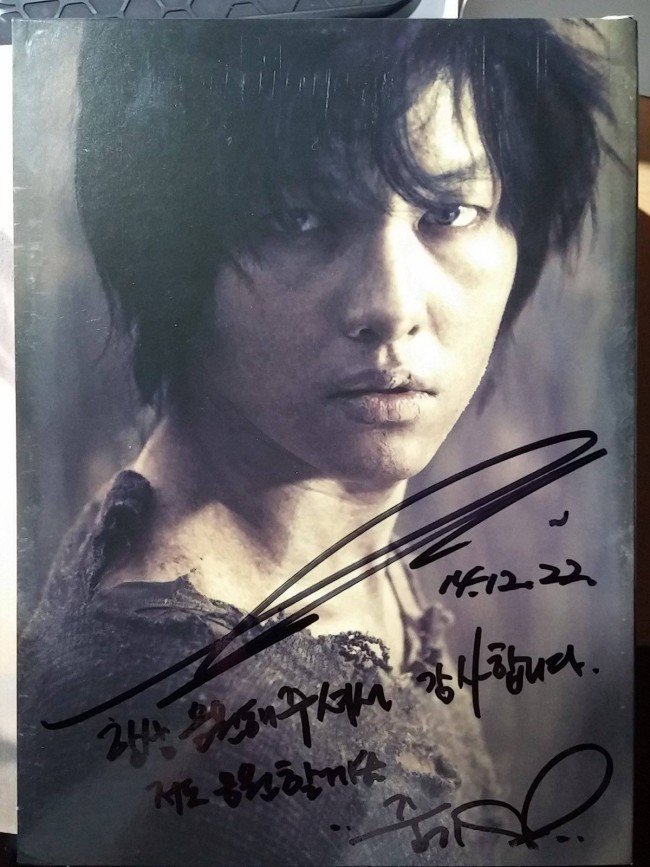 Source: Today's Humor
Share This Post