Epik High announces "Born Hater" rap contest
Are you ready to bust a rhyme and show Epik High your hip hop skills? On November 19th, Epik High revealed through their official Facebook page that they will be holding a rap contest for their hit song "Born Hater."
Submissions for the contest will begin on November 21st and everyone from around the world is encouraged to apply. The deadline for the contest is November 28th and you can download the official "Born Hater" instrumental via the Facebook app page.
All you have to do is create your own rap to the song using the instrumental and then upload it to Youtube using the right naming criteria from their instructions. Afterwards send your link to Epik High via the Facebook app page where all the videos will be judged and picked solely by Epik High. Winners will be announced sometime in December and their videos will be shared via YG's official social media accounts. The winner will also receive an Epik High autographed CD or a random MD package.
"Born Hater" was a fun collaboration by Epik High with Beenzino, Verbal Jint, WINNER's Mino, and iKON's B.I. and Bobby. Recently, they also revealed the making of MV highlighting what this song and video meant to all the artists.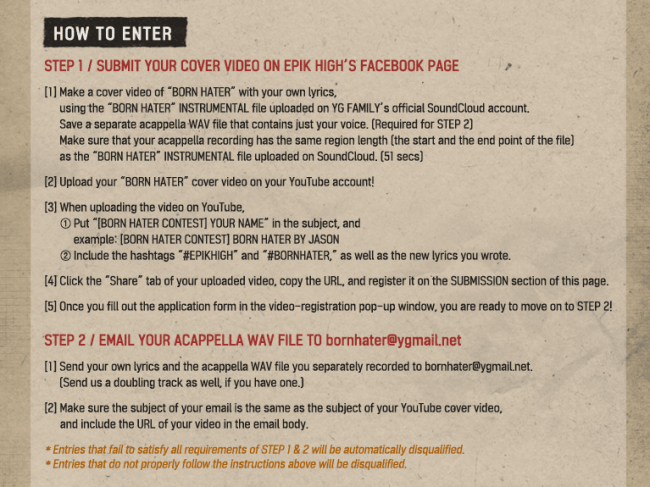 Source: EpikHigh
Share This Post