Epik High joins Snapchat and teases about U.S tour
Epik High has become the next K-pop artists to make their Snapchat public, following BTOB's Peniel, f(x)'s Amber, miss A's Min, and Irene! 
On April 5th, Tablo revealed the group's Snapchat ID to his many followers through his personal Twitter account.
Their first snapchat was of a rubber duck dressed as a chef, with the words "America's tour dates coming soon? #EPIKHIGH," written on the image, teasing fans about their upcoming U.S tour.
Although no official details about their U.S tour have been released yet, it now seems certain that the group will be returning to the U.S after their recent trip in March to perform at SXSW 2015.
Meanwhile, Epik High will be releasing a special Japanese album, their first best album, THE BEST OF EPIK HIGH ~SHOW MUST GO ON~, on April 29th before setting off on their EPIK HIGH JAPAN TOUR 2015 ~Show Must Go On~ starting in early May.
In addition, YG Entertainment recently revealed that Epik High will be establishing their own hiphop sub-label, headed by Tablo, under YG Entertainment.
Epik High has Snapchat. Username: bornhaters #EPIKHIGH

— 타블로 | TABLO (@blobyblo) April 5, 2015
oh snap pic.twitter.com/18Etnqsbo9 — 타블로 | TABLO (@blobyblo) April 5, 2015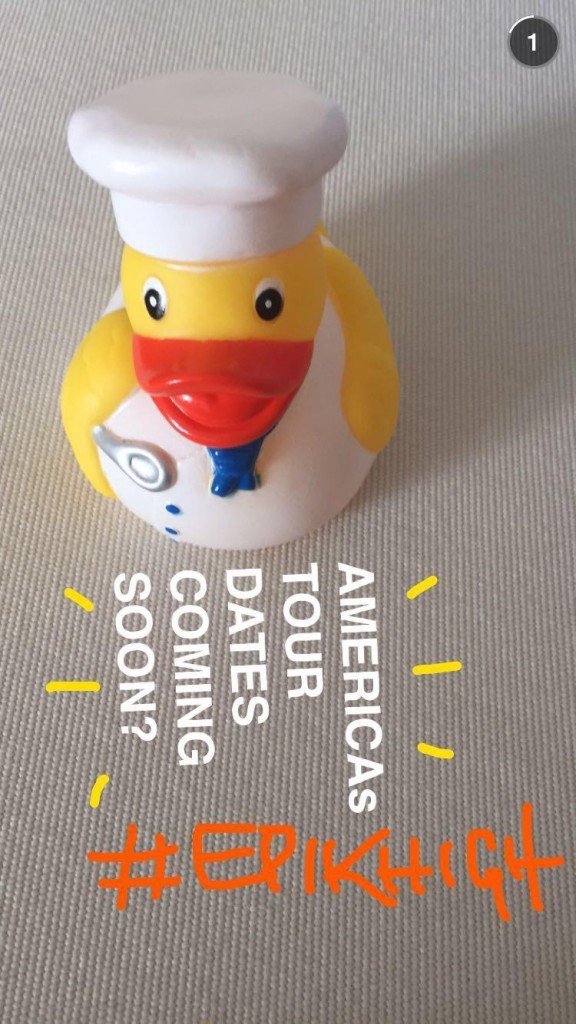 Source: Epik High's Official Snapchat
Share This Post