EXO updates EXO-L with secret photos from official fan page
Since November 29th, EXO has been updating their EXO-L official site with a series of secret photos especially for the group's fan club!
The site was updated on November 29th with a secret photo of member Xiumin standing in front of a backdrop and doing the EXO-L hand sign with the message "EXO-K + EXO-L + EXO-M = ONE." By November 30th, the site was updated again with a secret photo of Sehun, followed by EXO-K leader Suho on December 1st, both doing the same hand sign and with the same message.
It has been reported the EXO is currently prepping for a comeback with a new album that will supposedly be released in January of 2015, leading some to speculate that these "secret photos" are being released in preparation for their upcoming promotions.It is, however, possible that the photos are being released as a special gift for fans to coincide with the group's A Miracle in December fan events.
On December 1st, three fan events were announced also via the EXO-L fansite, giving fans the chance to chat with EXO, win a special gift, or even meet one of the members in person. Registration for the fan events begins on December 8th and continues through the rest of the month.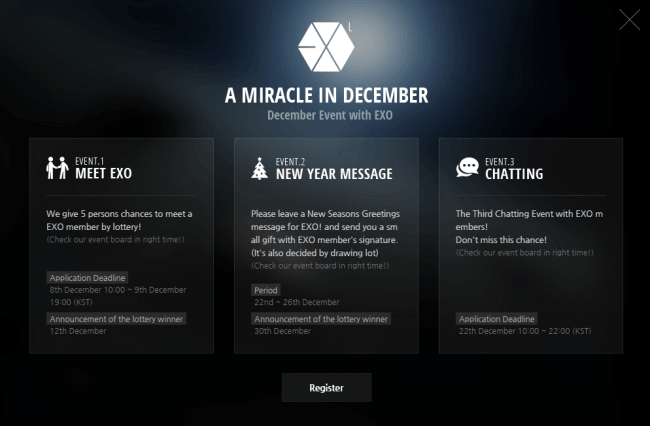 Share This Post