Fans in a state of panic after Tao deletes "EXO" from Instagram profile
Tao's latest update to his Instagram has fans very nervous after he removed "EXO" from his profile.
On May 5th, EXO-Ls noticed the change in his profile. It originally read "EXO-TAO黄子韬  Happy to meet y'all here! Love ya!" and has now been changed to "Z.TAO-黄子韬 Happy to meet y'all here! Love ya!"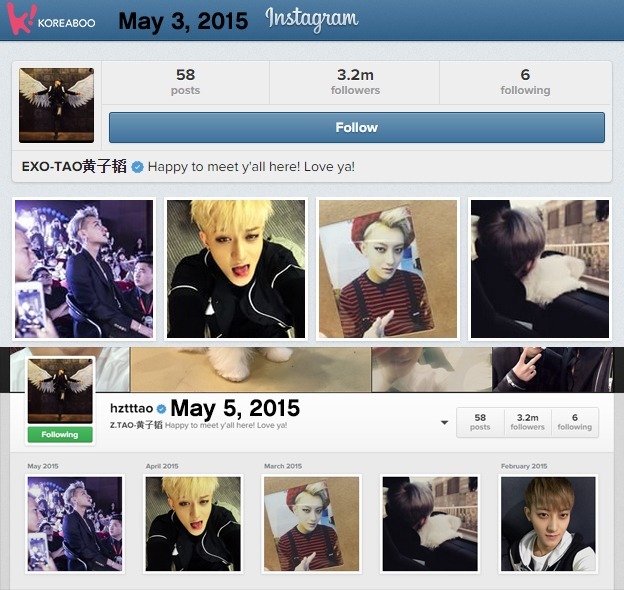 Fans left comments such as "Is this how we say goodbye?" "As you wish, your health is more important to us! Fighting! Take care of your health," "Please T_T" "Delete EXO in your name? Fine, just keep healthy, wish you all the best. But please don't make promises you can't keep anymore […] Take a good rest, please don't use 'unhealthy' as an excuse to leave and sign lots of contracts immediately after you are free," "Can't you just tell us directly you are leaving instead of doing these? You're just hurting us even more," "What the hell oppa," "But I thought I could trust you.." and more.
Tao is currently in dispute with SM Entertainment after his father posted a lenghty letter revealing his wishes for his son to leave the group due to his health. SM Entertainment then released a statement revealing they are looking to speak with the father about Tao's future through discussion. However, continuous hints of Tao leaving EXO and the agency continue to grow rather than dimming.
The singer recently appeared at a birthday event with fans, where he was captured shedding tears due to the overwhelming emotions.
Share This Post