Fans tease 2PM's Taecyeon for sending Park Shin Hye a food truck
To show support for his friend Park Shin Hye and her new drama Doctors, 2PM's Taecyeon sent a food support truck filled with tasty treats for the actress. 
And while media outlets attributed the gift to Taecyeon and Park Shin Hye's work together on popular cooking show Three Meals A Day, some fans have teased Taecyeon for his sweet action, referring to his alleged crush on Park Shin Hye. Regardless of his true intentions, however, Park Shin Hye showed her appreciation for the gift by posting photos of the truck on her SNS, thanking Taecyeon for his thoughtful gesture.
Meanwhile, Taecyeon has a drama of his own airing right now, with Let's Fight Ghost airing on tVN.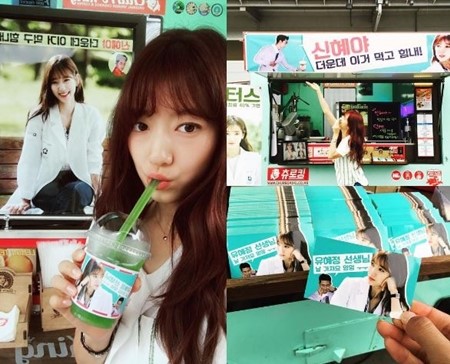 Source: Sports Seoul
Watch Taecyeon confess his love for Park Shin Hye on Three Meals A Day below:

Share This Post