[★TRENDING] GOT7 named "healing-dol" after "Just Right" selfie project goes global
IGOT7s all over the world have joined in on the fan-initiated #JustRight project since GOT7 released their positive, self-embracing track on July 13th. 
After "Just Right" was released, fans banded together to create the #JustRight project where individuals posted selcas captioned with an insecurity and ending their comments with "but I know I'm #JustRight," crediting GOT7's new song as the source of confidence to disclose this tough issue.
While some drew "Just Right" smiley faces that were from member Bambam's first #JustRightProject last week, others put up the "okay" point choreography while many more simply posted a selca.
The project drew from lyrics of the song that said, "You don't need to change a thing, you're just pretty, you look perfect just the way you are," and has since received overwhelming participation on all SNS platforms since the selfie project began as fans praised the boy band for using their popularity to spread the positive message.
It seems the positive message has been heard by many as GOT7 reached one million views in 13 hours, half the time it took for their last comeback track "Stop Stop It." In addition, they promised to release the dance practice video after 3 million views but were surprised when it reached the milestone quickly. As a result, the group released a short playful video instead as they wanted to release their dance practice after their initial comeback stage which has since been released.
GOT7 took their first comeback stage on M! Countdown on July 16th and will continue to promote their tracks throughout the month.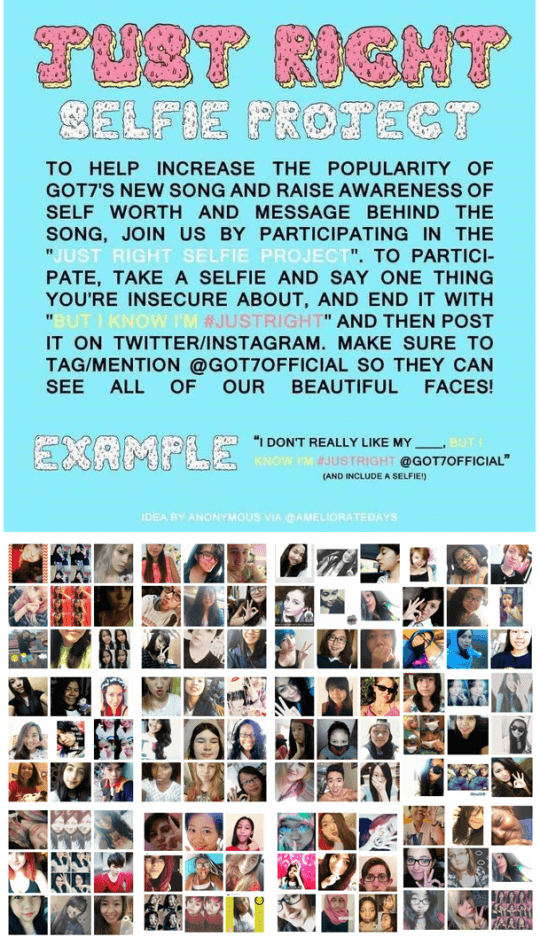 Source: TenAsia
Share This Post