GOT7 releases details for "Identify" showcase
GOT7 has just released information on how to enter the drawing to attend their showcase for their first full length album Identify.
Although the boys have just finished promotions for their Japanese debut with hit track "Around the World" which reached #1 on the charts, it seems that they have been hard at work and are now back with their first studio album Identify which will be released online on November 18th and offline on November 20th.
Information for their showcase was first released to the fancafe and now has been released through Genie. The showcase page invites IGOT7s to attend the group's showcase for Identify. This album will be cementing GOT7's sound in which they demonstrate a new charm as they grow from boys into men.
The music video for title track "Stop Stop It" will be released at midnight on November 17th and the comeback showcase will be held later that same day at 8:00PM KST at AX Korea. The application date for the showcase is November 10th-13th and the ticket winners will be announced on November 14th.
Leading up to this comeback and showcase, GOT7 has released image teasers for the album as well as two video teasers (1, 2) that feature leader JB in a daze when he meets a girl.
This has been a busy year for the rookie group as they have released 2 EPs and a Japanese Single. Their most recent comeback was in early June with their hit summer track "A" which recently reached over 10 million music video views and debut music video "Girls Girls Girls," close to reaching the milestone as well. Recently, the group celebrated 300 days since their debut in January. In addition, Jackson has been gaining popularity with his appearance as a cast member on reality-variety Roommate along with KARA's newest member, Youngji.
Full details, rules, and regulations can be found on their showcase page on Genie.
Are you ready for another GOT7 comeback?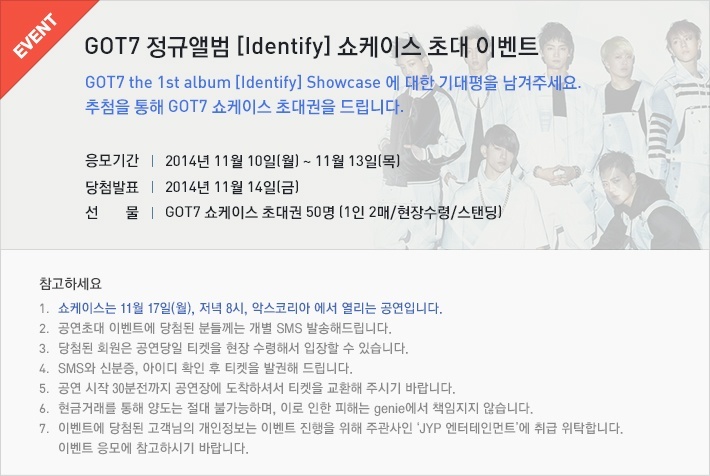 Share This Post