hyukoh gets hit with another plagiarism accusation with "Panda Bear"
Rising band hyukoh has gotten hit with yet another plagiarism accusation, this time for their track "Panda Bear."
This time, however, the artists whom they have supposedly plagiarized gave a short comment on the accusation through their Twitter account, writing, "Imitation+flattery=Sketchy! Golden Age + solo smells of Viceroy. Thanks Korean fans 4 heads up," implying that "Panda Bear" was a mix of "Godeln Age" and Mac Demarco's "Ode to Viceroy."
A video that compares both tracks, hyukoh's "Panda Bear" and American indie band Beach Fossils' "Golden Age," was linked in the tweet – which was deleted a few hours after hyukoh's vocalist personally replied to the latest accusations on his Instagram (found below).
Beach Fossils continually wrote in another tweet, "I'm not taking this seriously at all & nobody else should give a sh*t either. It's just funny! Peace & Love," which has also been deleted.
"Panda Bear" is a single that was released in January 2015 while Beach Fossils' "Golden Age" was released in May 2010.
https://twitter.com/beachfossils/status/626459788365443072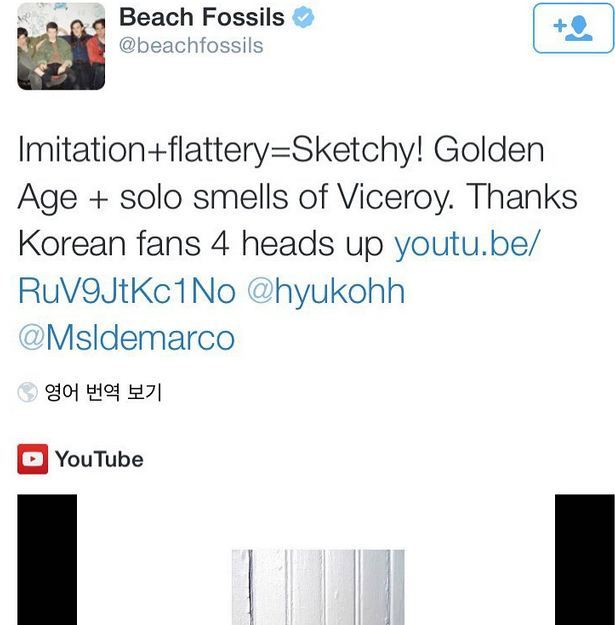 In response, hyukoh's vocalist Oh Hyuk responded to the tweet and allegations, writing on Instagram on July 30th, "I received this mention. I have pride and conscience in my music. There has never been a single moment where I have written a song with bad intentions. It is my lifelong dream to become a musician for the rest of my life, and if I knew I would get recognized for copying other people's songs, I wouldn't have started writing music in the first place. I did not plagiarize."
"We are a new band who has yet to release a full album in a year [since debuting], but we are thankful for all the undeserved attention we have received extremely fast. We still lack a lot of things. But we will continue to work hard with our music. I hope you watch over us."
Previously, hyukoh was also accused of plagiarism with their tracks "Lonely" and "Panda Bear" (again), said to be copied from The Whitest Boy Alive's "1517" and Yumi Zouma's "Dodi" respectively.
Take a listen to the video below. Do you think this is a true case of plagiarism?
Source: TV Report
Share This Post