[★BREAKING] Dispatch releases private texts between Kim Hyun Joong and his ex-girlfriend
Since the recent confirmation of Kim Hyun Joong and his ex-girlfriend, Choi, expecting their first child together, Choi has clarified that she will not be getting married to the South Korean artist as she will take full responsibility of their child herself.
On February 24th, South Korean media outlet Dispatch held an exclusive interview session with Choi, the ex-girlfriend, where she stated her honest thoughts and opinions about the current situation and even revealed to the media the Kakao Talk messages exchanged between herself and the star.
Choi started off the interview by saying that she was fully aware of all the criticism that has been said about her by the public since the news of her pregnancy was reported, stating that she, too, thinks all of what is currently happening is ludicrous.
"Even I can't understand myself," stated Choi, "Who would understand me? They would all call me crazy, I know."
Choi further commented with detail on how she and Kim Hyun Joong reconciled when asked about how she ended up becoming pregnant with the child of a man she had cut all ties with since her assault accusation against Kim Hyun Joong in May 2014.
The Kakao Talk text messages below are provided by Dispatch and directly translated by Koreaboo.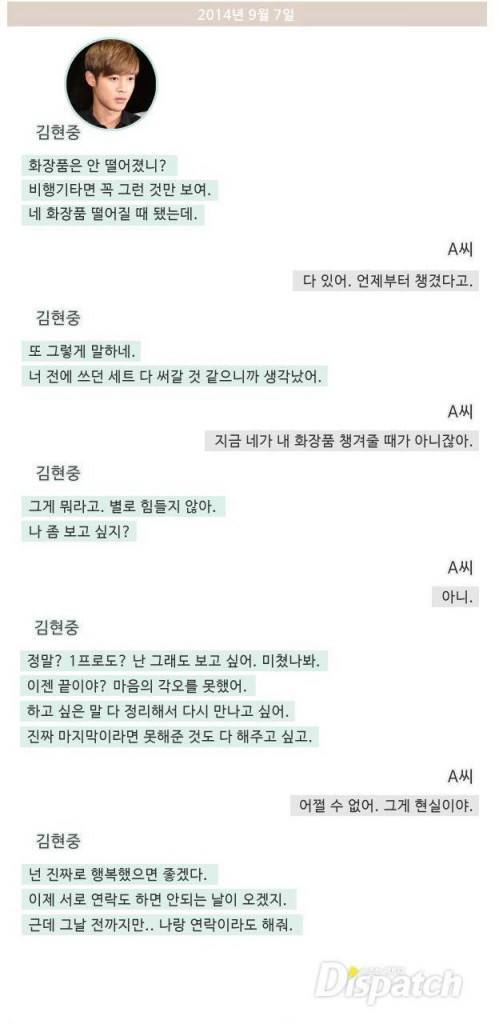 September 7,2014
[Kim Hyun Joong]: Have you run out of make up? When I get on the plane I only notice these things, it's about time you ran out, right?
[A]: I have enough. Since when did you care
[Kim Hyun Joong]: There you go again. I just thought maybe you ran out of the set you were using.
[A]: You have more important things to do than care for my cosmetics right now, don't you?
[Kim Hyun Joong]: What about it. Those things don't bother me that much. Don't you miss me?
[A]: No
[Kim Hyun Joong]: Really? Not 1%? I still miss you. I think I might be crazy. Is this the end? I'm not ready yet. I want to meet and say all that I want to and do the things I never could for you, if this really is the end.
[A]: It can't be helped. This is reality.
[Kim Hyun Joong]: I really want you to be happy. I know that one day we won't keep in touch but until then…please just keep in touch.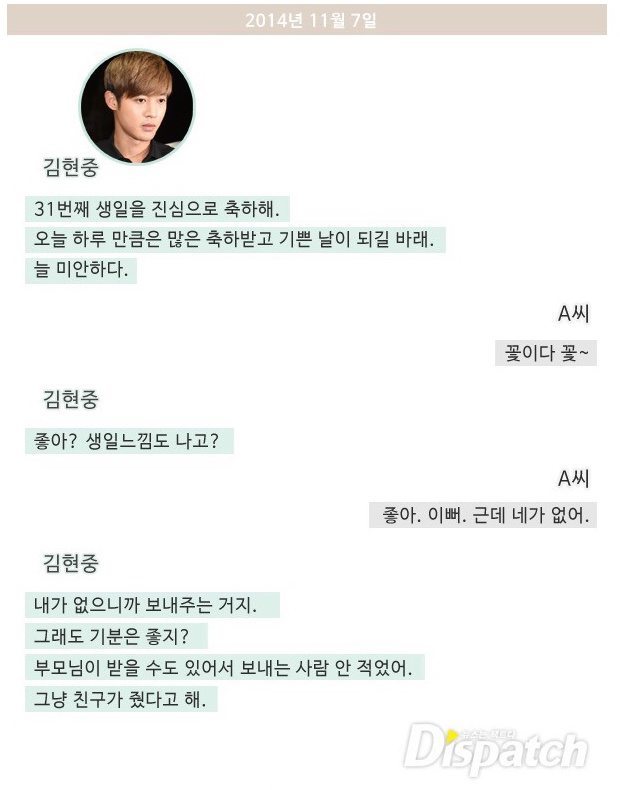 November 7,2014
[Kim Hyun Joong]: I sincerely wish you a happy 31st birthday. Even if it's just for today, I wish today will be filled with blessing and happiness. I am always sorry.
[A]: It's flowers~
[Kim Hyun Joong]: Do you like it? Does it feel like your birthday?
[A]: It's nice and pretty. But you aren't here.
[Kim Hyun Joong]: That's why I sent them, because I couldn't be there. Makes you feel better though, right? Your parents might have received them, so I didn't put my name on it. Just say a friend sent it.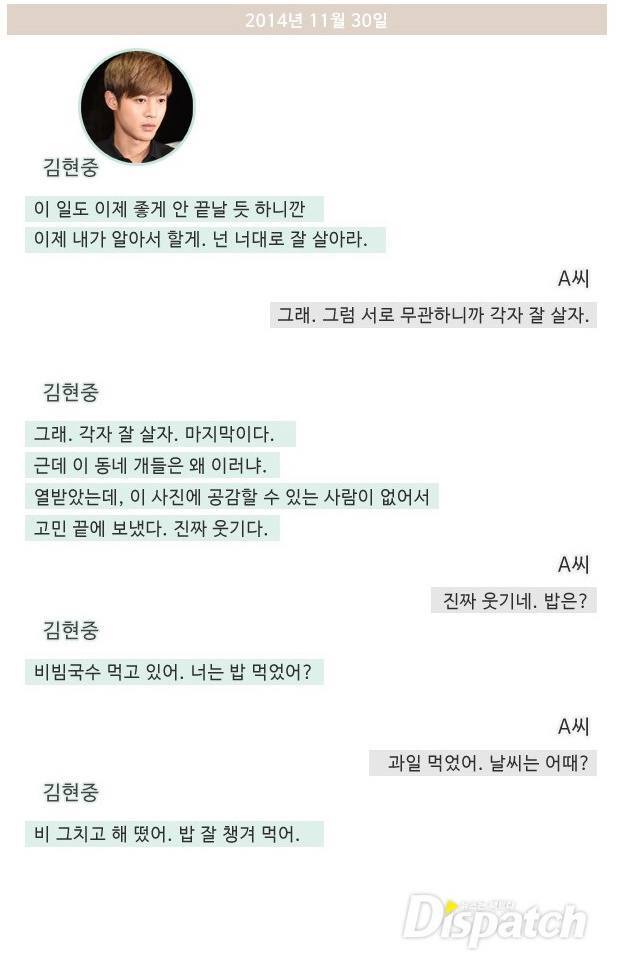 November 30,2014
[Kim Hyun Joong]: It doesn't look like this will end well, I'll take care of things from here. You just take care of yourself.
[A]: Yes. We don't have anything else to do with each other, let's lead our separate lives.
[Kim Hyun Joong]: Yes. Let's. This really is the end. Why are the dogs in this neighborhood all like this. I know I should be angry, but it's so funny that I just have to send it to you.
[A]: That really is funny. Did you eat?
[Kim Hyun Joong]: I'm having noodles. Did you?
[A]: I had fruits. How's the weather?
[Kim Hyun Joong]: The rain passed and the sun's up. Eat well.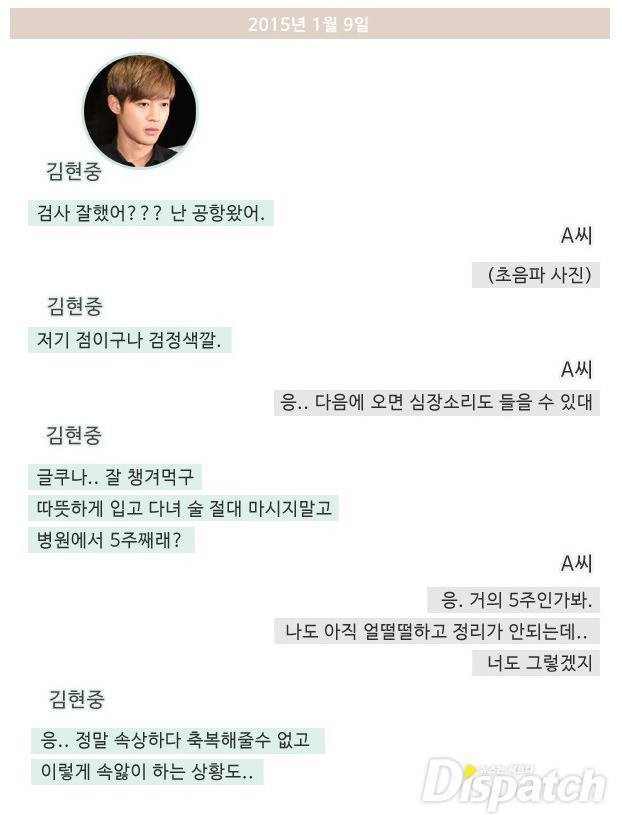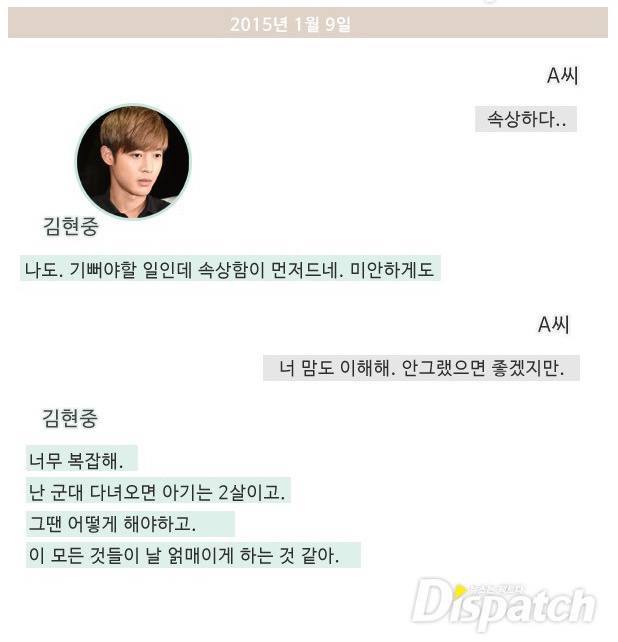 January 9,2015
[Kim Hyun Joong]: Did the examination go well? ? ? I'm at the airport.
[A]: (Ultrasound Picture)
[Kim Hyun Joong]: It's the little spot right there, the black spot.
[A]: Yes…They said I should be able to hear heartbeats when I come next time.
[Kim Hyun Joong]: I see…eat well and dress warmly. Don't ever have alcohol. The hospital told you you're 5 weeks in?
[A]: Yes. Almost 5 weeks. I'm dumbfounded and scattered right now.. I guess you must be as well
[Kim Hyun Joong]: Ya..I'm angry with myself for not being able to congratulate you and because I'm having inner conflicts..
[A]: Makes me feel sad..
[Kim Hyun Joong]: Me too. I know I should be happy, but I feel sadness first. Makes me feel sorry again.
[A]: I understand. Although I wish it could be another way.
[Kim Hyun Joong]: It's so complicated. When I come back from the army, the baby will be 2. I don't know what I should do than I feel like everything's tying me down.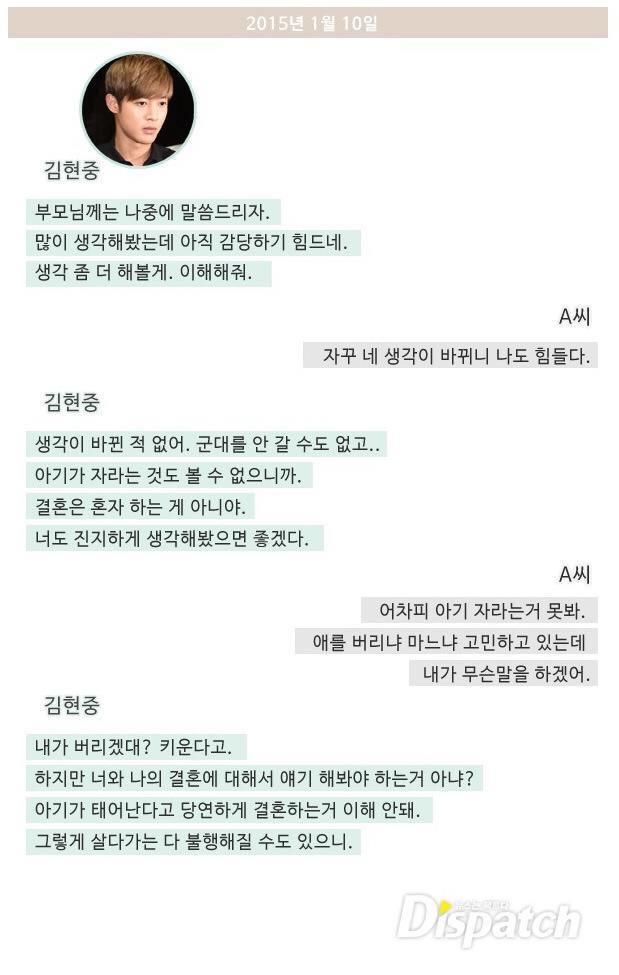 January 10,2015
[Kim Hyun Joong]: Let's not tell the parents yet. I've thought a lot on it and I don't know if I can handle it. Let me think more on it, please understand.
[A]: It's hard for me when you constantly change your thoughts.
[Kim Hyun Joong]: My stance hasn't changed. I can't not go to the army and I can't watch the baby grow. Marriage isn't one sided. You should think seriously about this.
[A]: You won't see the baby grow anyway. What would I say to you when you're thinking about abandoning your own child.
[Kim Hyun Joong]: Did I say that? I'm going to raise the baby. But shouldn't we talk about our marriage? I can't understand that marriage is necessary just because there's a baby. That can lead to unhappiness for everyone.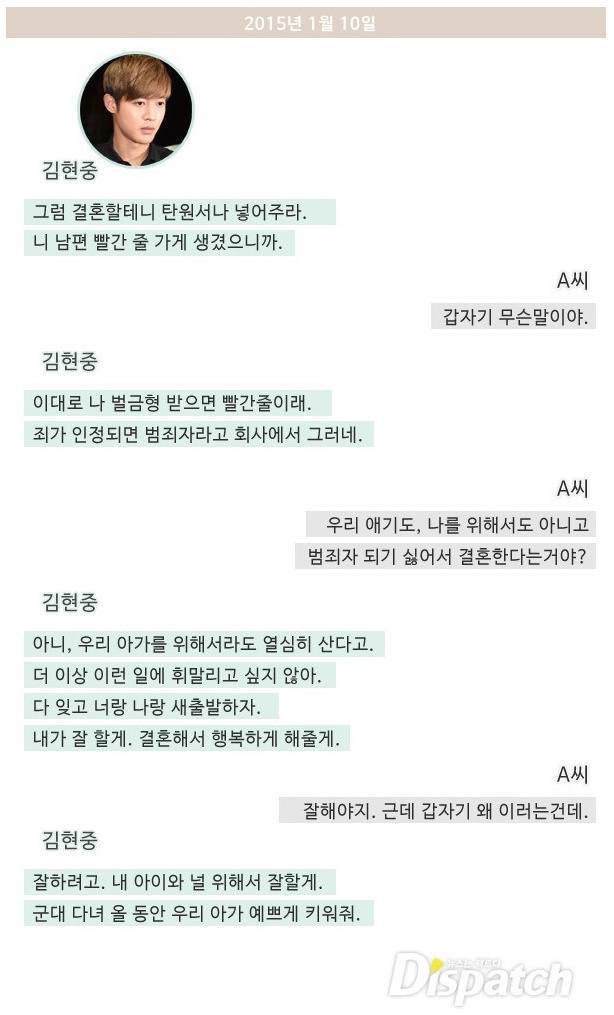 January 10,2015
[Kim Hyun Joong]: Okay, I'll get married, but write in a petition for me. I'm about to get a record.
[A]: What are you talking about
[Kim Hyun Joong]: If I'm fined for the incident, I'll have a criminal record
[A]: So you're saying you'll get married, not for me or the baby, but just because you don't want to become a criminal?
[Kim Hyun Joong]: No, I want to work hard for our baby. I don't want to be involved in any of this anymore. Let's leave everything in the past and start again. I'll do well for you. I'll make you happy after we get married.
[A]: Yes you should. But why the sudden change.
[Kim Hyun Joong]: Because I want to do my best for you and the baby. Please raise our child well while I'm in the army.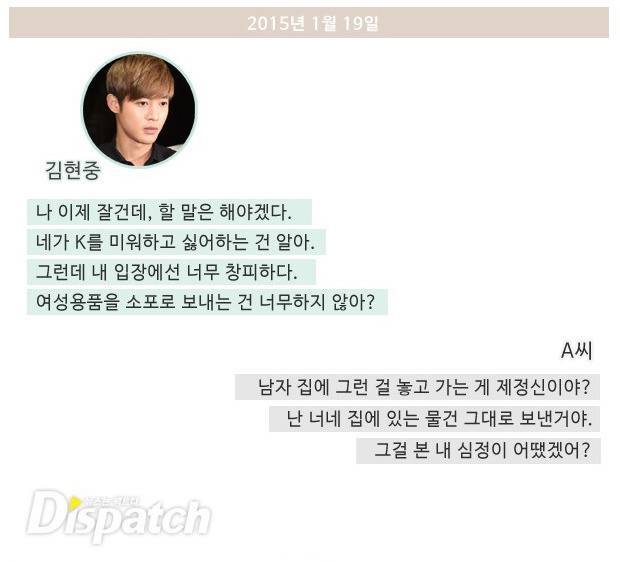 January 19,2015
[Kim Hyun Joong]: I'm going to sleep, but I have to say this. I know you don't like K. But what you did was embarrassing for me too. Wasn't it too much for you to send women's stuff through mail?
[A]: Then is it proper for her to leave something like that at a man's house? I just sent everything that was at your place. How do you think I felt when I saw it?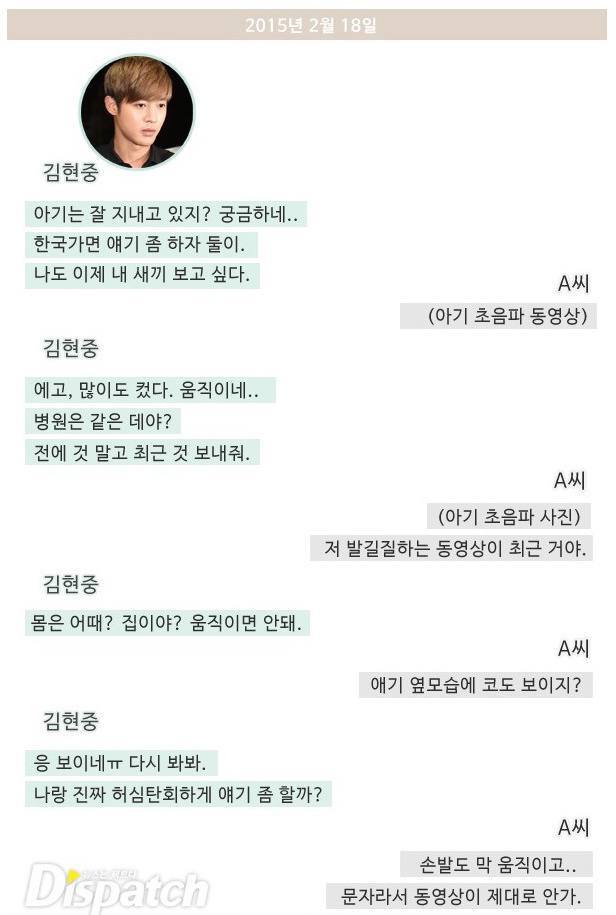 February 18,2015
[Kim Hyun Joong]: The baby's doing well, right? I'm curious.. Let's talk when I get to Korea, I want to see my child.
[A]: (Ultrasound Picture)
[Kim Hyun Joong]: Wow our baby's grown. Moving even.. Is it the same hospital? Send me more recent pictures.
[A]: (Ultrasound Picture) The kicking video is the most recent one
[Kim Hyun Joong]: How's your body? Are you home? Don't move too much.
[A]: You see the nose too, right?
[Kim Hyun Joong]: Yes I do ㅠ show me again. Let's talk honestly, just me and you.
[A]: It moves its hands and feet too now..Video isn't going through too well because it's messages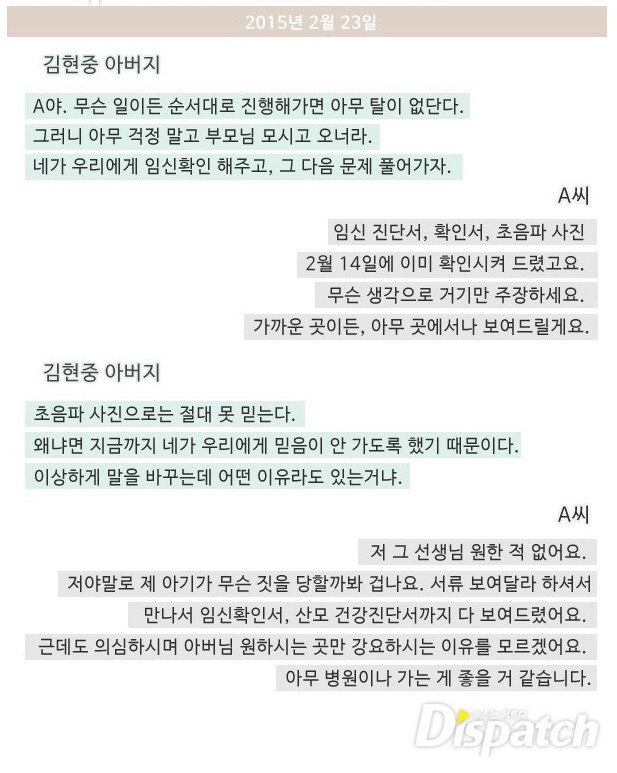 February 23,2015
[Kim Hyun Joong's father]: A. As long as things go according to proper procedure, there are no problems. So don't worry and bring your parents. Confirm your pregnancy with us first and let's solve the next problem.
[A]: I showed you the doctor's note for pregnancy, the confirmation note, and the ultrasounds on February 14th. Why are you just stating your opinions. I'll show you whatever you want.
[Kim Hyun Joong's father]: I can't trust ultrasound pictures because you've given us no reason to believe you. You keep changing your words, is there a reason?
[A]: I never wanted that doctor. I'm scared that something might be done to the baby. You asked me to show you documents, I met and showed you everything. I don't know why you still doubt me and insist we go to that hospital. I think it will be better if we go to some other random hospital
Source: Dispatch
Share This Post