Kimchi advertisement in New York City gains attention in South Korea
Kimchi is becoming one of the most popular and well-known Korean foods in the United States, prompting an advertisement featuring the dish in Times Square. The advertisement has become a hit in Korea and has even been trending on Korean web portal Nate.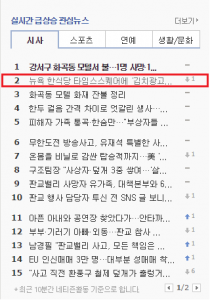 The advertisement, which highlights Health Magazine's 2008 article hailing kimchi as one of the "World's Healthiest Foods", is quite large, measuring horizontally at 77 inches (196㎝), and vertically at 37 inches (94㎝). The popularity of kimchi is definitely not getting unnoticed by American celebrities either, as the sign also promotes "First Lady Michelle Obama's Kimchi Recipe".
Source: Newsis
Share This Post