Korean netizens outraged at BTS's "Highlight" tour held by TGM Events
Korean netizens are joining in on the outrage held by international ARMYs (fans of male group BTS) over the mismanagement of their Highlight tour organized by TGM Events earlier this week.
A post has been trending across Pann Nate about the issue and Koreaboo has translated the entire post below exactly as it was written:
Hello, I'm currently living abroad, and this might be a bit long, but please listen to my story.
A few days ago, I went to a BTS concert in San Francisco, California that was run by a company called TGM. To participate in the event, you were supposed to buy an (approximately) 80,000 won ($70) t-shirt, and if you did you would be able to attend the concert, and could even do a hi-touch with BTS. I even bought a fan signing ticket pass for 110,000 won ($100). 
The fan signing was supposed to start at 5:00PM and there was a long line, so I thought I would have to wait for a long time, but the line started disappearing really fast. The hundreds of people in front of me finished their turn in an instant, and it was finally my turn.
I've been a fan of BTS for a really long time, so I started trembling in anticipation…but it was over in exactly 7 seconds. Isn't this too much? I paid $110. Shouldn't they have at least let me see the boys for 10 seconds? In fact, the staff kept rushing me, so I didn't even get to see J-Hope's face.
The fan signing, which was supposed to take 1.5 hours, finished in 20 minutes and for the rest of the next 1 hour and 20 minutes, we were left standing outside waiting. We thought we were going to freeze because it was so windy. ㅠ
I didn't have a VIP pass, but those who did were promised to be let in first…but they ended up waiting with the rest of us. When the concert started, some black hiphop artist sang for 30 minutes, and when BTS finally went on they only performed 4 songs. They said it was a collaboration concert, so the fact that BTS only did 4 songs wasn't a problem, but they should have had equal stage time. BTS was only on for 15 minutes. While the VIPs were taking pictures with BTS, the staff told everyone that they would get a hi-touch (I'm not sure if it was hi and touch or high-touch) with BTS, even the people that only paid $50. So what did I pay the $30 extra for? But I could understand since all fans would want to see them.
I read reviews from the VIPs later, and initially they were promised that for the photo sessions, it was supposed to be BTS and 8 fans. However, it ended up being 25 fans for each photo session and they even carried out the hi-touch during the photo times. Suga even frowned and complained about why they were doing everything in mass groups, and TGM staff didn't even respond. The shocking thing was a fan even went and HUGGED V and the security didn't even do anything.
The next day, TGM posted an apology saying the concert was a disaster.
I read it and I was like what kind of bs is this? The staff's execution was awful and now there saying that they should have done better…please trust TGM again and they'll make sure it will never happen again?
<2 days after the apology>
At the Houston, Texas stop, which was after the San Francisco concert, they ran out of fan sign posters, so they gave hundreds of fans their signatures on blank sheets of paper. They didn't even provide any pens so they asked ARMYs their for pens.
Their next stop in Atlanta, Georgia was even worse. TGM knew the capacity for the venue, but sold an extra 100 tickets to fans. The extra 100 fans kicked out because of the maximum capacity for the venue, and one of the staff promised them pictures and hi-touches as compensation. So those 100 ARMYs waited in the rain for 3 hours, but when they were finally allowed in, the staff told them that BTS had already left.
The truth was, BTS didn't even know about the fans outside. TGM didn't have the guts to tell BTS and Big Hit Entertainment that they scammed 100 fans, so they lied and promised the fans that they would get to meet BTS.
I feel like TGM is a scam company. Jimin was scolded by staff for 'signing too slow' and V was scolded for talking with a fan. Jimin got scared and put his face down and only signed after that. BTS seemed to be in a bad mood the entire time and Jungkook couldn't control his expression after he saw a staff member get angry and push fans.
I feel like international ARMY fans deserve better than this ㅠㅠ. I watched a video from the Atlanta stop and I saw the 100 fans outside cuss and freak out at the staff, and I honestly understand. Many of them spent thousands of dollars for plane tickets and hotel rooms.
The most ridiculous thing is…TGM's Eric Nam and Kim Taewoo concerts were also total disasters.
TGM promised thousands of fans a refund, but they still haven't done anything about that yet. I bet those ARMYs never got their refund. They say they'll refund them, but they'll probably just scam those fans. The apology post by TGM for the BTS and Eric Nam concerts is flooded with comments asking for refunds. If you have any conscience, please give those people their money back.
If any international fans are reading this, NEVER go to any event run by this company EVER. Even if elementary school students set up an event together, they'd be better than TGM.
---
 NETIZEN REACTIONS
Koreaboo has collected reactions from Netizens who commented on the original article from our Korean source. The below comments are the most popular comments at the time of this article being published.
---
1. The event was fxxked up. I saw reviews and the friggin staff yelled at Jimin and Taehyung who were trying to communicate with fans. Who do they think they are? I wasn't even there and I'm furious. The staff even pushed fans around hard and Jungkook apparently looked furious. What makes me angry is the fact that mere staff treated fans like that but I'm worried about BTS's image abroad. Friggin foreign companies. I heard international fans are going to sue the company for refunds and we should participate! How can they work like that?
2. This is the photo of the event ㅋㅋㅋㅋㅋ What, they didn't even have chairs?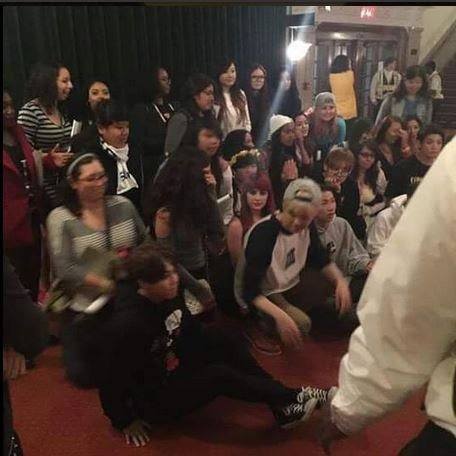 3. I'm not a BTS fans but I read the reviews and I was appalled. They should give out refunds for psychological damage and the infuriating things they did
Share This Post