Luhan's friend uploads a photo together through his Weibo account
With Luhan's whereabouts unknown after his lawsuit against SM Entertainment and subsequent withdrawal from EXO, a photo of the idol star was shared through the Weibo account of one of his closest friends.On October 25th, a close friend of Luhan who goes by the username "Cobby" on Weibo, updated his SNS account with a photo of himself with the former EXO member.
The photo was also tagged with a mysterious and indecipherable caption, "Finally… No.4, good night." However, despite the obscure caption, the photo shows a smiling and seemingly happy Luhan and his friend, Cobby.
Many fans were both happy and sad to hear about the star's whereabouts, leaving comments such as, "At least he looks happy," "I'm kind of glad he's left EXO," and, "Who is this Cobby friend and why is he always the one updating about Luhan?"
Meanwhile, Luhan has reportedly rejected an offer for a lead role in a Chinese movie due to his health conditions.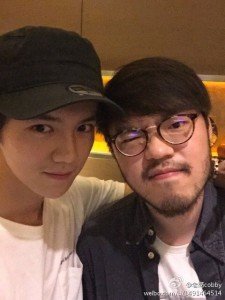 Share This Post