Netizens explore the physical sales number of rookie idol groups for 2015 so far
With the end of the year quickly nearing, it's normal that K-Pop fans analyze the year's trends in music regarding which group was the most successful.
In this particular discussion and considering the many rookie groups who debuted in 2015, netizens analyzed which group was the most successful through the amount of their physical album sales.
On Pann, a topic titled "Rookie idol album sales up to 10/30."
Posting a cleaned up chart to display the numbers, the sales – tallied by Hanteo – revealed Pledis Entertainment boy group SEVENTEEN's mini-album BOYS BE had the high album sales this year among rookie idol groups. Additionally, they take second with their debut mini-album 17 CARAT originally released on May 29th. BOYS BE was released on September 10th and had the leading title track "Mansae."
Find out what Netizens had to say about this article below!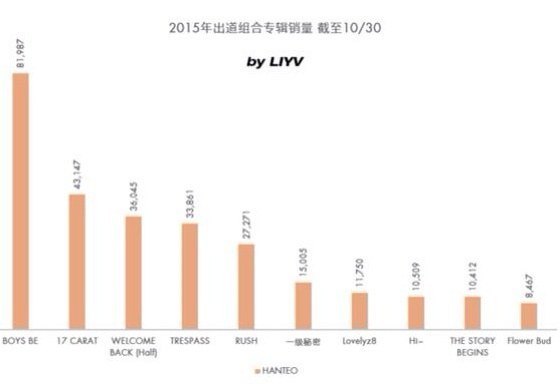 Boy group iKON from YG Entertainment comes in third with their first debut half album Welcome Back, selling an amazing 36,000 copies in just a month.
Others include MONSTA X, UP10TION, Lovelyz, TWICE, and G-FRIEND.
81, 987 – SEVENTEEN's BOYS BE – September 10
43, 147 – SEVENTEEN's 17 CARAT – May 29
36, 045 – iKON's Welcome Back (half) – October 1
33, 861 – MONSTA X's TRESPASS – May 14
27, 271 – MONSTA X's RUSH – September 7
15, 005 – UP10TION's TOP Secret – September 11
11, 750 – Lovelyz's Lovelyz8 – September 30
10,509 – Lovelyz' Hi~ – March 3
10, 412 – TWICE's THE STORY BEGINS – October 20
8,467 – GFRIEND's Flower Bud – July 23
---
NETIZEN REACTIONS
Koreaboo has collected reactions from Netizens who commented on the original article from our Korean source. The below comments are the most popular comments at the time of this article being published.
---
[+166, -12] Wow SEVENTEENㄷㄷ SEVENTEEN is in #1, #2 and sold 80,000 copiesㄷㄷㄷㄷ
[+157, -7] Heol ㅋㅋ For rookies they sold 80,000
[+146, -8] Let's do even better SEVENTEENㅠㅠㅠㅠㅠㅠㅠㅠㅠㅠㅠ♡
[+70, -3] They made fun of Seventeen saying they're only popular on Pann ㅋ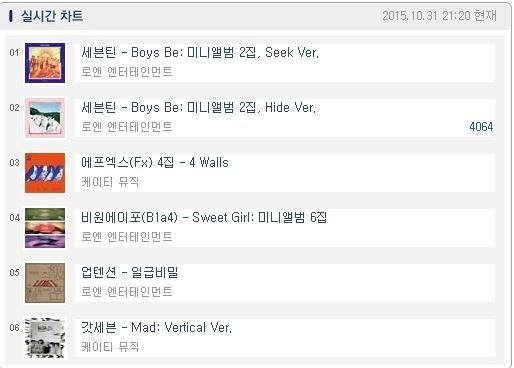 [+60, -1]
Seventeen fan sign numbers go on to 7000 and even people who bought 100 copies didn't make it, their album sale are crazy
[+56, -1] SEVENTEEN is now passed 90,000 sales!
Source: Pann
Share This Post