Netizens react to Lee Jong Suk and Park Shin Hye's dating news
On July 1st, it was reported that top stars Lee Jong Suk and Park Shin Hye are currently in a relationship.
Complementary to the report, Korean media outlet Dispatch released numerous photos of the couple. Shortly after the report surfaced, however, Park Shin Hye's agency responded to the allegations with an official statement.
Lee Jong Suk and Park Shin Hye have teamed up for fashion modeling and magazine photoshoots in the past. The two top stars also recently filmed the hit drama, Pinocchio, where they acted as a couple.
When Dispatch initially reported on the news of Park Shin Hye and Lee Jong Suk dating, netizens seemed both surprised and pleased by this news. Some even expressed their sadness for 2PM's Taecyeon who recently revealed his thoughts about Park Shin Hye on the show "Three Meals a Day."
[+ 6401, – 171] Ok Bingu is crying
[+ 5293, – 142] Daebak ㅋㅋㅋ Pinocchio couple ㅠㅠ
[+ 4191, – 97] There's pictures *trembles* Lee Jong Suk and Park Shin Hye..ㅋㅋ
[+ 2896, – 231] Dispatch is fxxxing awsome ㅋㅋㅋㅋㅋ
Netizens were mostly unfazed when both of the agencies denied the dating rumor. Even after the official statements were released, many netizens refused to believe that Lee Jong Suk and Park Shin Hye were just friends.
[+ 12011, – 473] What are you going to do about the couple bracelets ㅋㅋㅋㅋ
[+ 11903, – 373] Such lies my vote is on that they're really dating
[+ 10439, – 299] Just admit it ~~ you two look good together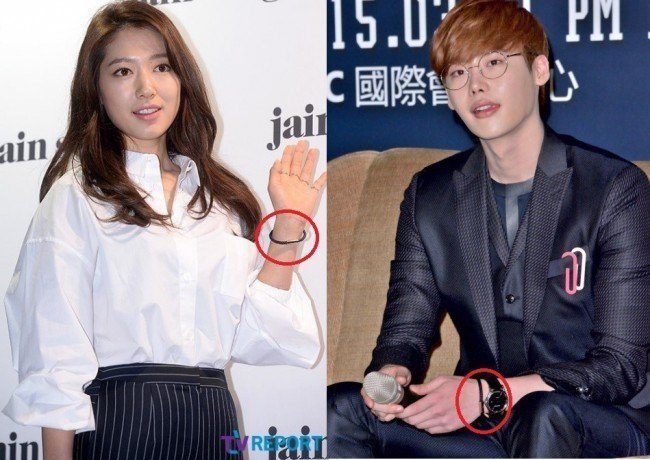 The "couple bracelet" netizens mentioned was uploaded in March on Naver Blogs by fans who suspected they may be dating.
Source: Dispatch and Daily Sports
Share This Post