Netizens suspicious after Somin shares handwritten note upon leaving April
April's former leader Somin shocked fans when she left the group, but her handwritten note has only led to more questions. 
Despite writing a handwritten note to clear things up with fans, however, many netizens were not satisfied with Somin's explanation for leaving the DSP Media group. With some believing that the singer's withdrawal of the group was not of her own choice, Somin's letter has just opened up more questions for netizens to theorize about. Check out the translation of Somin's letter to fans below:
Find out what Netizens had to say about this article below!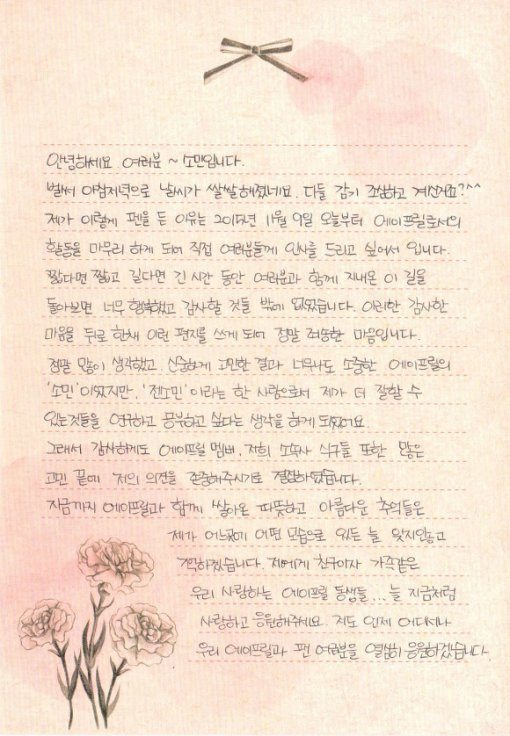 ---
NETIZEN REACTIONS
Koreaboo has collected reactions from Netizens who commented on the original article from our Korean source. The below comments are the most popular comments at the time of this article being published.
---
[+ 8989, – 185] I feel so sorry for Somin..she debuted as 'Purity' 3 years ago in DSP but that got disbanded after one or two singles. During KARA project, she was such a good singer and was always #1 among the judges but came second place to Youngji after global fan votes. When Sojin passed away she must have been devastated. As a fan I know her passion as a singer is bigger than anyone else and I don't understand why she decided to suddenly leave. Only DSP and herself know the truth…
[+ 7301, – 223] She worked for 4 long years to debut and finally made it as April. Now she's leaving? Hand written letter? Something's weird…
[+ 6677, – 170] Wouldn't she feel all the work she put in was wasted? I can only think that DSP had something to do with this…
[+ 5039, – 282] Who knows she wrote this voluntarily..I feel sorry for the members that are left..
Source: Sports Donga
Share This Post