Netizens terrified by Red Velvet death threat wishing tree from antis
Recently a photo was shared onto Instiz revealing a terrifying truth about Red Velvet antis.
The photo shows a pink gift tag that appeared to be an ornament for a wishing tree. Reading "Wishing tree, dreams come true" at the top, the user-added text at the bottom was what put many netizens to shock. It read, "Let's kill Red Velvet <3," to the dismay of many followers.
This "petition" took place during 2015 August and fans who have recently come across this were horrified that such a petition actually took place online.
In Korean folklore, the wishing tree has protected the South Korean city of Suwon for over 600 years. Kids and adults alike go to the wishing tree to write their wishes written on ribbons or paper, hoping the magical powers will grant their wishes.
Here's a photo of how the wishing tree looks like: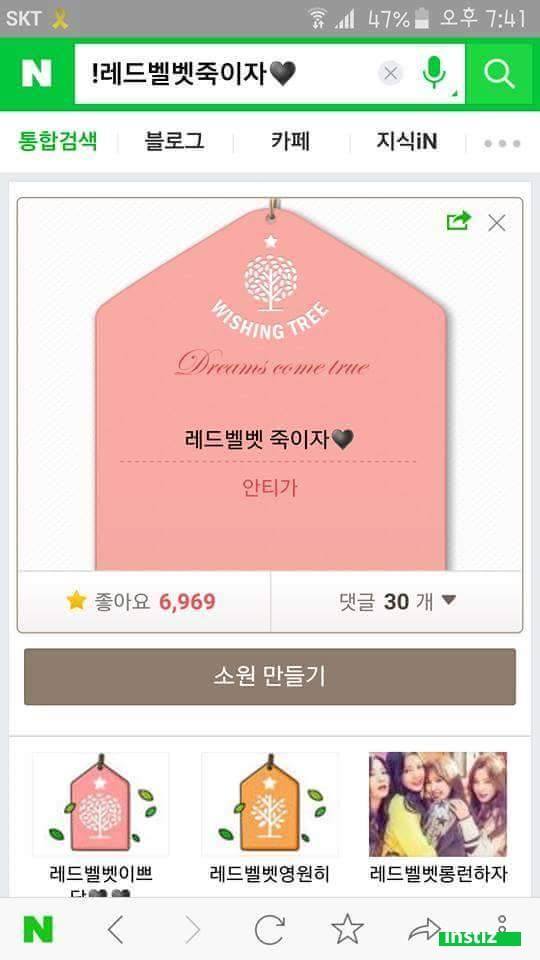 See what netizens had to say below:
– There's always people like this..what do these people live for?
– This is too much

– Heol… The only solution is to ignore them
– You can't even kill off people like this, you just have to ignore them
– Who does this person think she is touching my women….
Source: Instiz
Share This Post