SONAMOO unveils remaining members, Su Min and Min Jae
The full SONAMOO team has finally been revealed after much teasing, with members Su Min and Min Jae introduced to the public on December 15th. 
Previously, members Na Hyun, New Sun, and Eui Jin were the first members to be revealed to fans, followed by D.ana, whose name was given by fans. D.ana later made an impression with her exclusive rap track, released by their agency TS Entertainment, followed by a collaboration rap track featuring D.ana and New Sun.
High.D was the fifth member to be introduced, revealed through a special cover video track of Jennifer Hudson's "And I'm Telling You I'm Not Going," showcasing her sweet, but powerful vocals.
SONAMOO is TS Entertainment's first girl group since Secret's debut in 2009, and consists of 7-members, set to make their debut in 2015, including Su Min ('94, leader, sub vocal), Min Jae ('94, main vocal), D.ana ('95, low rap), Na Hyun ('95, sub vocal), Eui Jin ('96, dancer, sub vocal), High.D ('96, main vocal), and New Sun ('97, high rap).
Check out the profile, as well as concept photos, of each member below!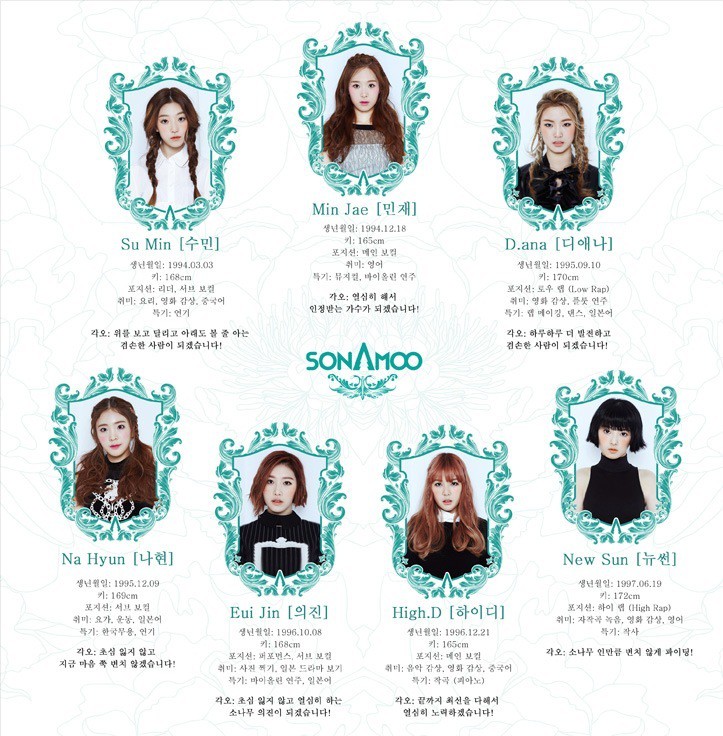 Source: My Daily
Share This Post