Sulli indirectly brought up in latest episode of "I'm A Man" by Yoo Jaesuk
On October 31st, Dynamic Duo guest starred on Yoo Jaesuk's I'm a Man, and Choiza's girlfriend, Sulli, was indirectly brought up during a segment of the show!
On I'm A Man, a viewer sent in a story where it was revealed that a girl he was seeing was unhappy with his pursuit of rock music. MC Yoo Jaesuk attempted to create a scenario for Choiza asking what he would do if he was in that position, only to remember that this would not be a problem he would encounter, seeing as he is currently dating Sulli.
At the indirect mention of her name, Choiza is taken off guard but beams with a bright smile at the mention of his belle on air, as he laughs along with the rest of the guests and audience at Yoo Jaesuk's witty remark.
It was confirmed earlier this summer that Choiza and Sulli were indeed in a relationship. However, since this announcement, Sulli has been on hiatus from activities with SM Entertainment's f(x) and only recently made her first public appearance at the press conference for her movie "Fashion King".
Meanwhile, Choiza's Dynamic Duo partner, Gaeko, who also starred on this episode of "I'm A Man", has been topping charts with his solo album REDINGREY. His title track "No Makeup", featuring Zion.T and HA:TFELT, has achieved all-kill status in addition to maintaining a high position on the charts since its release two weeks ago on October 15th.
Check out Choiza's reaction on the latest episode of "I'm A Man" through these stills: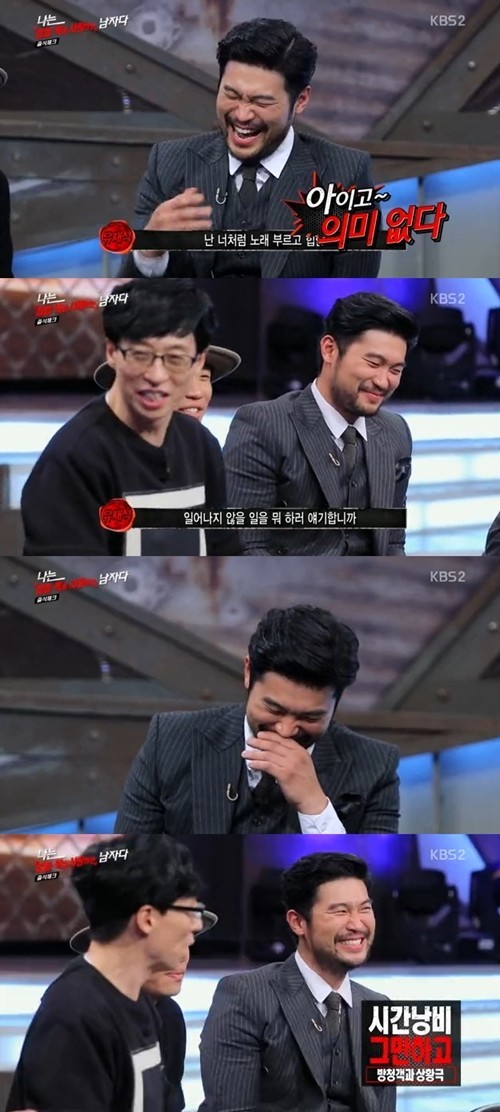 Source: Newsen
Share This Post