"W Korea" unveils additional images from BIGBANG's pictorial
W Korea unveils additional images from BIGBANG's recent pictorial for their November issue, featuring G-Dragon, Taeyang, T.O.P and Daesung  in an artistic and high fashion shoot.
BIGBANG are hugely interested in style – attending fashion weeks across the globe; wearing complex, detailed and luxurious outfits, even to airports; playing with hair and make-up techniques and meeting designers from Karl Lagerfeld to Yoji Yamamoto to Rick Owens. Their November 2014 pictorial for W Korea is yet another elegant, artistic and avant garde piece of visual art from the K-Pop legends – minus Seungri, who is currently unwell following complications after a recent car accident.
The pictorial, "Wild Things", is very dramatic – draped in extravagant fur effect pieces, hard leather and and soaked in water, G-Dragon, T.O.P, Daesung and Taeyang produced an expert shoot; their modeling skills are apparent.
In G-Dragon's solo shots, the color palette is dark and misty – heavy pieces like the fur coated platform sneakers, thick turtleneck sweater, shaggy coat and neat leather pants are balanced by the freshness of the rain-wet silver chrome set.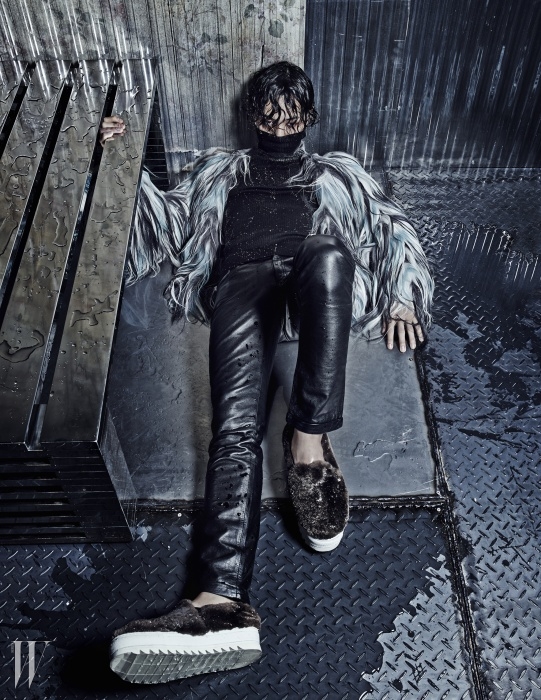 G-Dragon stands tall in layered coats – a Saint Laurent F/W 2014 monochrome houndstooth coat and a shorter length grey fur coat. His enormous black leather platform shoes boost his height and a floral patterned sheet of metal makes for a beautiful background.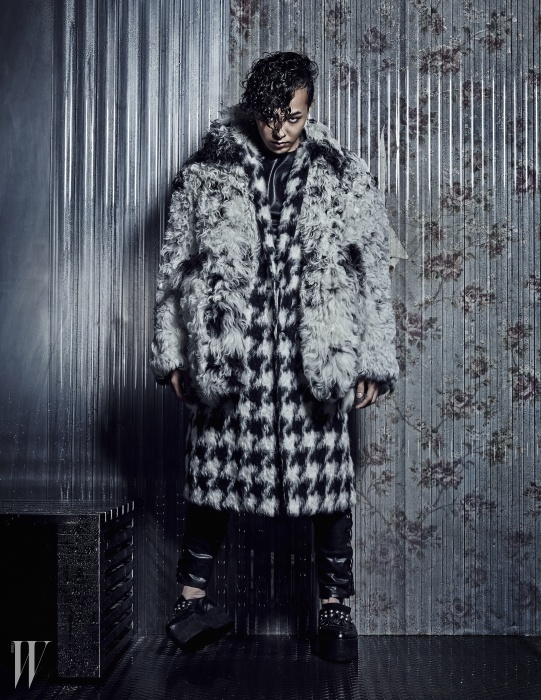 For G-Dragon's close-ups his hair is styled into loose ringlets – they match the grey, black & white soft curls of his fur coat. His smoky eye and dark stares add intensity, coldness and mystique.
T.O.P's solo photos are mature and masculine, as we might expect. His close up is bound to evoke that warm autumn feeling in you – it's all cream, bronze, brown, rugged fur, cozy wool and smooth black leather.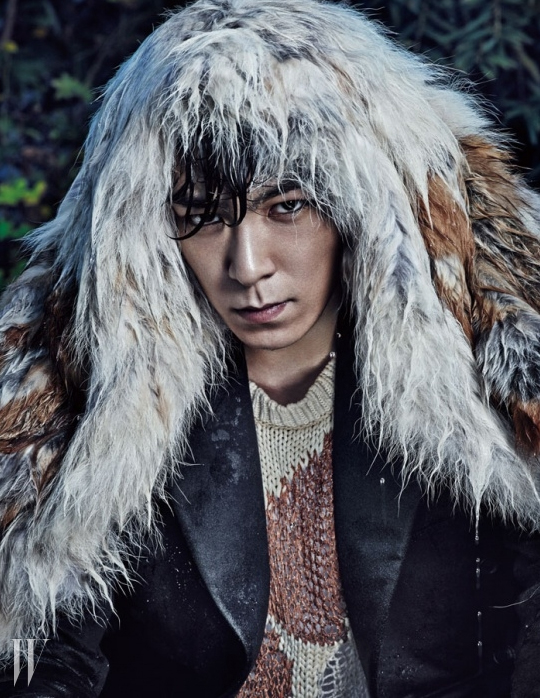 T.O.P's shots have a brooding intensity to them – the mood is cold, hard and detached, yet the fluffy fur and creased leather maintain a tactile, touchable quality. 
Taeyang's red grape fur gloves, warm cow print sweatshirt and ripped jeans are rich and strong and remind us all how the nights are drawing in and the days are getting brisker and colder, as winter sets in more, week by week.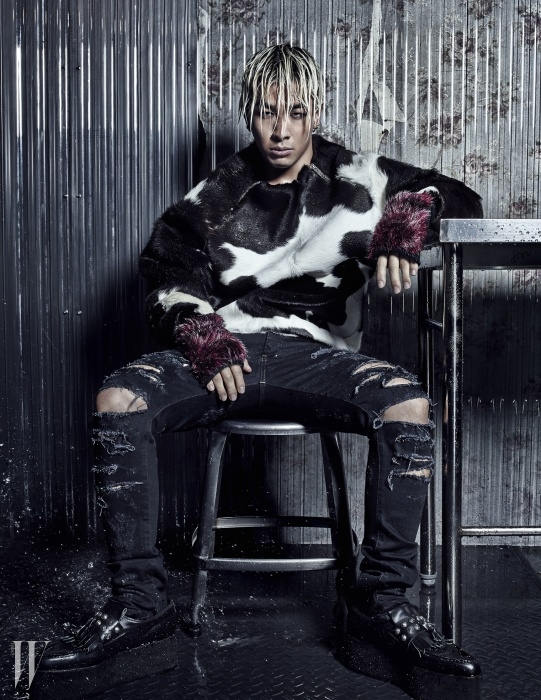 Taeyang's masculine, muscular frame and chiseled features work well with the rough, loose hair and caveman fur.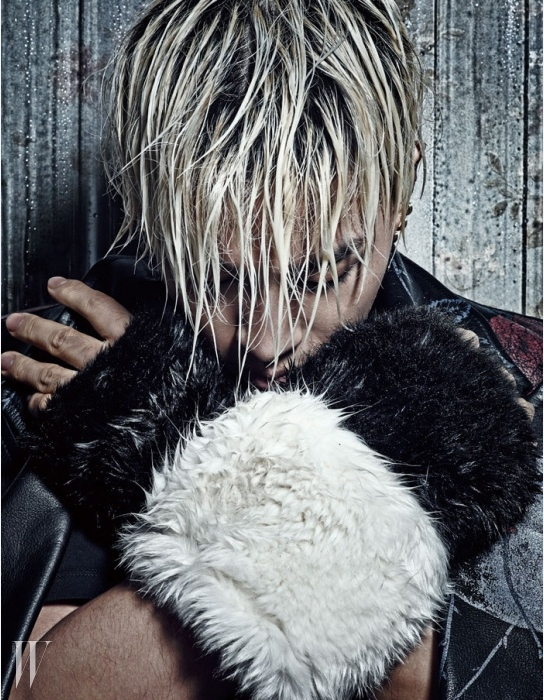 The use of black in Daesung's solo pictures will have you squinting to make out his features and see the clothes he's modeling. Deep and dark, all of his shots are full of winter shivers. High fashion fur, Chrome Hearts jewelry and leopard print suits are all modern pieces of clothing, but something about the way Daesung wears them has all the romance of an ancient huntsman.
Daesung slouches on an urban metal floor, like a sulking teenager – the shot is moody and cinematic. Daesung models a distressed monochrome knit, untamed fur and ripped jeans like a true professional.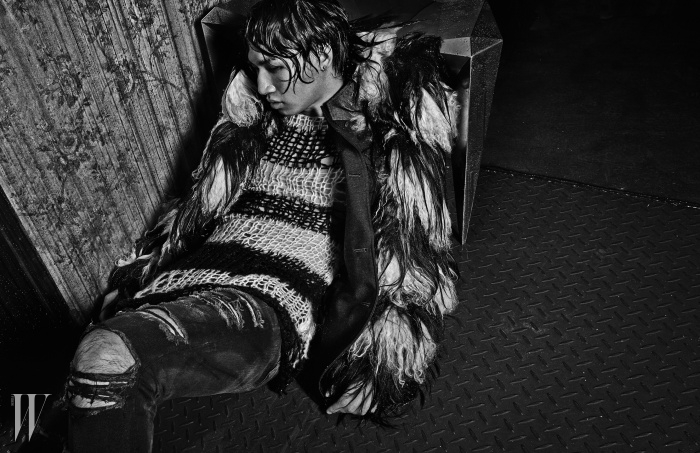 "Wild Things" has some captivating group shots that depict BigBang in 2014: older, wiser and growing more stylish by the year.
Here's a final sneak peak at those double covers, before the magazine goes on sale in late October, early November.
Source: W Korea
Share This Post