Wu Yifan (Kris) releases self-composed OST "Somewhere Only We Know" with translated lyrics
Wu Yifan (Kris) unveils his personally written track for the theme song of Chinese movie Somewhere Only We Know on his very own birthday, November 6th!
Having the same name as the movie title, the song "Somewhere Only We Know" is a treasured piece produced by Wu Yifan as he has participated in writing the lyrics for the track. The movie will also be the star's debut acting project, in which he is taking the lead role in his first attempt. Somewhere Only We Know is scheduled to be screened in theaters on Valentine's Day next year in 2015.
While the movie crew was filming their scenes in Prague, Wu Yifan started composing his theme song. When he was told that he would be the one singing the theme song, he hurriedly contacted his good friend Song Byong Yang from Berklee College of Music in America. After Wu Yifan returned to Beijing, the two friends used Wu Yifan's home in Beijing as a music studio, spending many nights discussing and trying out new ideas. As a result, the lyrics were jointly written by Wu Yifan and Song Byong Yang, while the song was arranged by Song Byong Yang.
The official Weibo account for the movie promoted Wu Yifan's song through a special post, "#SomewhereOnlyWeKnowThemeSong 2 more hours to the release of Somewhere Only We Know's theme song of the same name at midnight! At the same time it's also Mr Wu's 24th birthday. Now we are gathering every single one of you who loves him, let's see if we can break a record of 1106000 listening views in 3 hours, as a birthday gift for him! Awaiting midnight! Let's get to it!"
Wu Yifan also personally shared the audio link on his Weibo account and wrote: "It is just like a child to me, this is the first song about myself, my first try at writing lyrics, my first production. Happy birthday Just For You #SomewhereOnlyWeKnowThemeSong This is for every one of you wherever you are at, 'With you by my side, I finally stop wandering around'."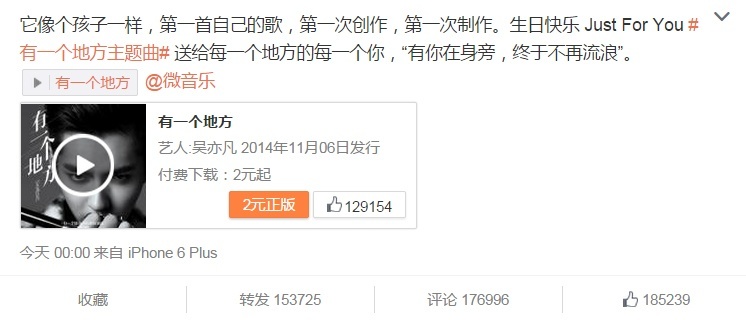 Needless to say, thanks to the star's popularity, the song reached more than 1 million listening views within 50 minutes and the targeted 1,106,000 views were also achieved easily within 1 hour.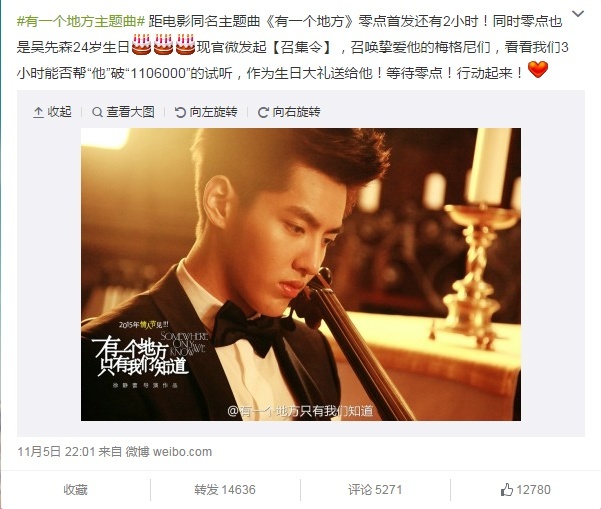 Baike Baidu, a Chinese version of Wikipedia, also updated an individual profile page for Wu Yifan with a new black-and-white photo.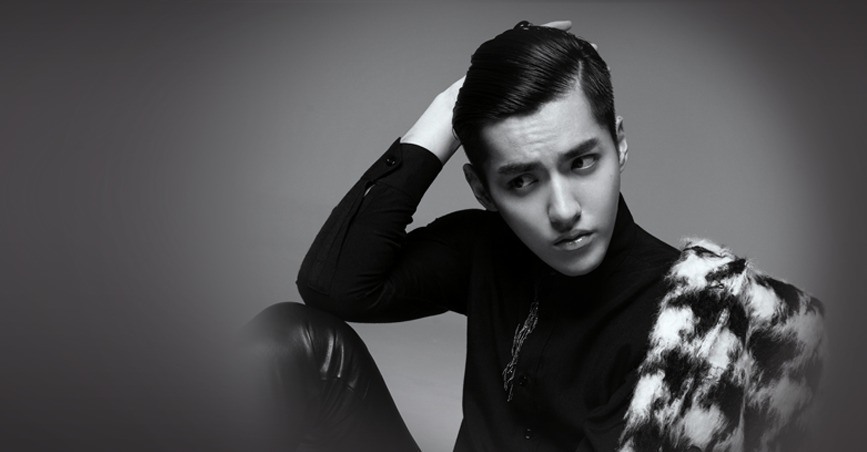 Check out the audio clip of Wu Yifan's "Somewhere Only We Know" below!

Translated Lyrics:
I can see, your eyes are looking towards the sky
On a street without anybody, with a silent hug, love is quietly going ablaze
woo I can hear your voice woo I can hear you in my mind
I think about how you looked like in the past, thinking about those lively memories
With you by my side, I finally stop wandering around
Thinking about the familiar street, thinking about the good times that have passed
There is somewhere only we knowMy heartbeat, your smile is secretly giving me the strength
woo I can hear your voice woo you are eternity
I think about how you looked like in the past, thinking about those lively memories
With you by my side, I finally stop wandering around
Thinking about the familiar street, thinking about the good times that have passed
There is somewhere only we knowI think about how you looked like in the past, thinking about those lively memories
With you by my side, I finally stop wandering around
Thinking about the familiar street, thinking about the good times that have past
(I'm thinking of you)
There is somewhere only we knowI know, only we know
Related news: Behind-the-scenes of Wu Yifan in recording studio for OST recording
Share This Post