Zico and Mino top the list for best rising male rapper-dol in latest poll
Recently, Naver conducted a poll asking those on the site to decide who they believe is the best male rapper in recent rising groups.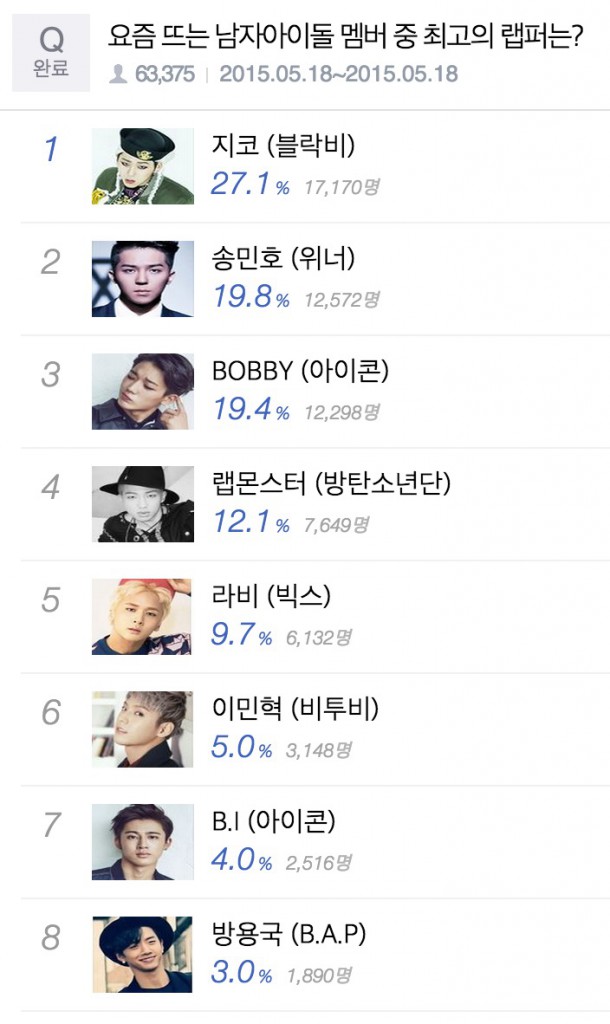 Block B's Zico dominates the poll with 27.1% while WINNER's Song Minho (stylized Mino) and label mate iKON's Bobby  (who debuted as a rapper and won Show Me the Money 3 last summer) were neck and neck at second and third place with 19.8% and 19.4% of the votes respectively.
In fourth place is Rap Monster with 12.1% from rising hip-hop group Bangtan Sonyeondan (also known as the Bangtan Boys) who recently won their first music show trophies with their latest comeback "I NEED U." Fifth place goes to VIXX's Ravi with 9.7% while sixth place goes to BTOB's Lee Minhyuk.
Meanwhile, iKON's leader  B.I. (who also debuted as a rapper on Show Me the Money 3) came in seventh with 4% while B.A.P.'s Bang Yongguk rounds off the list with 3% at number 8 on the list.
Netizen reactions have been mixed as some expressed confusion over whether or not Block B's Zico qualified as a "rising idol" as Block B debuted in 2012 and the rapper has released numerous single tracks and has been confirmed as one of the judging panelists for the upcoming season of Show Me The Money 4 alongside Jinusean, Tablo, and more.
In addition to Zico's position as a coach, a variety of idols have joined the fourth season of the show including, Mino, Ravi, Hello Venus' Lime, Topp Dogg's Kidoh and Yano, EvoL's Jucy, and MONSTA X's Jooheon, MADTOWN's Buffy. Meanwhile, Bobby made a surprise appearance with an outdoor performance with "The King of Youth."
Below are some of the top netizen comments on the post, echoing the sentiment.
1. [+3,755, -616] I feel like they just put Zico in the poll because people would be upset if he wasn't included. He's the undisputed top among the current idols and I had a feeling Song Minho would be next and there he is.
2. [+3,391, -891] Why is Zico in a poll about 'recently rising' idols ㅋㅋㅋ I personally think Minho!
3. [+3,193, -796] Excluding Zico, I think Minho would be the best after him… I personally can't understand Bobby's lyrics ㅋㅋㅋ
4. [+2,339, -524] Song Minho!!!!!!!
5. [+3,278, -1,748] I think you guys forgot Minho (SHINee), he's the undisputed #1
6. [+2,414, -907] BI and Bobby should debut first
7. [+1,655, -339] Mino, mino, mino!
8. [+1,639, -414] I bet if an EXO member was in this poll, even the worst member would be voted to the top ㅋㅋㅋ
Source: Naver Poll
Share This Post