10 Times Idols Spoiled Their Comeback And You Probably Missed It
Some idols have perfected the art of spoilers!
We all know that idols love to spoil their fans and give hints about their latest comeback but it's also frowned upon. So instead, some idols have learned the art of dropping hints without giving too much away. Some hints are so smooth that fans aren't even aware they're giving a spoiler at all until the song drops!
1. Stray Kids cawed their way into the spoiler hall of fame
For a few months leading up to one particular comeback, the members of Stray Kids would suddenly burst out into bird calls.
While many people were sure something was up, it wasn't until "Awkward Silence" dropped, complete with bird calls of its own, that all the puzzle pieces fell into place.
2. BLACKPINK spoon-fed everyone this smooth dance
Everyone knew that BLACKPINK was due for a comeback and should have known that something was up during one live stream with Jennie and Jisoo.
Because those dance moves were about to make a second appearance when the girls finally dropped "DDU-DU DDU-DU"!
3. TWICE's fan meeting favor
TWICE are the queens of spoilers! They've snuck a ton of hints into livestreams and variety shows but perhaps one of their most epic took place at a fan meeting.
Some eagle-eyed fans later noticed that Jeongyeon and Sana were secretly doing the choreography to "Knock Knock" in front of everyone!
4. BTS's Jin asked the really important question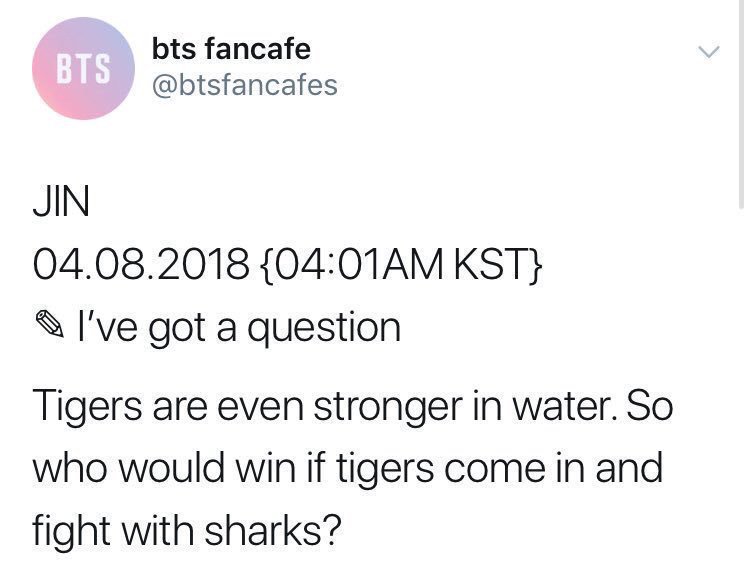 Jin once posted this question to Twitter and while he may have just wanted to know who would win in a water fight…
It was also a sneaky hint for "IDOL"!
5. SEVENTEEN just wanted to catch the fish
Carats know that the members of SEVENTEEN drop a lot of spoilers. Normally it's pretty easy to tell when they do it based on the other members' reactions.
But there was at least one case that flew under the radar. During an episode of One Fine Day, Hoshi let loose some words that could have just been about fishing…or about "Chuck"!
6. GFRIEND attempted to be all sly about it
We all might have missed what Umji, Sowon, and SinB were up to at the time…
But that "tang" was a major clue that eventually led us all to "Fingertip".
7. TWICE slipped us a little of their choreography
Another great TWICE spoiler happened during a Music Core performance. A few days before their own comeback, the members gave a performance of GFRIEND's "Me Gustas Tu"…
And snuck some of their choreography to "Cheer Up" into it!
8. Tiffany wanted to bring the boys out
A few months before Girls' Generation had their comeback, Tiffany teamed up with Super Junior to give this performance of "Oops".
Then "The Boys" dropped and fans realized Tiffany had given a major spoiler for the song at the very beginning of the special performance.
9. G-Dragon looked 3 years into the future
During G-Dragon's "Crooked" performance at the 2013 MAMAs, he opened the show with some very unfamiliar lines.
Unfamiliar at the time, because 3 years later we would all be introduced to BIGBANG's "Sober"!
10. BTS's hidden spoiler
Every ARMY knows that BTS are kings at hiding little details of about their future comebacks in their performances, music videos, and livestreams. And one of the best-hidden gems has to be Jimin's fake tattoos at the 2014 MAMAs.
On one side of his body was written "nevermind" and on the other were Chinese characters that were a metaphor for fleeting or withering youth. And as we all know in 2015, BTS began their Most Beautiful Moments In Life series which was all about growing up. And to top it off, the intro track for The Most Beautiful Moment In Life Pt. 2 was "Nevermind"!
Bonus: GOT7 was supposed to "Never Ever" give a spoiler but…
Back when the boys were getting ready to release "Never Ever" they teased a whole bunch of concepts during a livestream and they weren't even trying to hide what they were doing!
JYP Takes Insane Measures To Stop GOT7's Habit Of Spoiling Comebacks
And that wasn't the first time they've ever spoiled a comeback. GOT7 are the kings of spoilers, so much so that JYP Entertainment doesn't even let them know when their comebacks are to try and keep things under wraps!
Share This Post