12 Filipino Celebrities You Might Not Know Are Huge BLACKPINK Fans
#9 is a BLINK who's not afraid to jump to BLACKPINK's defense.
Even celebrities are not immune to BLACKPINK's charms!
Some of the girl's biggest fans are hugely popular themselves. The following stars are big names in the Philippine entertainment scene, and they also happen to be BLINKs themselves.
Check them out below!
1. Liza Soberano
Liza Soberano is such a big fan of BLACKPINK, she even travelled to Coachella in 2019 just to watch them perform.
She had a lucky encounter with Jennie who focused on the actress among everyone in the crowd and winked at her! It was a defining moment for Liza and her fangirl self.
2. Ella Cruz
Ella Cruz is one of the most vocal Pinoy celebrities about her love for BLACKPINK.
Blackpink in your area~ #FangirlEllaCruz pic.twitter.com/P6kkWYJboR

— ella (@itsEllaCruz) July 2, 2017
She is always one of the most excited to attend their concerts and meet and greets in Manila and abroad, to unbox her merch in front of her YouTube subscribers, and to even join a dance cover contest just to meet them.
Like many other BLINKs, she is often one of the participants of the member's Instagram LIVE videos, and she comments often—to the attention of BLACKPINK!
OMG THEY GREETED ME!

– Ella Cruz
Ella is not shy to flaunt her BLACKPINK light stick and Samsung phone among other memorabilia, showing that she might just be the biggest celebrity fan of the group.
3. Anne Curtis
Famous actress and TV personality Anne Curtis is one of the certified "true" fans of BLACKPINK. She couldn't stop gushing over the girls when she attended their concert in the Mall of Asia Arena and even snapped a photo with them!
When the official BLACKPINK House Instagram account left a crown emoji on her photo's comment section, Anne was again struck with happiness.
I'm still not over the comment on my IG. I was so happy and giddy! Like how did this happen? #SoHappy

– Anne Curtis
I'm still not over dun sa nagcomment sa IG ko. Gulat and Kilig me!!! 😍 Like how did this happen? 🤷🏻‍♀️ 🖤💗#SoHappy

— Anne Curtis-Smith (@annecurtissmith) March 27, 2018
Considering her many fangirl moments such as covering their dance performances and commenting on their Instagram LIVE, she deserves the attention from her favorite group!
4. Alden Richards
One of the Philippine's top A-list actors, Alden Richards is another fan of BLACKPINK who is not afraid to say so. He became a certified BLINK after visiting South Korea in 2019 for the 14th Seoul International Drama Awards.
He was immediately hooked! He couldn't stop gushing over Lisa on national television.
Wow, she's amazing! She's so cute! She's gorgeous.

– Alden Richards
In fact, he loves Lisa so much that he even tagged her in a photo for his 3.6 million followers to see. Looking longingly off in the distance, he commented, "When you can only look at her from afar."
5. Maja Salvador
Actress Maja Salvador is another celebrity who is a huge BLINK. Known for her top dancing skills, she performed songs like "BOOMBAYAH" and "KILL THIS LOVE" on mainstream television.
She also comments on the girl's Instagram posts, such as when she replied almost immediately after Jisoo posted online.
6. Sharlene San Pedro
VJ and TV host Sharlene San Pedro is just like any other BLACKPINK fan. She owns tons of merch…
…lines up to buy concert tickets…
Sharlene San Pedro spotted in the line for BLACKPINK's concert.
Sharlene San Pedro spotted sa pila for Blackpink concert. Thank you po Kuya @kennethfloresx #SharDonFreeToLove pic.twitter.com/mxI03vP5Gt

— SharDon Trendsetter (@SharDonTrends) February 2, 2019
…and encourages fellow BLINKs to vote for them in award shows!
She's a dedicated fan!
7. Maymay Entrata
Actress Maymay Entrata has attended BLACKPINK's events in the Philippines in the past with great excitement.
When she couldn't see them personally, she commented on their Instagram LIVE videos.
I LOVE YOU FROM THE PHILIPPINES!

– Maymay Entrata
Maymay even covered Jennie's "SOLO" in her own concert!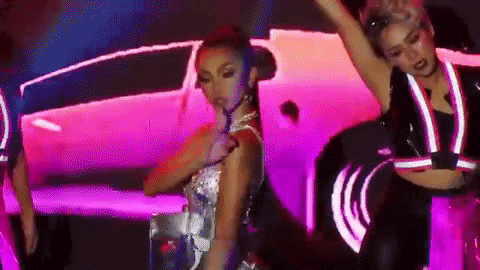 8. Kristel Fulgar
Filipino actress and singer Kristel Fulgar is not shy about her admiration for the girls. She was notably excited when attending their concert in Manila.
One of her vlogs was even dedicated to talking about the girl group with friend and actress Sue Ramirez.
9. Sue Ramirez
Sue Ramirez is another "true" BLINK who has liked them for years. She attended their concert and owns her own merch.
The Filipino BLINK community praised her for coming to Jennie's defense when people called her "lazy".
Maybe she was sad on that day? Guys why are you judging? […] Artists can't be great performers all the time. We also have days when we feel down. The people saying she's lazy, I didn't even notice! She's so cute.

– Sue Ramirez
riva, awra can't relate. :(( pic.twitter.com/vWqSxuK9GG

— ʝ ²⁴³⁶⁵ (@Jaaamshot) June 6, 2019
10. Ryan Bang
TV host and comedian Ryan Bang is known for being a Jennie fan!
Hi Jennie! I hope we can meet in your concert here in Manila.

– Ryan Bang
RYAN BANG greeted Jennie on Philippine national tv!

Female host: He (Ryan) has a crush on Jennie. Go greet Jennie she might see this!
Ryan Bang: Hi Jennie! I hope we meet on your concert here in Manila.

Ryan is a South Korean host based in the Philippines.#JENNIE #BLACKPINK pic.twitter.com/EvxgxmWS01

— JENNIERAZZI (@jennierazzi) August 3, 2018
He even went to their Manila concert with bestie Anne Curtis.
11. Andrea Brillantes
Teen star Andrea Brillantes showed her love for the group when she attended their concert decked in pink gear.
She is also vocal about being a fan on her social media pages such as TikTok and Instagram. One of her posts reacting to "How You Like That" received 1.3 million likes in a few days.
This Tiktok video posted by Andrea Brillantes has garnered almost 10M views and 1.2M likes in 3 days 👀 @iamandrea_b

🔗 https://t.co/BpL0l1D8Z2#BLACKPINK #JENNIE #블랙핑크 #제니 #HYLT @ygofficialblink @BLACKPINK pic.twitter.com/KhXh6jS39Y

— JENNIE CHARTS (@jnkcharts) July 1, 2020
At the moment, Andrea is twinning with Jennie by dyeing her hair two tones just like the idol!
12. Kim Chiu
Finally, actress and singer Kim Chiu was all praise for BLACKPINK after seeing them in person in their meet and greet.
It was super not enough, but worth it. We saw them all and they look like Barbie dolls.

– Kim Chiu
Maymay Entrata and Kim Chiu talked about seeing the K-Pop group BLACKPINK!

Video from Twitter (mjfelipe) pic.twitter.com/DsZhuBHmNU

— StarStudioPH (@StarStudioPH) June 7, 2019
When given the group's merch in a talk show, she was all smiles.
When I saw them, oh my gosh. They're all so beautiful, they're all so good [especially in] their music video 'DDU-DU DDU-DU'. So gorgeous! This is so many, I'll make these my wallpapers.

– Kim Chiu
Kim Chiu really loves BLACKPINK 💕 pic.twitter.com/ivrqEqxKLl

— Beulping (@AkemBlink) December 24, 2018
When Kim couldn't attend their concert in Manila, she even went all the way to Singapore to catch them!
As these 12 celebrities show, BLACKPINK is a hit in the Philippine market!
Share This Post