7 Of K-Pop's Worst Stage Disasters That Should Never Be Forgotten
These major accidents are scary, to say the least.
There have been more than a few accidents during K-Pop concerts. While some concerts ended in disaster for the artists and their fans, others were just plain mismanagement. It's hard to forget these events, especially when they made such an impact on the industry. Let's hope that concerts not only become safer for everyone but also more reputable.
1. 4MINUTE — Techno Valley Festival Ventilation Shaft Accident
On October 16, 2014, 4MINUTE was hosting a concert in the district of Seongnam, Seoul, South Korea. Many fans gathered on top of a ventilation shaft to get a better view and, under the extreme weight, it collapsed minutes later.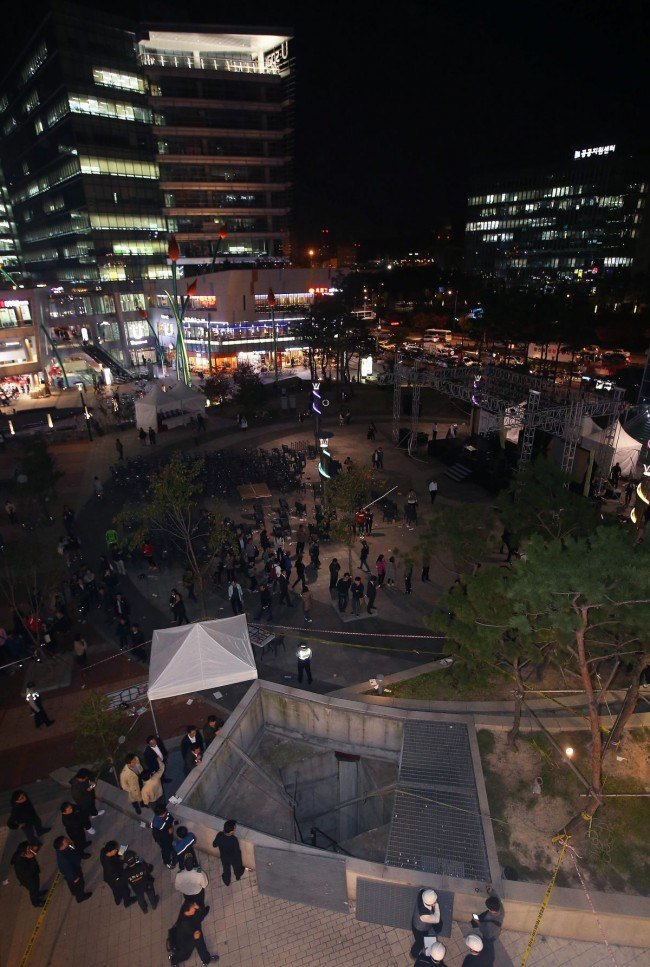 16 people died after falling down the 60-foot chasm. This is still remembered as the most tragic concert accident in K-Pop history.
2. Girl's Generation — Stage Collapse at the Seoul Music Awards
During Girl's Generation-TTS's performance at the 2014 Seoul Music Awards, the stage elevator platforms collapsed, causing Taeyeon to fall down into the basement.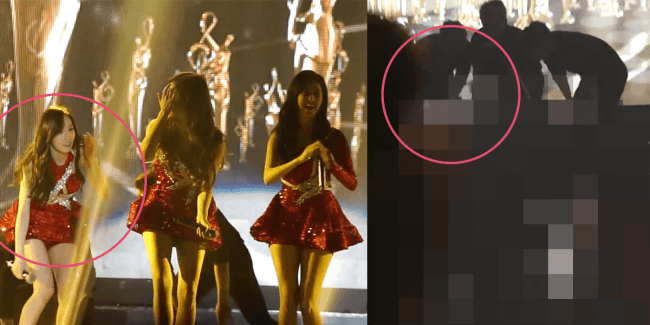 She was immediately rushed to the hospital but luckily she had no major injuries and was given painkillers. Seohyun was reported to have sprained her leg in the incident.
3. Girl's Generation — 2011 Kidnapping Attempt
Another incident involving Taeyeon occurred in 2011 when an unidentified man barged onto the stage and proceeded to grab Taeyeon, attempting to carry her away with him.
The MC at the time, Oh Jung Tae, and Girl's Generation's Sunny were the first to interfere. The man was cut off and stopped in his tracks, and Taeyeon was unharmed if a little shaken.
4. SHINee — KBS Music Bank Apparatus Collapse
In 2009, after SHINee's performance on KBS' Music Bank, the group proceeded to leave the stage when the lighting support structure suddenly collapsed. One of the light fixtures smashed to the floor, nearly hitting Onew. 
Onew immediately lost consciousness from the shock and terror of the incident.
While SUPER JUNIOR members rushed to prevent the structure from collapsing on top of Onew, SHINee's manager rushed to pick Onew up and carry him to safety.
Earlier that day during SUPER JUNIOR's pre-concert rehearsal, Sungmin tripped on a stage prop, fell, and cut his knee open. He received stitches to close the wound. It was an unlucky day for SMTOWN artists.
5. DalShabet — Stage Collapse
In 2011, DalShabet's Subin had a terrible fall during a performance, the stage collapsed under her feet. While she was falling her face smashed into one of the metal pyrotechnic outlets, and she gashed open her lips and mouth, resulting in a total of 16 stitches in her gums and face.
If she had been even an inch closer to the outlet she could have suffered irreversible injury or worse.
6. Girl's Generation — Moving Platform Crash
During rehearsals for their Taiwan concert, Hyoyeon, Seohyun, and Tiffany were involved in a dangerous platform accident that could have potentially resulted in serious injury or worse. The members were standing aboard an elevated moving platform when the platform accelerated into a floor tarp and lurched to a sudden stop causing the girls the stumble and Seohyun to fall over.
Had any of the members fallen from the platform, the situation could have been serious.
7. BIGBANG — Pyrotechnic Explosion
When BIGBANG was just a rookie group, there was an incident where Seungri was engulfed in a pyrotechnic explosion and fireworks burst in his face.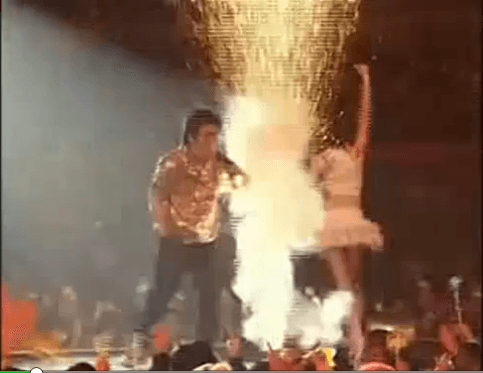 Seungri barely managed to jump out of the way, but still received burns and was rushed to the hospital. He's revealed since the event that he's scared of fireworks due to this accident.
Bonus: The False Promises & Scams of both
"Krowdpop" and "TGM Events"
Krowdpop and TGM Events are two event production companies that have been plagued with having issues. The CEO's of both companies have worked together in the past and have had information leaked about them showing severe neglect for fans and mishandling of finances.
Nadia Leong, CEO of TGM Events is currently in hiding after stealing thousands of dollars from fans and from Eric Nam's concert overseas. She also had a disastrous run with BTS concert that was held in 2015.
BTS "Highlight" tour ends after disastrous tour management by TGM Events
Richard Choo, the CEO of Krowdpop recently was exposed for mishandling finances after a disastrous EXID concert in Vietnam. The concert was taken away from him by EXID's agency after hearing about the severe controversy facing his company.
Vietnamese Fans Are Boycotting EXID's Concert After 'Scam' Accusations
Share This Post