8 K-Pop Idols Who Debuted Through Chinese Survival Shows And Got Massively Popular
You might recognize #4 from SEVENTEEN TV.
While many Chinese hopefuls travel to South Korea to achieve their dreams of being K-Pop idols, some of them actually return to China to participate in survival programs. Beating the odds, they won a place in their respective debut teams and got the popularity they deserve.
Check them out below!
1. Cosmic Girls' Meiqi
Meiqi debuted as the center of Produce 101 China. Starting at rank 16, she slowly but surely earned her spot as first place, eventually getting over 185 million votes in the final round.
2. Cosmic Girls' Xuanyi
Xuanyi ranked second right after fellow groupmate Meiqi. She gathered a strong fanbase right away because of her gorgeous visuals.
At over 181 million votes, her popularity was certified.
3. UNIQ's Wenhan
Because of his acting skills and UNIQ activities, Wenhan already had a sizable fandom in China before participating in Qing Chun You Ni. 
He eventually ranked first place in the show and debuted as UNINE's center with 8,457,091 votes.
4. Yao Mingming
Yao Mingming is popular in Korea for being one of the original trainees of PLEDIS Entertainment. He left the company before he could debut with SEVENTEEN and later joined the K-Pop group BLK.
He then joined MIXNINE in 2018 and barely missed the cut-off for debut at rank 10. Mingming finally made his debut as the main dancer of UNINE after reaching third place in Qing Chun You Ni with 4,990,867 votes.
5. Fanxy Red's Lu Keran
Lu Keran is part of K-Pop's only known androgynous group, Fanxy Red. The four members sport short hair, pants, and sneakers on a daily basis, but they say they're also comfortable with more feminine clothing as well.
She grabbed everyone's attention right away with her charismatic first performance on Youth With You Season 2.
Lu Keran made it to rank 9 with 3,788,898 votes.
6. Justin
Justin was famous for his adorable visuals in Produce 101 Season 2, becoming the center of their team's performance of "Replay".
With his talent in rap and hyper personality, Justin debuted at rank 4 in Idol Producer with over 14 million votes.
7. Jung Jung/Zhu Zhengting
Zhu Zhengting was known as Jung Jung when he participated in Produce 101 Season 2 with label mates Justin, Hyeongseop, and Euiwoong. He made his fellow participants gasp when he showed off his flips in each performance.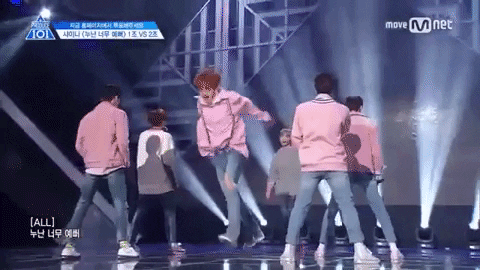 Zhengting ranked sixth in Idol Producer with almost 12 million votes, debuting as the main dancer of Nine Percent.
8. gugudan's Sally
Finally, gugudan's Sally is the latest K-Pop idol who has successfully transitioned to the Chinese market.
With 93 million votes, she was a shoo-in for the debut group at sixth place.
Debuting in Chinese survival shows almost certainly assures popularity—or at least a strong fanbase. Rocket Girls, Meiqi and Xuanyi's group, won "Most Popular Group" at the 2018 Global Chinese Music Awards.
Meanwhile, Nine Percent, Justin and Zhengting's group, won "Most Popular Group of the Year" and "Best Digital Album" at the 12th Migu Music Awards.
Share This Post