9 Most Lovable Male X Female Idol Friendships
These idols are showing us what friendship really is.
1. NCT's Mark and gugudan's Mina
Mark and Mina were in the same class at the School of Performing Arts Seoul so they've known each other for a few years.
They showed their cute friendship at their graduating ceremony when they reached to touch hands even though they weren't sitting next to each other.
Although they haven't interacted much yet on stage, we'll be able to see even more of them together this year when they MC together on MBC Music Core!
2. ASTRO's Moonbin, GFRIEND's SinB, and iKON's Chanwoo
These three were models when they were 8 years old, so they have been working together in the industry for a long time!
Moonbin and SinB lived next door to each other in Cheongju so they became especially close.
Although they almost never interact on stage together, it became clear how important their friendship is to SinB when she mentioned Moonbin in her album dedication.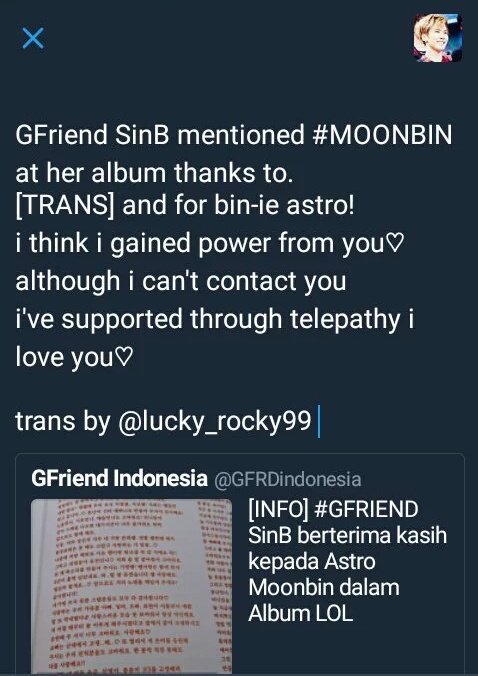 Fans love it when the two interact because it's so rare!
#Moonbin winked and sinb reaction just…. 😳😳😳 cr. Nerdysinb pic.twitter.com/589wTlsN3o

— sinbae (@SiinB98) January 30, 2017
3. WANNA ONE's Lee Daehwi and Somi
The two idols have been close since middle school and even trained together at JYP Entertainment. Somi is openly supportive of her friend and was seen crying tears of joy when he won 3rd place on Produce 101!
She even hugged him after she had calmed down.
They also often take goofy pictures together and joke with each other!
4. iKON's Yunhyeong and Apink's Bomi and Chorong
Korean variety shows love throwing idols together and Law of the Jungle did just that when Yunhyeong, Bomi and Chorong worked together to overcome challenges in Fiji.
Bomi and Yunhyeong even put on a performance together of PSY's "New Face"!
They all got to know each other well and have met up since the show finished!
5. Oh My Girl's Arin and ONF's Laun
Arin and Laun joined WM Entertainment at the same time (when they were both in middle school) and trained together for years before debuting—Arin in 2015 and Laun in 2017.
Their comfortable friendship was showcased at their recent graduation from the School of Performing Arts Seoul.
They sat together at the ceremony and spent a lot of time chatting and laughing with each other. When it came time to take their graduation photo, Laun worried about where Arin was because she ended up missing the photo!
6. BTOB's Sungjae and Apink's Namjoo
Sungjae and Namjoo have been extremely good friends since they sang a duet together called "Photograph" in 2015.
The making of the song's MV shows their brother-sister friendship where they often tease one another.
During the Idol Star Athletics Championships (ISAC) reality show in 2015, Namjoo fell asleep and Sungjae covered her with a sheet and pretended she was dead by praying for her and calling "Wake up, Namjoo!"
7. Apink's Chorong and BTOB's Changsub
Apink and BTOB hang out with each other often, so it's no surprise Changsub and Chorong have gotten to know each other so well.
Their friendship was proven when Chorong prank called Changsub on the Yang and Nam Show and asked him to lend her a massive sum of money, which he agreed to without a moment's hesitation.
Changsub agreed to give her the money instantly, saying "Pay me back [the full amount] and 20 cups of coffee."
Changsub also mentioned in an interview that Chorong is the first Apink member that comes to mind.
8. BIGBANG's G-Dragon and CL
G-Dragon and CL were both leaders of groups that debuted around the same time under YG Entertainment. They performed often together and still do as solo artists.
G-Dragon told fans during an Instagram Live video that CL is his closest little sister, and the most annoying!
CL even joked that she won't visit him while he's in the army!
9. SEVENTEEN's DK and GFRIEND's Yuju
Like a lot of idols who are friends, DK and Yuju were in the same class at the School of Performing Arts Seoul and have therefore known each other since they were teenagers. They recently graduated together, although the interaction was a bit awkward for DK!
On a radio show with host Leeteuk, SEVENTEEN members mentioned that DK's greeting to Yuju felt awkward when he waved at the same time as bowing and saying hello.
But Yuju had a sweet message for him!
Share This Post