9 Things About TWICE New ONCE May Not Know About The Group
Do you know these 9 facts about TWICE?
While TWICE has been dominating the K-pop music scene and stealing hearts across Asia since their debut, however, with every concert and comeback, TWICE are gaining new fans around the world. Here's a list of things that new ONCE (the name of TWICE's official fanclub) might not know about the group.
1. Sixteen, the JYP and Mnet reality survival show that formed TWICE, aired before Produce 101 did.
Yup, you read that right.
Although Produce 101 popularized the "survival show to make a K-Pop group" format (creating supergroups I.O.I, Wanna One, and IZ*ONE), Mnet's first attempt at the format was with their co-production of Sixteen with JYP.
No doubt that the burgeoning success of TWICE in the days after their debut convinced Mnet to adapt the format themselves – leading to the airing of the first season of Produce 101 about 7 months later.
2. TWICE has ties to three different Produce 101 groups (I.O.I, Wanna One, and IZ*ONE).
TWICE (who themselves were created by a survival show), surprisingly has ties to the three most popular K-Pop groups created in a similar manner.
Connection to I.O.I – Jeon Somi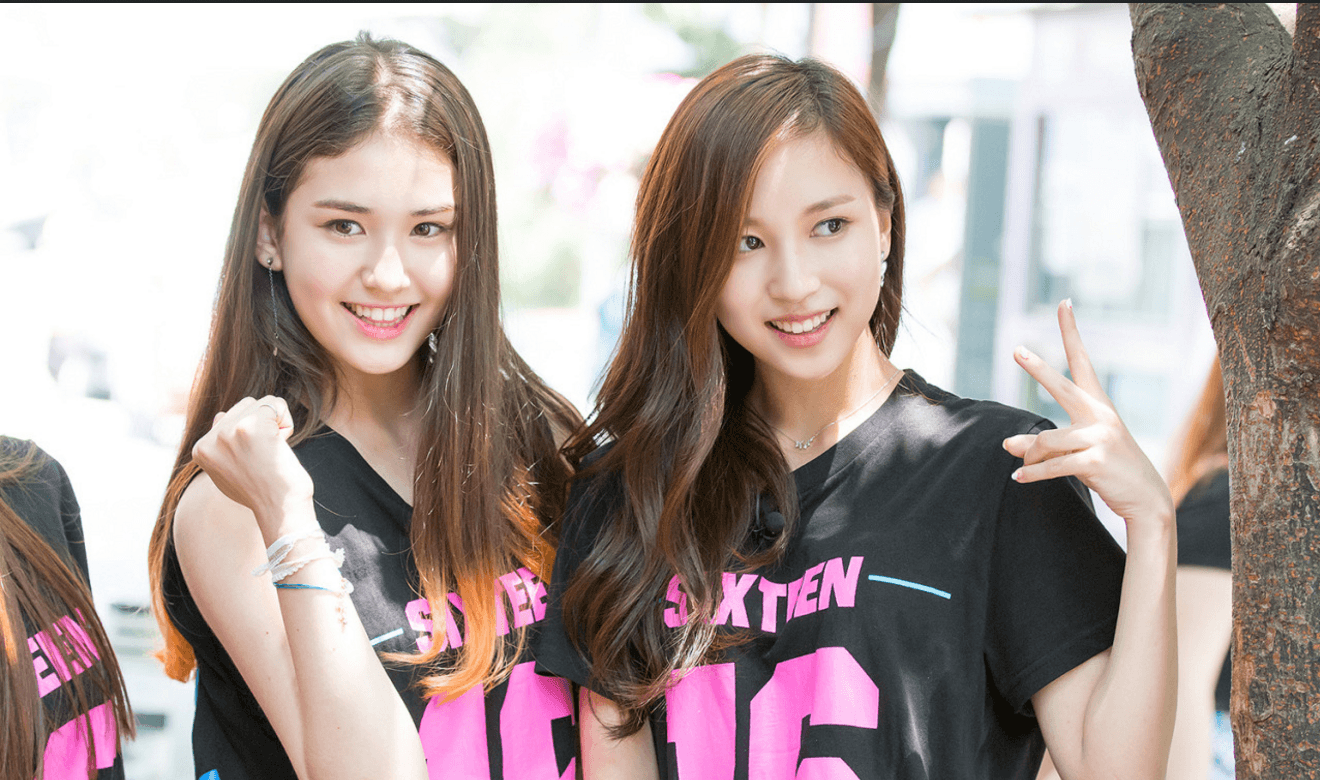 Jeon Somi participated in Sixteen, where she was eliminated in the finale – placing 9th.
Representing JYP, Somi would go onto compete in the first season of Produce 101 and make it into project group I.O.I. – ranking 1st in the finale episode.
Although Somi did not make it into TWICE (and has since left JYP), she and the TWICE members still have a great relationship. They even attend GFriend's concert together!
Connection to Wanna One – Lee Daehwi
Lee Daehwi is a former JYP trainee who became close friends with the TWICE members during his time at the label.
Daehwi represented Brand New Music while competing in the second season of Produce 101, and ranked 3rd in the finale episode – making it into project group Wanna One.
Various pre-debut pictures of him and TWICE members have made their way on the internet – showing that they were close as trainees.
And that relationship is still going strong today!
Connection to IZ*ONE – Lee Chaeyeon
Lee Chaeyeon is also a former JYP trainee with a strong connection to TWICE.
Chaeyeon actually competed in Sixteen along with TWICE and Somi, though she was eliminated first in the competition (ranking 16th).
Representing WM during Produce 48 (Produce 101's third season), and placed 12th in the finale episode to be a member of project group IZ*ONE.
Eagle eyed viewers were able to see TWICE congratulate Chaeyeon after IZ*ONE won a music show on M!Countdown – showing that they all haven't forgotten their Sixteen roots.
3. Mina, Momo, and Sana are from the same region in Japan.
In a cool twist of fate, all of TWICE's Japanese members are from the Kansai region in Japan.
A funny thing to note is that Mina actually had the lightest regional accent prior to joining JYP. However, being around Sana (said to have the heaviest accent) and Momo caused her accent to thicken – to the point that her mother even asked her why she was speaking with such a thick Kansai accent!
4. Jihyo holds the shared record for having the longest trainee period for a female idol (10 years).
Shared the record with former SPICA member Jiwon, Jihyo was a JYP trainee for 10 years before officially making her debut as a member of TWICE.
Due to how long she had been a trainee, there is a sizable amount of content with her pre-debut that is online.
Jihyo finally being able to debut was so emotional for her that she had a brief moment of tears during their debut showcase.
5. Tzuyu's name is pronounced "
jjeuwi

" (in Korean).

For non Chinese speaking fans, figuring out the correct pronunciation of Tzuyu's name has been a major headache when first getting into the fandom.

It's imaginable that fans constantly question: is pronounced "zu-yu?", "Tuh-zu-yu"?, and so on.

Thankfully, Tzuyu has clarified how to properly pronounce her name…at least in Korean.

In one of her solo V-Lives, Tzuyu responds to a comment by saying in Korean "My name? It's Chou Tzuyu."

The closest Korean spelling to her first name is 쯔위, which is pronounced like "jeuwi." Though the pronunciation of her name in Chinese (written 子瑜)is likely to sound different.
6. MiMoSa is used as a nickname for TWICE's Japanese members.
Taking the first part of their first names (Mina, Momo, Sana), MiMoSa has become a shorthand way for ONCEs to refer to the group's Japanese members.
Due to the J-Line's shared nationality and amazing visuals, the three have been also lovingly referred to as "The J-Trinity" or "The Holy Trinity".
7. Trying to collect all of TWICE's photocards can be difficult… very difficult.
Due to the nature of K-pop album packaging (such as versions, photocards, etc) and the amount of members TWICE has (9), the amount of photocards available per release is… a lot.
So for ONCEs who want to go down that route, be prepared for a long journey (and good luck!)
8. TWICE's #twicetagram album name came from the name of the group's official Instagram.
While the members do not have their own personal Instagram accounts, they share the official TWICE Instagram (nicknamed TWICEtagram).
In a bit of bringing things full circle, #twicetagram's title track "Likey" would explicitly reference Instagram throughout the song (and even in the choreo!)
9. Momo and Mina performed a moving dance piece to Beyonce's Fifty Shades of Grey remix of "Crazy in Love".
In 2016, Momo participated in Hit The Stage, an idol themed dance competition including participants such as Girls Generation's Hyoyeon, GOT7's Yugyeom, and SHINee's Taemin.
For her performance in the show's fourth episode, she invited Mina (who previously trained as a ballerina for many years) to be her dance partner for her "love themed" performance.
Though in a stark contrast to the other contestants, Momo's piece was about dangerous love, obsession, and eventually murder. The fact the "love story" was between two women was also very risky, and both girls pulled it off spectacularly.
So for new ONCEs, welcome to the fandom, and can't wait to see you all when TWICE comes back with new music!
Share This Post