TREASURE Has A Member Nicknamed "God Yedam"—Here's Why He's So Great
Here's what you need to know about TREASURE's main vocalist!
YG Entertainment is set to debut their newest boy group, TREASURE, on August 7! Composed of 12 Korean and Japanese members, this will be the largest group the company has ever debuted.
Besides having two leaders and at least five visuals, TREASURE is also famous for one member in particular: Bang Yedam. Also known for his nickname "God Yedam", he carries the positive name with ease.
Why exactly is he called "god"? Check out some reasons below!
1. He was great ever since K-POP STAR

Yedam may not have debuted yet, but he's not exactly a rookie either. In fact, Koreans may already recognize him as the young boy from K-POP STAR Season 2.
He impressed the entire country with his sweet vocals, rhythmic rap, and cool dancing capabilities at 10 years of age. Yedam placed second right after fellow label mates AKMU.
2. He's multi-talented
Yedam can sing, dance, rap, and compose music. In one episode of YG Treasure Box, he was able to memorize the choreography of BTS's "DNA" in under an hour.
WINNER's Seungyoon and Seunghoon were understandably impressed!
He can also play musical instruments like the harmonica and piano. In fact, Yedam showed great promise in music since he was a child.
When Yedam was 7 years old, I let him listen to classical music. He said, 'wait a minute', then he came to the piano and played the same song he just heard.

— Yedam's Mom
Yedam is also a great student, revealing in YG Treasure Box that he ranked first in numerous subjects.
It's different in every test, but I got two of the highest scores in the entire school…for Social Studies and Science.

— Bang Yedam
3. He can sing

Singing deserves its own category when it comes to Bang Yedam. He's been "training" from a young age as his parents are also musically inclined, with his father releasing numerous songs for commercials and animations. His mother, meanwhile, sings soundtracks for dramas.
He has an incredible range with his ability to sing low notes like in "There's Nothing Holding Me Back"…
…and he can easily do falsettos like in "Honesty".
His solo debut song, "WAYO", released on June 5, 2020 showed off his sweet voice and vocal prowess.
It was well-received by the public, ranking first on MelOn's top R&B/Soul tracks after its release. It even ranked #75 in MelOn's main chart, a great feat for a rookie.
4. He's unbeatable
With all his talent put together, it's no surprise he's respected by those around him. When the company aired their survival program YG Treasure Box in 2018-2019, the trainees had to compete each week to reach "TREASURE", the group closest to their debut.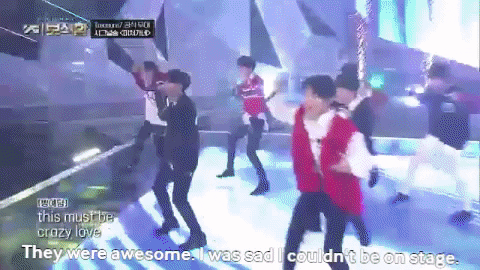 Most of them went in and out of the debut team, but Yedam never wavered in the top. No matter who contested him or when, he won Yang Hyun Suk's votes and the public's love.
His fellow team members agree that he's a monster of a trainee.
I think he's remarkably good, and everybody agrees with me.

— CIX's BX
Bang Yedam is "God Yedam" for a reason. Check out more reasons why in the video below!
Share This Post