Huang An to hold press conference to clear his name in regards to Tzuyu's flag controversy
Huang An, the prime instigator to Tzuyu's flag controversy which has been trending in the news the past week, has addressed the accusations pointed towards him, making an announcement on his personal Weibo account.
On January 17th, he reveals that he will be clarifying the issue and "reveal the truth and clear [his] name" upon his return to Taiwan with a press conference scheduled at the beginning of February.
He writes, "On February 3rd, I will return to Taiwan to hold a press conference and talk about the 'Chou Tzuyu incident' from start to end to reveal the truth and clear my name! Being named as a singer involved in the 'Taiwan Presidential Elections,' good things came too fast. Listen to what I have to say. For those who support me, forward this message!"
Huang An has been identified as the main instigator of Tzuyu's flag controversy after accusing the Taiwanese K-Pop singer of being a traitor and being a Taiwanese independence activist following the airing of a My Little Television broadcast featuring the international members of TWICE, each holding the flag to their country of origin, in November 2015.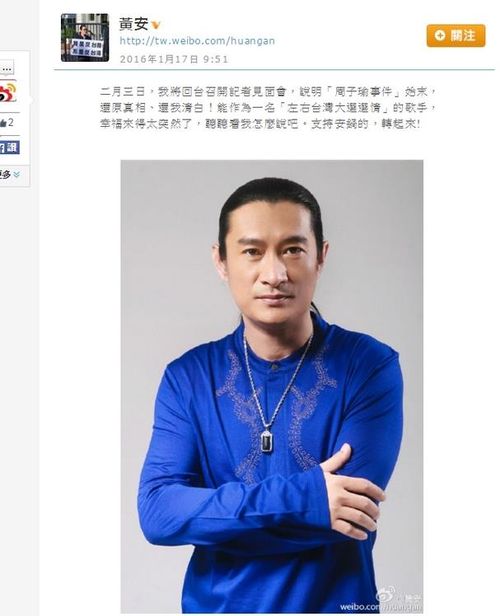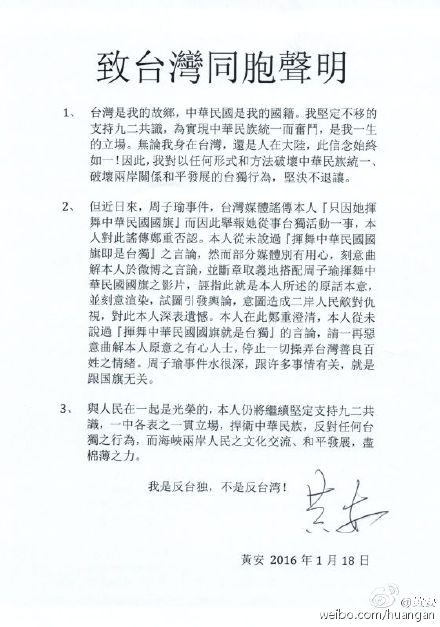 "2. Recently, regarding the Zhou Ziyu incident, Taiwanese media was spreading the rumor that I accused her of being supportive of Taiwan's independence "just because she waved the ROC flag".
To that, I strongly deny this rumor. I have never said that "waving the ROC flag signifies support of Taiwan's independence", but still particular media emphasize on that and intentionally twisted my words from Weibo and quoted me out of context while playing the video of Zhou Ziyu waving the ROC flag. It was portrayed as though that is my true intention, and it was intentionally widely spread, hoping to cause a debate.
It caused citizens of both shores to have hatred against each other and I am deeply regretful for this. I would like to clear my name. I have never said that "waving the ROC flag signifies support of Taiwan's independence". To the people who repeatedly twist my original intentions, please stop manipulating the emotions of the innocent people of Taiwan. Zhou Ziyu's incident implicates many different areas, but is not relevant to the flag."
Source: Huang An's Weibo and Focus Taiwan
Share This Post