Koreaboo's Summary Overview of TWICE Tzuyu's Nationality Scandal
This week has been tough for 16-year old TWICE member Tzuyu after an innocent action became a political out roar in Asia. 
In a late November 2015 episode of My Little Television broadcast by MBC, JYP Entertainment power rookies TWICE was given the task to hold up a flag of their country of origin as the group is composed of members of different nationalities.
For member Tzuyu, who was born in Taiwan, greeted online viewers as Taiwanese and held up a Republic of China flag.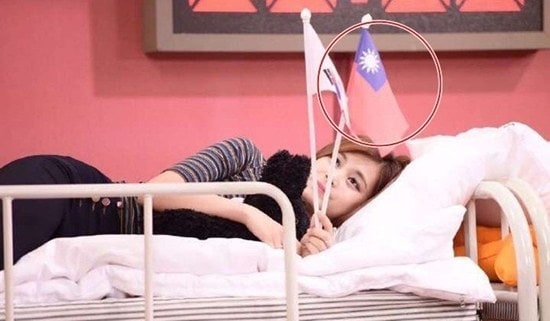 Following the broadcast, Taiwanese and China-based singer Huang An took to his Weibo where he accused Tzuyu of being an Taiwanese independence activist, calling her a traitor. Mainland China government (People's Republic of China) considers Taiwan under its jurisdiction though many of the islanders considers themselves independent from them, representing themselves as the Republic of China.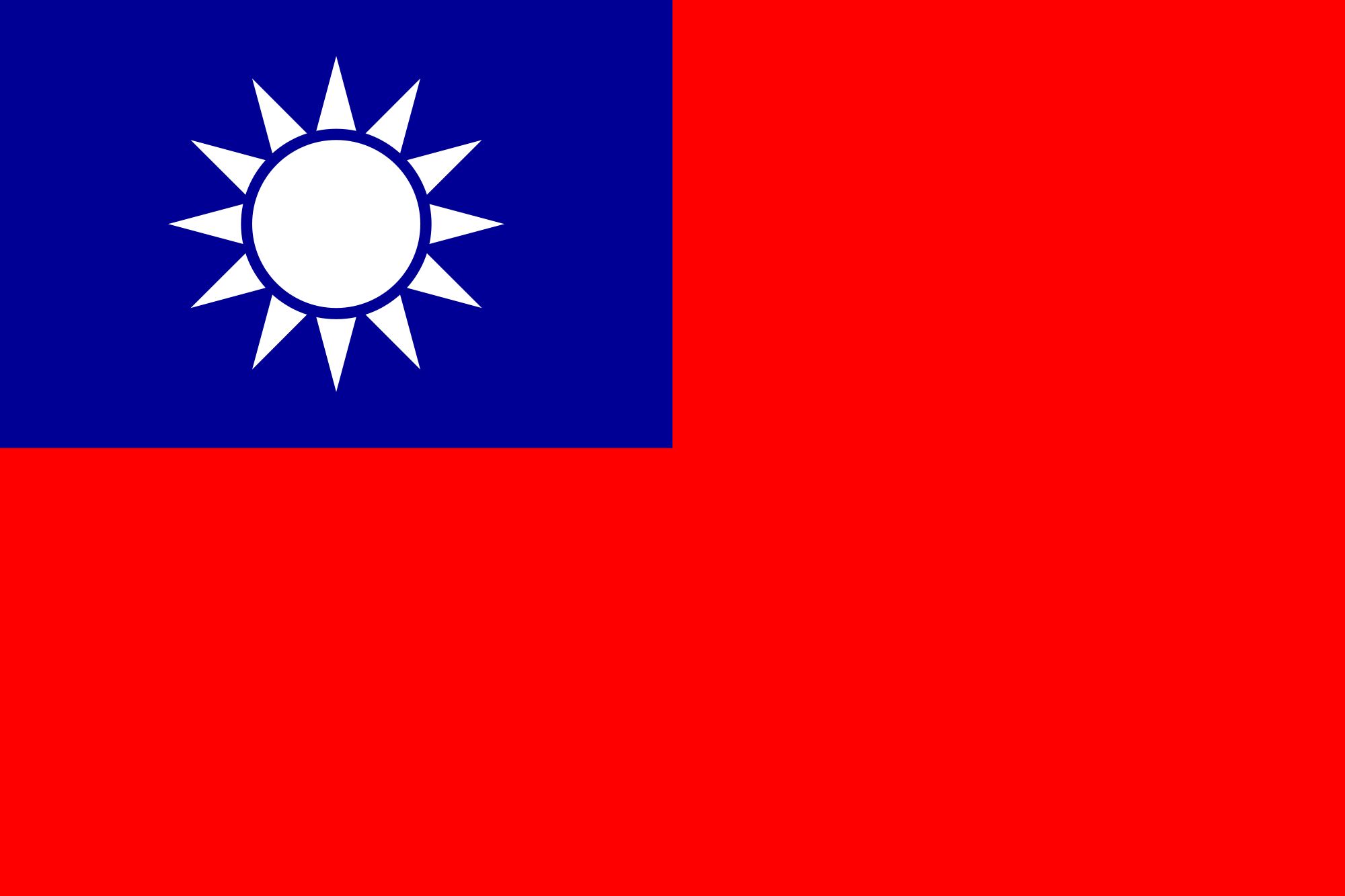 Image: People's Republic of China flag (left) and Republic of China flag (right)
Since the broadcast, backlash from Tzuyu's actions have piled on with both Chinese media and netizens criticizing the younger Taiwanese K-Pop singer. TWICE's activities, including endorsements and scheduled appearance, were cancelled and/or suspended as well as broadcasting station BTV among others to ban the girl group from ever appearing.
The backlash continued with Chinese netizens boycotting JYP Entertainment as a whole while trending #boycottJYP on Weibo (with over 68 million hits as of January 14th according to TV Report) and various Chinese media taking down anything in regards to TWICE on their platforms.
The Tzuyu scandal has also affected other JYP Entertainment artists who carry out activities in China as well including Nichkhun's solo activities and 2PM's promotions.
Despite commenting that Tzuyu has no political agenda, JYP Entertainment was spotted having allegedly changed Tzuyu's official profile which went from "Nationality: Taiwan" to "Birthplace: Taiwan" and finally "Birthplace: China Taiwan" with the latter written in Chinese.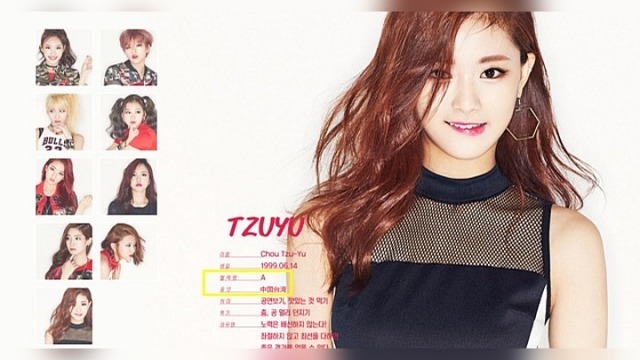 On January 15th, a video featuring Tzuyu was released to the public where she apologized for her actions, stating that China and Taiwan are one, reading from a sheet of paper during the recording. Just a little over 24 hours since the video was published, it has acquired over 4 million views.
"Hi everyone, I have something to say to everyone.

Hi everyone, I am Chou Tzuyu. Sorry, I should have came out and apologized earlier. Because I didn't know how to face the current situation, I have been afraid to face everyone directly, so I'm only speaking out now. There is only one China. The two shores are one. I feel proud being a Chinese. I, as a Chinese, have hurt the company and netizens' emotions due to my words and actions during overseas promotions. I feel very, very sorry and guilty. I have decided to halt all current activities in China in order to reflect seriously. Again, I apologize to everyone. Sorry."
Following Tzuyu's apology video, JYP Entertainment's main representative and founder J.Y. Park published his own letter of apology via the agency's Weibo account.
"Hi everyone, I am J.Y. Park.

First, I sincerely and deeply apologize for bringing pain to Chinese netizens. At the same time, I feel regretful and again apologize as my company's staff, Tzuyu, and I did not recognize the seriousness of this situation.

Through this incident, I once again deeply experienced that, to collaborate with a country, we should respect that country's sovereignty, culture, history, and the people's feelings.

All of this has taught my company and the  artists a very big lesson. In the future, we firmly will not allow similar incidents to happen.

I once again offer my apologies to all of the Chinese fans who have continuously supported and liked me, my company, and its artists. We let everyone down and hurt everyone. To make up for all the damages done to everyone and to return everyone's support, we will continue to work hard in order to contribute to the cultural exchange between the Chinese and Koreans.

In the past few days, Tzuyu herself has felt a lot of emotions and has been reflecting at the same time. She was 13 when she left home, came to Korea, and it is my and the company's fault for not being able to cultivate Tzuyu in place of her mom and dad. We will stop Tzuyu's current activities in China, and effectively handle all of the problems faced by affected parties due to this incident."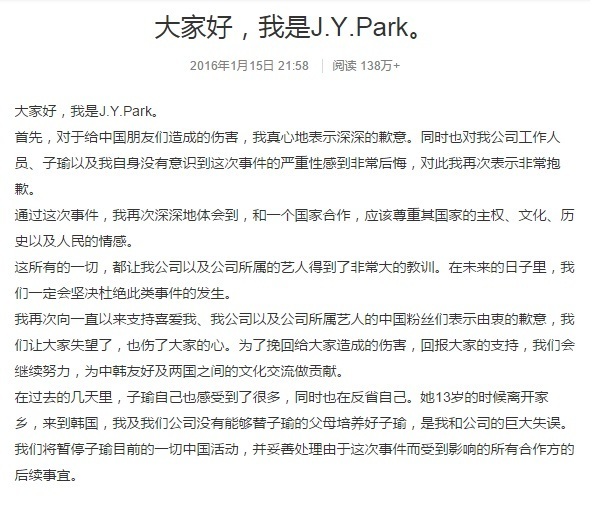 The situation has even caught the attention of other international news portals such as the Washington Post, who describes that many Taiwanese netizens have compared Tzuyu's apologetic video to that of a hostage video by the IS (Islamic State) and though many young Chinese netizens also showed their support, China's tightly censored media dismissed their comments as they continue to rage on Tzuyu, deeming her apology insincere.
With Taiwan's own presidential race and voting nearing, the three candidates – Tsai Ing Wen (Democratic Progressive Party), Eric Chu (Kuomintang), and the then current President Ma Ying Jeou – voiced out their support for Tzuyu as they condemned the hate gearing towards the young K-Pop teenager (Shanghaiist).
Additionally, Taiwan's Mainland Affairs Council (MAC) has also shown their support for Tzuyu as they defend her actions, commenting, "It is absolutely fair and justified for a Taiwanese person to hold a national flag to show his or her love for the country, and we support such a patriotic act."
They further condemned Huang An's Weibo post, saying that his personal behavior has affected the cross-strait ties (Focus Taiwan).
Share This Post