Actress Chun Yi Seul's agency releases statement regarding recent cosmetic surgery controversy
On November 5th, SBS' Night of TV Entertainment aired news coverage on the $30,000 USD lawsuit filed against actress Chun Yi Seul, for the breach of her cosmetic surgery contract. Read the official response made by her agency, Green Snake Juna E&M.
Recently, Chun Yi Seul has been receiving accusations of breaking her contract with sponsored cosmetic surgery clinics. The latest response from actress Chun Yi Seul's agency states that they were unaware of the contract as it was made between her previous agency and the clinics.
"It is true that Chun Yi Seul received cosmetic surgery. But the actress herself was unaware of the contract receiving the surgery for free in exchange of the promotional advertisements. The contract was made between her previous agency and the cosmetic surgery clinics. Also, in the past, the clinics and hospitals have already been sent statements to refrain from using Chun Yi Seul's unapproved photos, signatures, and personal information. After this lawsuit, we have attempted to contact the clinics but they have all refused to meet. We also cannot get in touch with Chun Yi Seul's previous agency."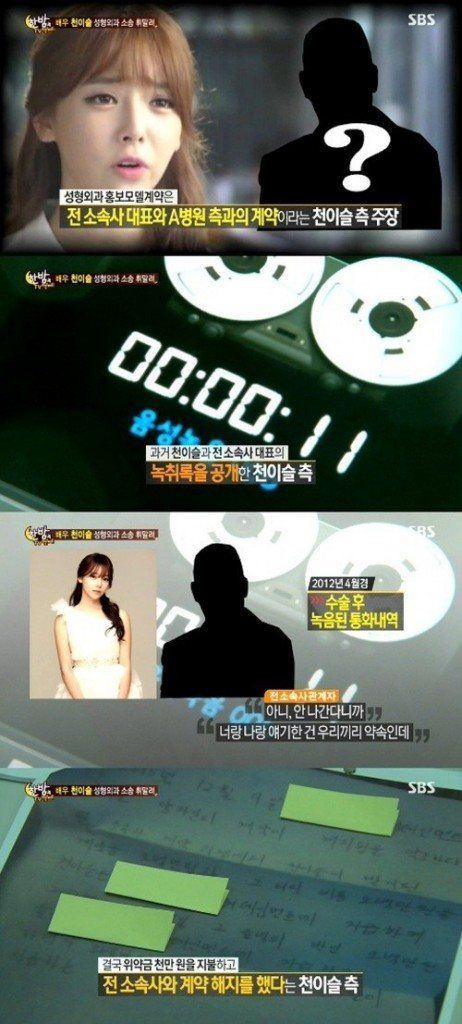 Also, Night of TV Entertainment aired a phone recording between Chun Yi Seul and the CEO of her previous agency. The recording demonstrated the CEO's following statement, "The photos will not be released anymore and this will be a promise I will keep between you and I." The previous CEO requested Chun Yi Seul to provide compensation in the form of $10,000 USD for terminating the contract with the clinics.
Although Chun Yi Seul has already compensated the amount, the clinics have brought up the lawsuit again due to Chun Yi Seul's increased popularity and promotional activities.
Source: MK News
Share This Post