Alleged Rape Victim Reportedly Demanded 1 Billion KRW From Yoochun Before Filing Charges
After initially filing a police report against JYJ's Yoochun accusing him of raping her in a bathroom of an adult entertainment establishment at which she worked, Ms. Lee recently dropped all charges against the singer. 
And although Ms. Lee is no longer filing charges against the singer for allegedly raping her, the singer and his agency C-JeS Entertainment have officially filed a lawsuit against her for blackmail. In light of this news, media outlets have discovered that four days after Ms. Lee claimed to have been sexually assaulted, she had contact C-JeS and offered to try to settle with them before reporting to the authorities.
According to reports, she explained, "I can no longer stay in Korea after being sexually assaulted, and wish to move to China," asking for a one billion won ($863,000 USD) settlement. But when representatives from C-JeS went to meet with her, she sent her boyfriend, who was a gang member, to meet with them in her place. During the meeting, he lowered the offer to 500 million won ($431,500 USD), but when the agency declined his offer, he went with Ms. Lee the next day to file charges with police.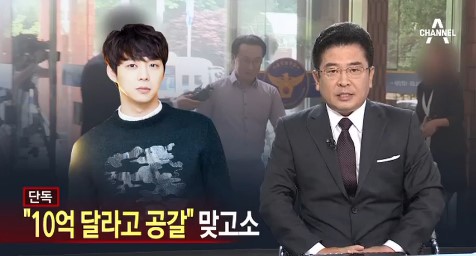 Source: Channel A
Share This Post